Found December 12, 2012 on TheProBasketballTalk:
Apparently Doc Rivers was too busy being the head coach of the Boston Celtics to teach his son some valuable lessons in life. Doc's son Austin Rivers, who plays guard for the New Orleans Hornets (soon to be Pelicans?) has a tough time shopping for groceries, and apparently can't parallel park. If we can take anything from this video it may be showing us that the driving test has either gotten easier over the years, or that it is less challenging for NBA-hopefuls. Austin better hope he never get's traded to a tough parking city like Boston or New York. And how about that diet? Ice cream, Resse's Puffs, Frosted Flakes... At least he doesn't eat like a pig, unless that pig was cannibalistic. The kid loves him some ham, even if he can't find it. Looks like Doc brushed Austin up on his x's and o's but didn't spend too much time on what a deli is. "Do you guys slice ham?"
Original Story:
http://feedproxy.google.com/~r/Probas...
THE BACKYARD
BEST OF MAXIM
RELATED ARTICLES
 There has always been a camaraderie between the head coaches of the major sports teams here in Boston. With all the success of all four teams in the past decade, they have had a lot in common. Many players of the Boston Celtics, Boston Red Sox, Boston Bruins and New England Patriots are often seen at [...]
Doc Rivers and some of the Celtics were at the Patriots' big win over the Texans last night. At today's practice, Greg Payne reports that Doc was very impressed with what he saw at Foxboro last night: Rivers received the full-access treatment Monday, getting to hang out with Pats coach Bill Belichick on the field prior to kickoff and even sitting in on the team's offensive...
The Celtics took 2OT to beat the Mavs 117-115 last night, but that doesn't mean they didn't like what they saw on the defensive end. Coach Doc Rivers, for one, was very pleased with the way the Celtics guarded the Mavs' leading scorer, O.J. Mayo. Former defensive player of the year Kevin Garnett had a [...]
In this edition of Sully's Video Blog, he addresses how he feels the season is going, the difference between college and the pros, what it's like to play for Doc Rivers, and the challenges of travel in the NBA. [Discuss on CG Forums!]
Every morning, we compile the links of the day and dump them here… highlighting the big storyline. Because there's nothing quite as satisfying as a good morning dump. "I've been talking about (defensive pressure) a lot, and over the last seven games it's been paying dividends for us," said Rivers. "I told our guys, we also broke our own record with deflections. It felt...
What a riveting interview! It's great the relationship that the coaches of the Celtics and Patriots have. One thing I always bring up is how Belichick called Rivers for his opinion on Brandon Spikes before drafting him, since Spikes was dating Rivers' daughter. Needless to say, that worked out pretty well. Be sure to check out PatriotsLife for the best coverage of the...
There was some star power down on the field joining the Patriots before Monday Night Football. Doc Rivers chatted up Bill Belichick, while Bob Kraft was hanging out with Mark Wahlberg and his son out on the field during the pregame ceremonies. The Celtics have two days off before playing the Magic at TD Garden, so the Boston head coach had some time to travel down to Foxboro to take...
Every morning, we compile the links of the day and dump them here… highlighting the big storyline. Because there's nothing quite as satisfying as a good morning dump. Boston Herald.com: "Celtics Tighten Up on Defensive End"  During the five games since that infamous Nov. 28 night, when coach Doc Rivers branded his players a bunch of softies, the Celtics have allowed an...
Rajon Rondo was also on the sideline wearing a Wes Welker jersey. A pretty awesome way for some of the Celtics to spend their day off. For more on the Patriots, visit nePatriotsLife.com Via CelticsTown
Every morning, we compile the links of the day and dump them here… highlighting the big storyline. Because there's nothing quite as satisfying as a good morning dump. "I don't have a timetable on (when it's all going to come together) because I don't know what the time is going to be," Celtics coach Doc Rivers said. "Some teams I've had get it like that, some take...
Bill Belichick and Doc Rivers are part of a very unique Boston coaching fraternity, but the similarities go beyond the city that they represent. The similarities also go beyond championship jewelry, which both Belichick and Rivers have been fortunate enough to obtain during their time in New England. According to Celtics guard Jason Terry, Belichick and Rivers actually have very...
Herald  Terry not emotional about the new Mavs - the old team another storyC's Doc Rivers huddles with PatsHealthy Bill Walton back to pedal program Not Jason Terry's MavericksNBA roundup: Anthony scores 45, Knicks rally to beat Nets Raptors' Amir Johnson suspended 1 game Globe   Green finally getting comfortable in Celtics green Reunion on tap for Jason Terry, Mavericks...
NBA News

Delivered to your inbox

You'll also receive Yardbarker's daily Top 10, featuring the best sports stories from around the web. Customize your newsletter to get articles on your favorite sports and teams. And the best part? It's free!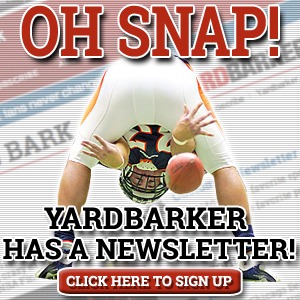 Latest Rumors
Best of Yardbarker

Today's Best Stuff

For Bloggers

Join the Yardbarker Network for more promotion, traffic, and money.

Company Info

Help

What is Yardbarker?

Yardbarker is the largest network of sports blogs and pro athlete blogs on the web. This site is the hub of the Yardbarker Network, where our editors and algorithms curate the best sports content from our network and beyond.