Found February 19, 2013 on Project Spurs:
PLAYERS:
Charles Barkley
,
Dan Patrick
,
Kevin Durant
,
Russell Westbrook
,
Serge Ibaka
,
Chris Paul
,
Al Jefferson
,
Josh Smith
,
J.J. Redick
,
Tiago Splitter
,
Gary Neal
,
Patty Mills
TEAMS:
Oklahoma City Thunder
,
Los Angeles Clippers
,
Utah Jazz
,
Atlanta Hawks
,
Orlando Magic
,
San Antonio Spurs
The San Antonio Spurs may see familiar face blocking their path to success in the NBA Postseason - Oklahoma City Thunder and TNT's Charles Barkley agrees. During an interview on the Dan Patrick Show, "The Chuckster" was discussing legitimate title contenders and according to him, he has a few teams in mind which include the Spurs. "The Heat in the East and the Spurs and Oklahoma City in the West. Those are the three teams that have a legitimate shot at winning the championship. I don't want to count Memphis out. I think we have to give Memphis a chance, so there's three teams in the West and one team in the East and the second team (in the East), it depends on if Derrick Rose comes back. Those are the five." Considering the Thunder bested the Spurs in last season's playoffs, it is no doubt OKC will remain a prime threat to the Spurs' march to title number five.  With Kevin Durant. Russell Westbrook, Serge Ibaka and Co., OKC is young, hungry and now have the confidence they can beat the Spurs in a seven-game series. However, Barkley cannot discount the Clippers as a threat to OKC and San Antonio. The Clippers are young, athletic, and have remained a unit without much addition and subtraction to the roster. Now with Chris Paul rounding into form after injury and boasting an improved bench, the Spurs will have to look out for the Clips in the playoffs.  So to minimize any potential upset at the hands of these two team, the Spurs would be greatly benefited in pulling off a trade deadline deal with either the Utah Jazz for Al Jefferson, the Atlana Hawks for Josh Smith, or maybe the Orlando Magic for J.J. Redick. The Orlando option might give the Spurs the best chance of retaining Tiago Splitter (seeing Redick won't be looking for a huge payday) while still adding more scoring from the perimeter and make the team stronger going down the road. But does the team need more shooters considering Gary Neal and Patty Mills can already provide an outside shooting threat as J.J. can?  The other two trade scenarios would be more towards a "win-now" option and sending Duncan off with a title like they did for David Robinson. Along with having to avoid possibly over paying or giving up too much in return, it will seem Splitter would have to be added and are the Spurs willing to part with a big man who has finally understood the Spurs' system remains to be seen. As the trade deadline approaches, the question becomes do you want to win now and have Duncan ride off in to the sunset or set the Spurs up for another extended run as a title contender? And if the Spurs do walk away with the crown this season, it may be one of the only times Spurs fans will love for Chuck to be right.
Original Story:
http://www.projectspurs.com/2013-arti...
THE BACKYARD
BEST OF MAXIM
RELATED ARTICLES
It's been "Celebrity Week" on The Price is Right. Among the celebrities who have appeared or will appear this week include Sharon Osbourne, Demi Lovato, Drew and Nick Lachey. But for the purposes of sports blogs — which is what this site aspires to be on its best days — the best celebrity the long-running daytime talk show once hosted by Bob Barker and now hosted by the...
CELEBRITY WEEK
Video: Celebrity week on The Price Is Right
Yes, that's Charles Barkley's mother, Charcey Glenn, speaking about her son turning 50 (on February 20) during a TNT bit during all-star weekend festivities. At first this looked to be a goof. We started wondering whether that was Charles in a wig. It's not. That's Charcey. TNT, obviously not in the mood to do more Michael Jordan 50th retrospectives, aired "Sir Charles...
While ESPN was dorking out on all things Michael Jordan turning 50, the staff at Turner Sports was busy working on a surprise 50th birthday Charles Barkley (turns 50 on February 20) at this weekend's all-star festivities. Busted Coverage had boots on the ground with a camera phone to catch Chuck's birthday speech. It didn't disappoint. Charles, possibly tipsy, kept the message...
Did you hear that Michael Jordan turned 50? Of course you did, thanks to a week of ESPN using Michael Jordan's birthday to sell commercials. Meanwhile, Charles Barkley turns 50 today and didn't get a retrospective on the WWL. There's no mention of it that we can find on ESPN.com/NBA. It doesn't help that The Round Mound of Rebound works for TNT. That usually means your 50th...
It's celebrity week on The Price is Right, and as luck would have it, the show's producers nabbed Charles Barkley to be one of their celebrities. The premise is that whatever the contestants win on that particular day the show will match the winnings and donate to the celebrity's charity of choice. Sir Charles chose Mustard Seed School for Homeless Kids in Sacramento as his...
Recently, TNT NBA analyst Charles Barkley took a trip to Television Studios in Hollywood and stopped by "The Price Is Right".Prior to a taping of the actual show, Charles got the chance to play a pricing game to win cash for the audience.The catch was that each item had something to with Barkley himself and you'll see how he does in the below clip:
The daytime game show "The Price Is Right" is currently in the middle of Celebrity Week where various celebrities play to raise money for charity, and the guest contestant on Thursday's episode is TNT NBA analyst Charles Barkley. Barkley had to place bids on some interesting items, such as a DVD copy of the movie Look Who's Talking Now in which he made a cameo...
Charles Barkley turns 50 on Wednesday, and his eventful life was celebrated in a program aired by TNT. The special, "Sir Charles at 50," was funny and insightful, and it contained many stories Barkley shared about his life. One of the best and lesser-known stories Barkley shared was about the time he went on a massive eating binge before the 1984 NBA Draft to discourage the...
Ballertainment Charles Barkley celebrates his 50th birthday Charles Barkley is 50 years-old today. Barkley, an Alabama native, who attended Auburn University, is a Hall of Fame NBA player, who was drafted first round by the Philadelphia 76ers in 1984. During his career, he also played for the Phoenix Suns and ended his career as a Houston Rocket months after suffering an injury...
• Kate Upton's Feet • Surfer Alana Blanchard SI bikini shoot • Bryce Harper's new commercial is so bro • 100 Greatest NASCAR Paint Schemes • Bama football players pimp rides here • Charles Barkley on 'Price Is Right' • Miranda Kerr Bikini Butt Time! • Sexiest of the Spring Breakers GIFs Incredible O.J. Mayo Defense Turns Into Offense Video Of The Day  ...
NBA News

Delivered to your inbox

You'll also receive Yardbarker's daily Top 10, featuring the best sports stories from around the web. Customize your newsletter to get articles on your favorite sports and teams. And the best part? It's free!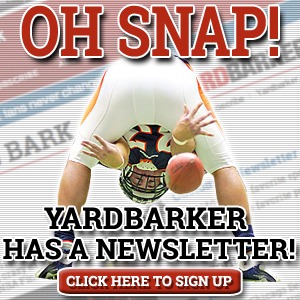 Latest Rumors
Best of Yardbarker

Today's Best Stuff

For Bloggers

Join the Yardbarker Network for more promotion, traffic, and money.

Company Info

Help

What is Yardbarker?

Yardbarker is the largest network of sports blogs and pro athlete blogs on the web. This site is the hub of the Yardbarker Network, where our editors and algorithms curate the best sports content from our network and beyond.