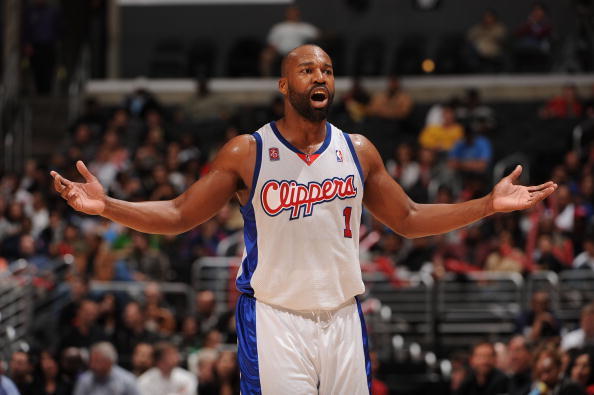 Baron Davis on the Los Angeles Clippers sitting on the bench. The Los Angeles Clippers defeated the Milwaukee Bucks by the final score of 101-92 at Staples Center in downtown Los Angeles CA. AiWire Photo via Newscom Photo via Newscom
Getty Images
That is really a headline I never imagined I'd ever write when I started this website. Then again, I didn't actually think I'd be writing anything at this site while the NBA was actually not open for business either.  Since it isn't though, and our guy Baron Davis has a lot of time on his hands, that's what I'm writing because that's what he's doing.  

This from The Wall Street Journal:
Mr. Davis has spent much of his time during the NBA's lockout developing a documentary about the decline of style in the U.S. Now that the players have rejected the league's latest offer and say they plan to file an antitrust lawsuit against the league, he may have a lot more time on his hands.
The documentary, "American Schlub," is in pre-production. It takes aim at the poor sartorial standards of the American male, says Mr. Davis, who plays for the Cleveland Cavaliers. "We used to be fashion forward," he laments. Now, "We're more of a sweats and Ugg boots type of society," he says. "We wanted to challenge men, from that perspective."
If guys really are wearing Ugg boots than this is a great cause taken up by Davis. That footwear choice specifically is certainly emblematic of great decline for dudes everywhere, I totally agree.  I do hope BD doesn't have any issues with black Adidas pants though, because I have a couple pairs of those badboys that I thoroughly enjoy wearing.
--

Image: WSJ
Read the rest of this story...
MORE FROM YARDBARKER:
Is Anthony Davis really the best big man from UK in the NBA?
MORE FROM YARDBARKER
NBA News

Delivered to your inbox

You'll also receive Yardbarker's daily Top 10, featuring the best sports stories from around the web. Customize your newsletter to get articles on your favorite sports and teams. And the best part? It's free!