Found August 13, 2013 on Waiting For Next Year:
PLAYERS:
Tristan Thompson
,
Brady Quinn
,
PJ Walters
,
Kyrie Irving
,
LeBron James
,
Sergey Karasev
,
Ken Griffey
,
Byron Scott
,
Jerry Colangelo
,
Andrew Bynum
TEAMS:
Cleveland Cavaliers
,
Seattle Seahawks
,
Minnesota Twins
,
Miami Heat
I can't quite pinpoint the genesis of this one, specific ball-busting comment. At some point in my adolescence, while throwing a ball of some sort—football, baseball, softball, who knows—I asked of a friend, who was obviously a life-long user of his right hand and arm as his dominant side, if he was, in fact, left-handed and simply was unaware of it all of this time as judged by the three-hopper that had been aimed my way. Laughter ensued at the expense of this friend, as is the typical fall-out in most (if not all) ball-busting environments. I've since used the line, sporadically sprinkling it throughout as to not overuse; Brady Quinn received said treatment a few years back, drawing similar response. Earlier this season, when Minnesota's PJ Walters was unable to make it out of the first inning, not long after turning his name into "Walkers," there it was again. A player who was not rendered a punch line of this soon-to-be-overused joke was Cleveland Cavaleirs power forward Tristan Thompson. Not because Thompson had shown immaculate form or because he's a 6-foot-9-inch athlete who could squash me like a bug as I stand in front of his locker to inquire of the night's happenings, but because I was wholly convinced that the man with a 40-inch vertical leap legitimately did not know what hand he was. Thompson had long stated that he was ambidextrous, possessing the ability to use both hands with equal facility. Where Kyrie Irving and Kobe Bryant and LeBron James and Derrick Rose can easily claim ambidexterity due to their constant barrage of ball-handling throughout an NBA contest, Tristan is a bit of a different bird. While watching Thompson in the post or at the free throw line, it was evident that the raw talent was abusing the portion that claimed "equal facility." Thompson, in one breath, could wield a beautiful and graceful drop step, spin around a would-be defender and drop a picturesque hook shot with textbook touch, doing so all with his right hand. If, in the event, the fashion-conscience forward would be fouled in the act, he would step to the line and unfurl what was his attempt at a free throw. Sometimes, they would go in; other times, they would not, caroming off of the back of the rim at an angle similar to the line drive by which it was delivered. These free throws would be taken with his left hand. Ambidexterity is a funny thing. Equal facility works in basketball where one can pass or shoot or dribble with either hand dependent upon the situation. In baseball, some players claim ambidexterity due to their ability to step to the plate from either side and producing at similarly high levels. But in the same regard, these ambidextrous players are not swapping out their right-handed glove for a southpaw version if they play first base or left field; throwing the ball with either hand, and doing so without looking like an attempt at grenade-lobbing, proves to be a bit more difficult. LeBron James does everything with his left hand—check signing, receipt signing—until he gets a basketball in his hand 1 . Cavaliers rookie Sergey Karasev is juts the opposite, signing contracts with his right hand, but dropping beautifully rotating three-balls in the eyes of defenders with his left. Thompson, unlike his basketball brethren, is a wholly different breed. He throws a baseball with his right hand; this athletic feat was evidenced by the first pitch he tossed a month ago at Progressive Field. He writes and signs items of various financial benefit or liability with his left hand. He brushes his teeth with his right hand. Peace sign on Instagram? Left hand. High-fiving Pitbull? The right. Always the right. We discussed it, albeit briefly, back in July: Tristan Thompson has decided to start shooting free throws with his right hand. The brevity was large in part to, well, the fact that I was wholly convinced that Thompson was living a life of confusion—after all, who didn't want to be Ken Griffey Jr? Alas, when SportsNet Canada "reports" of Thompson's switch to the right side, and the rest of the NBA writers world took off with the news, it became time to address the big-man's choice, especially given the relative hush-hush nature which surrounded it to this point. "I was in Phoenix [last November] and I just started shooting right-handed and got a lot of compliments on it," Thompson recently said of his decision to switch shooting hands. "A week later when we got back to Cleveland and got one of the ball boys to record me and I shot 100 jumpers with my left and 100 with my right and it was significantly better with my right hand. There was just a better flow to it with my right, it looked smoother." Thompson isn't fabricating. Despite left-handed pitchers seemingly having harder-to-hit angles, and left-handed batters having the swing of perfection—Griffey Jr will hold this crown forever—Thompson's left hand simply does not produce the same release as his right. For what feels like hours after a Cavaliers practice, Thompson stands at the free throw line of the basket furthest away from the team's locker room where coach Jamahl Mosley feeds him basketballs. There are days where the power forward can't miss; there are days where everything is just off-kilter. More often than not, this took place roughly 20 feet from head coach Byron Scott who, for the last two seasons, jokingly said that the power forward's right-handed shot looked more natural than the awkward shots produced by his left. Now, take a look at the somewhat grainy, Area 51-married-with-Patriots-Spygate image above. Tristan Thompson is shooting right-handed, with one Cavalier coach flanking his left side to watch his feet and posture, another coach perched below the rim to view the player's form from straight on. For the last two seasons, the focus for Thompson has been on the placement of his feet 2 . Heading into the 2013-14 season, the focus will now be on The Grand Free Throw Experiment (henceforth known as The Experiment) and what it will do for what is arguably the facet of Thompson's game that has the most room for improvement. Those who have been surrounding Thompson, whether at Cleveland Clinic Courts, various gyms in Las Vegas or even in Toronto where he recently converted all four of his free throw attempts in a FIBA practice game against the Jamaican national team, remain steadfast in avoiding much discussion surrounding the switch, choosing to focus on the amount of work that the power forward has put in this offseason. Ask anyone who walked the halls of the pristine practice palace on Brecksville road one summer ago and they will tell you that it was Thompson who turned training into an off-season occupation. The result of this rigorous output was a 22-year old who added 50 points to his shooting percentage and three points to his PER, per-game increases to points and rebounds despite a usage rate that remained relatively constant. While Thompson may forever dunk with both hands, forcing Cavalier fans to collectively moan when an attempt is blocked by a help-side defender, his switch to his right hand, while largely unprecedented and mind-blowing to men like Jerry Colangelo, shows just how much the Cavaliers' big man wants to improve as a basketball player. Aside from the innately gifted like James and Irving and Bryant, there is a risk involved with potential reward. As Yahoo! Sports' Kelly Dwyer put best, it is true that Thompson will lose the unique, Griffian ability to go the other way. But what's the point when all of his left-handed moves are telegraphed by defenders? The Cavaliers are entering a very—or lack of a better term—interesting season. As if fans of the NBA did not already have enough to watch, what with the hopefully linear growth in Kyrie Irving and the knees of one Andrew Bynum, but they will also have their Twitter and web-based crosshairs on Thompson who has vaulted himself into the pool of scrutiny 3 . It's both good and bad that Thompson, with this decision, will forever cement himself as exempt from the left-handed joke which found its way to many of athletes—humor, after all, is best left unencumbered. But it's nothing but good that Thompson will not be able to celebrate with the rest of the left-handed world who will collectively don party hats for National Left Handed Day. Let those right-handed free throws fly, young man. Pitbull approves. – Image via Fear the Sword ___________________________________ Save for one oddly-timed free throw. Thompson, prior to this point, attributed the five percent jump in his foul shooting to having his left foot on the nail that is in the middle of every free throw line. And this all doesn't even include the fact that the Cavaliers will have two first-round draft picks in tow.
Original Story:
http://www.waitingfornextyear.com/201...
THE BACKYARD
BEST OF MAXIM
RELATED ARTICLES
For his entire life Tristan Thompson has shot the basketball left-handed. He golfs left-handed too. He eats with his left hand as well. Other things he's done with his right hand. He throws a football with his right hand. Throws a baseball with his right. Now he's trying basketball with his right too. The Toronto native has been experimenting with right-handed shooting since...
Cleveland's Kyrie Irving challenged at the rim by Brooklyn's Brook Lopez. The NBA released their upcoming schedule and the Cleveland Cavaliers will open up the 2013-2014 season at home against the new look Brooklyn Nets on October 30th. With a new lineup and new coaching staff, the Brooklyn Nets are positioning themselves to challenge the Heat in the East. After trading for Kevin...
Cleveland Cavaliers forward Anderson Varejao came to the aid of two Brazilian travelers he had never met before who were left stranded at Cleveland Hopkins Airport recently.  The pair of Portuguese speaking travelers were the mother and brother of a Cleveland resident they had been in town visiting. According to a source close to the family, neither person spoke English...
If you're in a bind and you need some help, who you gonna call? Anderson Varejao! Or at least in this story as a couple of Brazilian tourists stranded at a Cleveland airport got some assistance from the Cavaliers big man. Here's how the story starts, a woman and her disabled son were trying to get to Miami, Florida from Cleveland's Hopkins International Airport and due to a...
Some couples may believe that having an NBA mascot crash their nuptials would be a distracting, unpleasant experience. On the other hand, for two Cleveland Cavaliers fans, having their favorite team's mascot not only show up at their wedding but also be a good-time-having force that kept the party rocking throughout the reception was a […]The post Cleveland Cavaliers fans welcome...
The NBA free agency period is dying down, so it time to look back at each team who they signed. Also many trades went down, which I will also recap below.   Free Agent Signings -Singed Jarrett Jack to a four year deal worth $25 Million. -Agreed to a two year deal worth $69Million with Earl Clark. - The Cavs signed Andrew Bynum to a two year deal worth $24 Million. Trades - None...
Despite all of the work put in by other lottery teams this past offseason, the Cleveland Cavaliers are given top billing among the league's "risers" by Bradford Doolittle of ESPN. Using scoring margin as a basis for determining who made the best moves this offseason, Doolittle gives the Cavaliers a 5.7-point increase of the 2012-13 team which managed to win just 24 games. With...
Cleveland Cavaliers rookie forward Anthony Bennett is listed among the top two players for potential NBA Rookie of the Year for the 2013-14 season by ESPN's Chad Ford. Behind only Orlando's Victor Oladipo, the first-overall pick in the most recent draft appears to have defensive acumen as the only hurdle that would prevent him from being the third-straight No. 1 pick to bring...
The Cleveland Cavaliers are interested in bringing Henry Sims to training camp. Sims averaged 4.7 points and 4.0 rebounds for the Charlotte Bobcats in Summer League. Sims played in the D-League and in the Philippines last season along with a 10-day contract with the New Orleans Pelicans. Sims is a 7-foot center out of Georgetown.
There are few people that can be the life of the party like NBA mascots and recently, one of the Cleveland Cavaliers mascot made an appearance at a wedding. The costumed dog better known as "Moon Dog" made an appearance at Ben/Ashley's wedding (last name unknown) and tore things up. Don't believe me, check out the below pics: *** Moon Dog attends wedding [Deadspin]
Cleveland Cavaliers: What All 5 projected starters MUST work on Josh Morgan: HoopStuff Writer… While there are plenty of things for the Cavaliers players to improve on as individuals within the game, the main concern for front office personnel is finding a way to get their players healthy. Varejao, Irving and Waiters all missed at least 20 games last season, with Varejao playing...
  The guys at Deadspin posted early this morning about a recent wedding reception that featured the super horny Cleveland Cavaliers mascot Moondog.…
NBA News

Delivered to your inbox

You'll also receive Yardbarker's daily Top 10, featuring the best sports stories from around the web. Customize your newsletter to get articles on your favorite sports and teams. And the best part? It's free!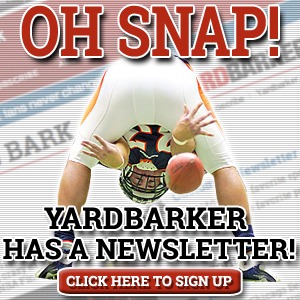 Latest Rumors
The Backyard

Today's Best Stuff

For Bloggers

Join the Yardbarker Network for more promotion, traffic, and money.

Company Info

Help

What is Yardbarker?

Yardbarker is the largest network of sports blogs and pro athlete blogs on the web. This site is the hub of the Yardbarker Network, where our editors and algorithms curate the best sports content from our network and beyond.