Found November 21, 2012 on Losers Bracket:
The Milwaukee Bucks lost to the Miami Heat in overtime on Wednesday night by a final score of 113 – 106. This game appeared to be over midway through the 2nd quarter. The Bucks were down 18, and couldn't make a shot. However, they were still playing hard. Then the Larry Sanders Show got himself tossed out midway through the 2nd after a double technical following a bad foul call against Wade. This inspired the Bucks, and they went on a 13-0 run, and closed the 2nd quarter with a 20-5 run and were only down 44-42 at the half. Damn, Dalembert even made a 3 ball to close out the half (it was his career first). In the second half, the Bucks continued to make a game of it. A John Henson tip in at the buzzer gave the Bucks a 73-71 lead at the end of the 3rd. Henson continued to contribute into the 4th quarter and really had a great game. He finished with 17 points, 18 rebounds and played tough defense. The Bucks had about a 7 point lead with 5 minutes left. Unfortunately, it then became Lebron time, and the Bucks could not contain him as he scored and created shots at will to give the Heat a 1 point lead with 1:30 left. Guess that is why he is the MVP. Things got real interesting then. Dunleavy then hit a crazy leaner with the foul, and hit the freethrow to give the Bucks a 2 point lead. Wade then hit a runner in the paint for the tie. Udoh threw in a jump hook to give the Bucks the lead. Bosh missed a three, but god damn Lebron got the board and scored to tie it up with 26 sec left. The Bucks then ran an isolation for Ellis, and he shot a contested 17 footer with 7 secs left (stupid play). Henson got the rebound, but basically shot (threw it over the backboard) too quickly, leaving the Heat 1.4 to work with. Wade had a shot at a fadeaway on the baseline for the win, but Ellis blocked it. In overtime, the game stopped being interesting. Bucks only mustered 2 points in the first 4 mins of overtime, to the Heats 9. It was over pretty quick. McGlocklin was imagining the Bucks getting stops, then a score, another stop, a score, and a stop and your back in it. Basically, the Bucks never showed up for overtime, and the Heat superathletes were too much. There was a great opportunity here for the Bucks to steal one. Would have liked to see a better play than the Ellis isolation at the end of regulation. There was no other action on court. Just clear out for Ellis v Wade. Yes, Wade is coming off an injury, but there didn't seem to be any indication it was slowing him down. Illyasova was again a non factor for the most part – he had 4 lousy points, and did nothing else. This team needs him to start contributing. Ellis needs to make a three every now and then, or he should just stop shooting them. Jennings had 19 points, 6 assists, and I believe 4 steals. Jennings also hit a number of tear drop runners that were hard to believe – I should really implement that shot into my game. James and Wade each had 28 for the Heat. And it seemed like they had kind of quiet games – crazy. Bucks have the Bulls next. They dropped to 6-4 with tonights loss. Gotta get the next one. In other news: 1) Kevin Love returned to the Minnesota Timberwolves earlier than expected following his hand injury sustained about a month ago. Finally, a positive health related development for a team depleted by injuries.
Original Story:
http://losersbracket.com/2012/11/buck...
THE BACKYARD
BEST OF MAXIM
RELATED ARTICLES
Out of chaos comes opportunity. Or in John Henson's case, opportunity comes out of an ejection. When forward Larry Sanders was ejected on his birthday after getting two quick technical fouls in the second quarter, the Bucks rookie had just that, an opportunity, and made the most of it. Though the Bucks fell to the defending-champion Heat in overtime, Henson opened eyes, scoring...
Milwaukee Bucks point guard Brandon Jennings has a point to prove this season. After the team opted not to extend his contract – making him a free agent next summer – Jennings has said he'll spend this season auditioning for the league. The Bucks are currently in Miami to face off against the Heat but [...]
Before I get into basketball, I'd like to take the time to wish everyone a Happy Thanksgiving. I hope this Thanksgiving Day finds you with plenty to be thankful for. Bucks fans certainly have a lot to give thanks for early on this season. While the last two games on the road haven't resulted in wins, Milwaukee fans can sit down at the table knowing that their team is in...
Despite playing eleven seasons in the National Basketball Association, Milwaukee Bucks center Samuel Dalembert had never hit a three pointer in his career.That all changed last night as time was running down in the second quarter of the Bucks/Heat game as Samuel knocked down his first three pointer of his career before time expired:
Dwyane Wade will try to take the court on Wednesday against the Milwaukee Bucks (6-3) after being sidelined with a pesky foot injury. Wade sprained his foot on November 12th and has been mostly out of the lineup since that point. "No soreness today after a tough day (Monday), so I feel pretty good," Wade told the Miami Herald.  Please Click Here To Read & Watch This Story
The Bucks Larry Sanders is becoming a very special player. Think Rodman.  Seriously.  Plenty of tats too. People it's time to jump on the empty bandwagon and get to know your Bucks. I was at the game Saturday night and truly loved it (weird right?) First, for any of you with A.D.D. the NBA feeds your addiction.  I literally missed a key last possession because I was watching...
NBA News

Delivered to your inbox

You'll also receive Yardbarker's daily Top 10, featuring the best sports stories from around the web. Customize your newsletter to get articles on your favorite sports and teams. And the best part? It's free!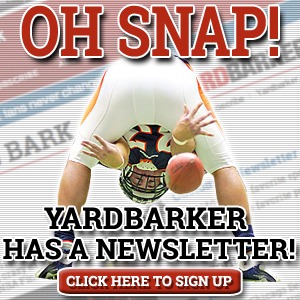 Latest Rumors
Best of Yardbarker

Today's Best Stuff

For Bloggers

Join the Yardbarker Network for more promotion, traffic, and money.

Company Info

Help

What is Yardbarker?

Yardbarker is the largest network of sports blogs and pro athlete blogs on the web. This site is the hub of the Yardbarker Network, where our editors and algorithms curate the best sports content from our network and beyond.