Found December 21, 2012 on Fox Sports Ohio:
PLAYERS:
Roy Hibbert
,
Lance Stephenson
,
Anderson Varejao
,
David West
,
Gerald Green
,
Kyrie Irving
,
Tristan Thompson
,
Samardo Samuels
,
Paul George
,
Tyler Zeller
,
Byron Scott
,
Ben Hansbrough
TEAMS:
Indiana Pacers
,
Cleveland Cavaliers
CLEVELAND (AP) -- Roy Hibbert scored 18 points and Lance Stephenson added a season-high 16 to lead the Indiana Pacers to a 99-89 win over the Cleveland Cavaliers, who lost their sixth straight game Friday night. Hibbert didn't have to deal with injured Cavs center Anderson Varejao, the NBA's leading rebounder. Varejao missed his second game in a row with a bruised right knee. David West added 15 points and 10 rebounds and Gerald Green had 14 points -- with a ferocious dunk -- as the Pacers won for the fifth time in six games. Kyrie Irving scored 17 points on just 5-of-16 shooting for the Cavs, who are 1-11 in their last 12 games. Tristan Thompson had 12 points and 13 rebounds for Cleveland, 3-21 in its past 24. With Varejao on the bench in street clothes, the Pacers enjoyed a size advantage inside and they outrebounded the Cavaliers 44-35. Hibbert spent the last 5 minutes on the bench after picking up his fifth foul, but by then Indiana led by double digits and rolled to a relatively easy win. Stephenson went 7 of 8 from the floor and added seven assists. With the Pacers leading by nine early in the fourth quarter, Green, the league's slam dunk champion in 2007, delivered a jam certain to make highlight reels for the next few days. Driving the left side, he soared in the lane and hammered the ball in over Cleveland's Samardo Samuels, who could do nothing to stop it. Green stared at Samuels and was given a technical foul, but the damage was done. Indiana's Paul George, scoreless at halftime, had eight points and four steals in the third quarter, when the Pacers outscored the Cavaliers 33-22 to take a 10-point lead into the fourth. During an 18-5 run by the Pacers, George stole a lazy pass by rookie Tyler Zeller, drove for a layup and was fouled. He missed his free throw, but George poked the ball away from an unsuspecting Zeller and threw down a two-handed dunk to give the Pacers a 69-55 lead. Cavs coach Byron Scott decided to rest Varejao for the second straight game rather than risk losing him for several more. The 6-foot-11 Brazilian will also probably sit out Saturday's game in Milwaukee, giving him additional time to heal before the Cavs play again on Dec. 26. Varejao, who is averaging 14.4 rebounds and playing at an All-Star level, bruised his knee on Tuesday night against Toronto. Irving had a puzzling first half and a disappointing game. He scored just five points on 1-of-4 shooting and had four turnovers by halftime. On one of them, he drove the lane and badly overthrew the 7-foot Zeller but then showed some outward disappointment toward his teammate, who would have needed a step ladder to catch Irving's pass. Other than an eight-point flurry in the third quarter, Irving never found his groove on offense and settled for jump shots instead of driving to the basket. Sparked by a 3-pointer from Green, the Pacers used a 12-2 run in the second quarter to open a 41-36 lead. Notes: Not long after his big dunk, Green left with a sprained left ankle. ... Indiana has won four in a row over Cleveland. ... Scott is looking forward to having three practices next week. Because of Cleveland's brutal schedule and injuries, the Cavs have been reduced to one practice the past three weeks. ... Zeller made his second start for Varejao and finished with 12 points. He scored 20 on Wednesday at Boston in his first career start. ... Indiana's Tyler and Ben Hansbrough are the fourth pair of brothers in NBA history to play on the same team, joining Dick and Tom Van Arsdale, Dominque and Gerald Wilkins and Mark and Brent Price.
Original Story:
http://www.foxsportsohio.com/12/21/12...
THE BACKYARD
BEST OF MAXIM
RELATED ARTICLES
He lost the mask. He joined the starting five. He put up a career-best 20 points, providing a flurry mid-range jump shots, right-handed hooks, and the occasional slash to the rim. Tyler Zeller, at least for one night, looked like an NBA-caliber center in what was just his 23rd professional contest — his first as a starter. Most importantly:  He was comfortable. After having...
Roy Hibbert scored 18 points and Lance Stephenson added a season-high 16 to lead the Indiana Pacers to a 99-89 win over the Cleveland Cavaliers, who lost their sixth straight game Friday night. Hibbert didn't have to deal with injured Cavs center Anderson Varejao, the NBA's leading rebounder. Varejao missed his second game in a row with a bruised right knee. David West...
At one point, this game was actually close. the Cavs went into halftime with the slimmest of leads, 45-44. After halftime, the bottom fell out of defense. Indiana dropped 33 points in the third period and Cleveland could never recover. Roy Hibbert (18 points) and David West (15 points) killed the Cavs inside (Anderson Varejao was sorely missed). On the other end, Cleveland shot a dismal...
We're alive, yay! The Indiana Pacers celebrated the passing of the Mayan doomsday prophecy by beating the Cavs in Cleveland, 99-89. Not much to say except that I thought the Cavs were going to be more competitive than they were, having previously been routed by the Pacers in Indiana not that long ago. But then again, I didn't expect them to be missing NBA rebounding...
CLEVELAND -- When you lose this much, there are no great stories to share. Everything pretty much stinks. Everything stops making sense. Everything you thought of yourself as a basketball player well, its easy to start questioning it. Thats where the Cavaliers may be at this point. Maybe not, but theres certainly a chance. Thats just the way it goes in sports. You can talk all...
The Cleveland Cavaliers have recalled forward Jon Leuer from the Canton Charge, the team's NBA Development League team, Cavaliers general manager Chris Grant announced Thursday. Leuer has started six games Canton, averaging 20.3 points and 12.3 rebounds in 35.8 minutes per game. He has also played in five games this season for the Cavs, averaging 3.2 points and 2.0 rebounds...
OPENING TIP This isnt getting any easier to type, but the Cavaliers just keep losing. Theyve now dropped five straight following Wednesdays loss in Boston -- and 10 of their last 11. Worse, Anderson Varejao is expected to miss Fridays home game against Indiana with a sore knee. Meanwhile, the gritty Pacers are finding a way to stay relevant without injured forward Danny Granger...
Count me as one of the surprised. Perhaps sensing that the world is about to end, the Indiana Pacers played one of their best games of the season by thumping the Utah Jazz 104-84 at Bankers Life Fieldhouse last night. The game wasn't even as close as the score suggests, as the Pacers had a 22-point lead at the half and wasn't threatened for the remainder of the game....
The Cleveland Cavaliers, who have been dealing with numerous injuries this season, are glad to have first round pick Dion Waiters back from an ankle injury.
The Indiana Pacers turned in their best shooting performance of the season in their last game. A similar effort could be on tap Friday night when they visit a Cleveland Cavaliers team that has lost five straight and struggled on defense all season. Indiana (14-12) shot a season-high 51.3 percent Wednesday to cruise to a 104-84 home victory over Utah. The Pacers hadn't topped...
MILWAUKEE (AP) --The Cleveland Cavaliers had a plan and worked it to perfection. Dion Waiters scored 18 points, and the Cavaliers snapped a six-game losing streak with a 94-82 victory over the Milwaukee Bucks on Saturday night. Cavaliers coach Byron Scott knew he had to slow down Brandon Jennings and Monta Ellis. Cleveland shut down Jennings, but Ellis shredded the defense and scored...
As previously noted here on That NBA Lottery Pick, we love poster dunks and during last night's Indiana Pacers/New Orleans Hornets game, there was a quality one.It happened in the fourth quarter of the game after a missed shot by Hornets guard Greivis Vazquez which was cleaned up by rookie forward Anthony Davis over Roy Hibbert:Earlier in the game, Davis decided to reverse it...
NBA News

Delivered to your inbox

You'll also receive Yardbarker's daily Top 10, featuring the best sports stories from around the web. Customize your newsletter to get articles on your favorite sports and teams. And the best part? It's free!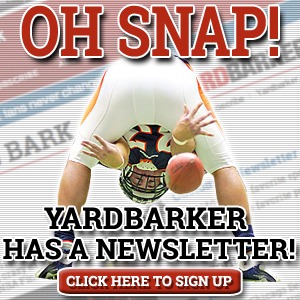 Latest Rumors
The Backyard

Today's Best Stuff

For Bloggers

Join the Yardbarker Network for more promotion, traffic, and money.

Company Info

Help

What is Yardbarker?

Yardbarker is the largest network of sports blogs and pro athlete blogs on the web. This site is the hub of the Yardbarker Network, where our editors and algorithms curate the best sports content from our network and beyond.