Found November 04, 2012 on Waiting For Next Year:
PLAYERS:
Kyrie Irving
,
Brandon Jennings
,
Anderson Varejao
,
Tristan Thompson
,
Larry Sanders
,
Beno Udrih
,
Monta Ellis
,
Donald Sloan
,
Daniel Gibson
,
C.J. Miles
,
Luke Walton
,
Tyler Zeller
,
Scott Skiles
,
Dion Waiters
,
Alonzo Gee
,
Samardo Samuels
TEAMS:
Cleveland Cavaliers
,
Milwaukee Bucks
Not the ideal start to the road trip I thought this game was headed to overtime. Trailing 102-100 with eight seconds left in the game, Kyrie Irving went the length of the floor and hit the game tying layup, leaving just seven tenths of a second on the clock. With that little time left, I figured that we were going to get an extra five minutes of the Cavs not guarding Mike Dunleavy (29 points, 10-12 FG, 6-7 3pt). Nope. Brandon Jennings (perhaps aided by a hometown clock keeper?) came around a screen, caught the inbounds pass and nailed a 28 footer as time expired. The Cavs defended it pretty well, but sometimes you gotta just tip you cap. Clock shenanigans or no, Jennings hit a big time shot and the Cavs started their six game road trip in the most heart breaking of ways. Kyrie Irving paced the Cavs with 27 points (10-18 FG, 7-8 FT), Anderson Varejao finished with 20 points and 17 boards,  and four of the five Cavalier starters finished in double figures (and the fifth, Tristan Thompson finished with nine). It was a much better showing than Friday versus the Bulls. The Cavalier bench, however, might be an issue. Milwaukee outscored their Cavalier counterparts to the tune of 62-15. Dunleavy posted a ridiculous 29-12-6 line, Larry Sanders had 17 points and Beno Udrih finished with 11 and 5 assists. Cleveland jumped out to an early 22-10 lead but Milwaukee fought their way back, behind Monta Ellis (23 points) and Dunleavy. Dunleavy, in particular, killed them. The Cavs let Dunleavy get two layups late in the first quarter and once he saw the ball go on in the basket, it seemed like he couldn't miss. The fact that the Cavs left him wide open only exacerbated matters. The Cavs began the second quarter with a modest 27-23 lead and a five of Donald Sloan, Daniel Gibson, CJ Miles, Luke Walton and Tyler Zeller. Two minutes into the quarter, the Bucks had a 10-0 run and 33-27 advantage. The Cavs trailed by as much as 41-30 before the starters righted the ship and the Cavs went into halftime trailing 55-49. The lead would seesawed for much of the second, never growing to more than five, and I felt pretty good about the Cavs chances in the hypothetical overtime period. Jennings' buzzer beater robbed the Cavaliers of their chance for an actual victory, leaving us only able to savor a victory of the moral variety. The effort from these young Cavs in Milwaukee was night and day when compared to their debacle against the Bulls. Now, the Bucks aren't on the same defensive level as Chicago, but teams coached by Scott Skiles aren't exactly known to be soft on that end of the floor either. It was nice to see the Cavs compete on their first road game of the year, not to mention their first back-to-back. Crazy close buzzer beater losses to potential playoff teams on the road, those I can handle. Watching garbage time for three quarters is a whole different pill to swallow. Random Thoughts: The fan angst over Dion Waiters seems to have subsided. I've really liked what I've seen thus far from Dion. He finished with 13 points (5-12 FG, 1-2 3pt, 2-4 FT),  he's not forcing things and he seems to enjoy taking (and making) those momentum breaking buckets. I'm pleasantly surprised to see how calm and within himself Waiters is playing. If anything, I'd like to see him be more aggressive. But that's a small quibble. So far, so good for the fourth overall pick. CJ Miles needs to calm down. And make a basket. CJ played 16 minutes, missed all six of his shots and finished a single rebound and an assist. Not good. Of everyone on this deplorable second unit, Miles is the only one who can create his own shot or score on the move. Sloan sets up, Zeller and Gibson spot up and Walton.. well, I'm not sure what Walton does. Miles is their offense and in three games as a Cavalier, he's a dreadful 4-22 from floor with 10 total points and not a single free throw attempt. I can't really judge him until he stops pressing and just starts playing his game. Alonzo Gee had his best game of the year. Gee finished 18 points, 3 boards and 6 (!!) assists. Alonzo made his decisions quickly, he didn't force bad shots and he actually passed the ball in transition. At least one of the starters has to be on the court at all times, preferably either Waiters or Kyrie. Thus far, Byron is using a ten-man rotation and I don't care for it. The second unit has been just brutal thus far and as much as it pains Scott to admit it, Waiters is clearly the second best point guard on the roster. I don't think Donald Sloan has played poorly (he's been the best of the bench bunch) but Sloan is simply running the offense, not breaking down the defense and setting up easy shots for his teammates. Byron staggered the bench minutes in the second half and the results speak for themselves. Anderson Varejao is really good. It's really fun to root for this guy. Varejao finished with 20 points and 17 boards and his energy, as usual, was just awesome. Anderson scored in a variety of ways; he hit open jumpers, he got put backs and he even had this weird dribble drive, spin move hook shot thing. Ok, I don't want him doing that very often but that may have made my night. Skinny Samardo Samuels: DNP-CD. Not that I had crazy high expectations for Samsam this year, but I'm a little concerned that he has two DNPs in three games. I don't know if he's in Byron's doghouse or what, but if dude can't break into this particular bench unit… yikes. Tyler Zeller looks like a rookie big man. The game still looks a little fast for Big Zed (he badly rushed a jump hook) but I think he'll be fine. His jumper looks solid but he's going to need to get bigger/stronger/sturdier down low if he's going to be able to rebound against good teams. The Cavs face the Clippers on Monday night in Los Angeles, tip-off is 10:30 PM.
Original Story:
http://www.waitingfornextyear.com/201...
THE BACKYARD
BEST OF MAXIM
RELATED ARTICLES
Full disclosure: I was asked to be part of Verizon Wireless Midwest Bloggers program. I have been provided with a wireless device and five months of service in exchange for my honest opinions about the product. The phone is the Motorola Razr M. At the end of the program I get to keep the phone. Dan Gilbert himself broke the news via twitter that the Cavaliers were going to be launching...
That's Donald Sloan of the Cleveland Cavaliers, with maybe the most hilarious flop I've ever seen.  The arms up while spinning will be a great audition for the Cavs community theater production of The Sound of Music.   But as funny as it is, it's a no-no in today's NBA, even though it wasn't called.  So Sloan got a little warning from the league as part...
ST. FRANCIS, Wis.- The season opened with a tremendous challenge for Bucks point guard Brandon Jennings. Celtics All Star point guard Rajon Rondo on Friday and then the reigning Rookie of the Year Kyrie Irving on Saturday. The league took note of Jennings' performance against two of the best the NBA has to offer, naming him the Eastern Conference's Player of the Week....
  Your Milwaukee Bucks are 2-0 to start the season for the first time in about 5 years. Brandon "Swizel Stick" Jennings hit a three ball at the buzzer to send the Bucks to a 105-102 victory. Kind of an interesting game for the Bucks. The first unit wasn't really thriving all night, but the second unit (udrih, Udo, Dunleavy, etc) stepped up big and rallied the Bucks back into...
The NBA is the best. Not only are they announcing which players are warned under their new flopping regulations, but they're even posting videos of the violations. Minnesota Timberwolves guard J.J. Barea and Cleveland Cavaliers guard Donald Sloan were the first players caught for overreactions to physical play. Barea was warned for flopping with ten minutes...
Comments after losses are usually pretty depressing. I have to say, I kind of like Bucks fans. They seem like a decent bunch who have been used to cheering for a losing team and seemed quite surprised by this win. Not much hate for the Celtics like there is in a lot of fan bases either. So, in spite of the loss, these comments aren't all that bad. Hopefully tonight we get...
Comments after losses are usually pretty depressing. I have to say, I kind of like Bucks fans. They seem like a decent bunch who have been used to cheering for a losing team and seemed quite surprised by this win. Not much hate for the Celtics like there is in a lot of fan bases either. So, in spite of the loss, these comments aren't all that bad. Hopefully tonight we get...
Upon further review....here are a few thoughts looking back on week one of the new Cavaliers campaign: -Andy. Wow.  13,15, 4 and shooting 64%.  We all had fun with the fact we were passing off Antawn Jamison and Anthony Parker as "veteran leaders" last year.  I couldn't imagine a player playing that role any better than a guy like Andy.  Just relentless and a joy to...
Think about this: Kyrie Irving and Dion Waiters are both 20 years old. Then think about this: The Cavaliers could be 3-1 right now. Then consider this: The Clippers were coming off a home loss to Golden State facing a very young Cavs team and back on their own floor. Yet the Cavs won anyway, 108-101, in a fun and up-and-down game Monday that featured something resembling playoff...
Not even these Celtic Hotties could distract the Buckies from puttting a whooping on the Celts. That's right all you rabid NBA Fans, the season is under way. Praise Jesus. Your Milwaukee Bucks have kicked off the season with a Bango (heyo!) by going into Boston and spoiling the season opener for the Celtics. Not only did they win, but they dominated the struggling Celtics (ok...
NBA News

Delivered to your inbox

You'll also receive Yardbarker's daily Top 10, featuring the best sports stories from around the web. Customize your newsletter to get articles on your favorite sports and teams. And the best part? It's free!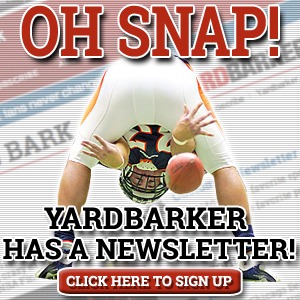 Latest Rumors
Best of Yardbarker

Today's Best Stuff

For Bloggers

Join the Yardbarker Network for more promotion, traffic, and money.

Company Info

Help

What is Yardbarker?

Yardbarker is the largest network of sports blogs and pro athlete blogs on the web. This site is the hub of the Yardbarker Network, where our editors and algorithms curate the best sports content from our network and beyond.