Found February 10, 2013 on Celtics Life:
Highlight videos above from the Boston Celtics' triple overtime win over the Denver Nuggets. Box score below. Denver Nuggets 114, Boston Celtics 118 - FINAL - 3-OT - February 10, 2013 Quarter Breakdown Team1234OT2OT3OTTOTAL Denver Nuggets19272422787114 Boston Celtics292128147811118 Denver Nuggets (33-19) PlayerMinsFGM/A3FM/AFTM/A+/-OREBDREBT-REBASTPFSTLTOBSBAPTS 8Gallinari, Danilo49:147-202-82-3-12191032342218 35Faried, Kenneth38:315-100-04-7-11481215331214 41Koufos, Kosta19:274-60-00-0-90220101018 9Iguodala, Andre19:572-61-30-0-80224201105 3Lawson, Ty54:4013-223-60-0-624692150229 13Brewer, Corey28:165-150-43-5+722413311113 21Chandler, Wilson32:563-91-20-0+40881201207 24Miller, Andre39:477-181-30-0+632561051015 34McGee, JaVale32:112-70-01-2+9313160100305 94Fournier, EvanDNP- 1Hamilton, JordanDNP- 25Mozgov, TimofeyDNP- 15Randolph, AnthonyDNP- TOTALS:-48-1138-2610-17-15506525191021118114 PERCENTAGES: 42.5%30.8%58.8%-TEAM REBOUNDS: 11TOTAL TURNOVERS: 21- Boston Celtics (27-23)...
Original Story:
http://www.celticslife.com/2013/02/ce...
THE BACKYARD
BEST OF MAXIM
RELATED ARTICLES
Last week Kevin Garnett became the first player in NBA history to accumulate 25,000 points, 10,000 rebounds, 5,000 assists, 1,500 steals and 1,500 blocks, a feat that shows his incredible all-around play since entering the league in 1995. With that said, it's not a shock to see Garnett hit another ridiculous milestone last night as he passed Sleepy Floyd for 50th on the NBA...
Paul Pierce wasn't picked as a reserve for the 2013 All-Star game, nor was he picked as a replacement to fill Rajon Rondo's vacant spot. This despite the fact that Pierce's numbers are remarkably similar to his his stats in previous All-Star seasons. Pierce has been on fire lately (A couple huge triple doubles included) and it appears there might be an All-Star roster...
Kevin Garnett grinned when he was told on Sunday that teammate Jason Terry was amazed at what Garnett was able to do on a basketball court "at 50 years old." Garnett, who is actually only 36, shot back. "Jet's no spring chicken, either," he said. Garnett and Terry are two of the NBA's oldies but goodies. Along with Paul Pierce, another player performing at an All-Star...
CelticsLife readers and writers. I need your help. I can't wrap my head around this crazy season the Celtics are having. Before the year began, I thought this was the best Celtics team we've had during the Garnett era.  Unfortunately, we sputtered out of the gate, and while we've had our moments, it has pretty much been a disappointing season up until this recent win...
The Celtics finally broke through and have their second longest winning streak by beating the Denver Nuggets last night.  It took 3OT's but they prevailed in the end, with Paul Pierce and Kevin Garnett leading the team. Winning without Rondo seems to have lifted a burden off of these Celtics.  As a result, No. 9's run of being the face of the franchise may be over. We...
Earlier this morning we noted that folks continue to drop the n-word way too easily and what does The Big Lead come up with? Kevin Garnett dropping the word on a local broadcast last... Full story at Bob's Blitz ~ http://www.bobsblitz.com
The Boston Celtics can't catch a break.  They lost their star point guard, Rajon Rondo, to a torn ACL.  Now, as the team has found a way to continue winning, they have lost another guard to a knee injury.  Leandro Barbosa went down after driving to the basket and making a pivot move. According to A. Sherrod Blakey of CSN Boston, the injury is likely season-ending.  Barbosa...
***NSFW*** When your playing a game on the playground or on the court out by the beach it is not unusual to see--or hear guys do a little trash talking. The movie White Men Can't Jump counted on it to add some humor to the movie--well, because it's funny even when delivered in the most serious manner. I am not foolish enough to believe for even a second that there isn...
What a game yesterday. Behind Truth's triple-double, Terry's big plays and KG's clutch shots, the C's outlasted Denver in triple OT 118-114. Celtics flew to Charlotte on Sunday night to get ready for the second half of their back to back. Tip-off vs the Bobcats is at 7pm EST tonight. Check out a slew of photos & GIFs from what was easily one of the most exciting games...
The Boston Celtics and Charlotte Bobcats battled it out at the Time Warner Cable Center in a back and forth battle all night. Bobcats snapped their 7 game losing streak in the win tonight, which also happened to snap the Celtics win streak. The second game of a back to back is killer, never mind when it's a triple overtime game. This was your classic old, tired basketball team...
More Snow, Please It's such a fun year in the Asso- ciation, people. LeBron James and Kevin Durant have both taken their games up another notch, which seemed more or less impossible last year; it's not too much of a stretch to say that they might be authoring the two best individual seasons in league history right now. The Knicks, of all teams, turned into a sharing and...
5280 Hoops Show: Denver Nuggets Podcast We are back with another installment of the Mile High City's favorite basketball podcast! This week we talk about Peter's faith in Justin's abilities to predict the future, the Nuggets upcoming road trip, a possible trade for the Brooklyn Nets, Kenneth Faried's selection to the Dunk Contest during NBA All-Star Weekend, FastBreaks, Fav...
NBA News

Delivered to your inbox

You'll also receive Yardbarker's daily Top 10, featuring the best sports stories from around the web. Customize your newsletter to get articles on your favorite sports and teams. And the best part? It's free!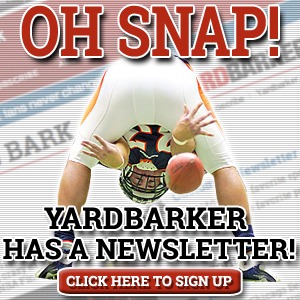 Latest Rumors
Best of Yardbarker

Today's Best Stuff

For Bloggers

Join the Yardbarker Network for more promotion, traffic, and money.

Company Info

Help

What is Yardbarker?

Yardbarker is the largest network of sports blogs and pro athlete blogs on the web. This site is the hub of the Yardbarker Network, where our editors and algorithms curate the best sports content from our network and beyond.