Found February 06, 2013 on Celtics Green ...a boston celtics blog.:
PLAYERS:
Rajon Rondo
,
Rudy Gay
,
Jose Calderon
,
Kevin Garnett
,
Paul Pierce
,
Amir Johnson
,
Courtney Lee
,
Kyle Lowry
,
Andrea Bargnani
,
Jeff Green
,
Pau Gasol
TEAMS:
Boston Celtics
,
Toronto Raptors
,
Detroit Pistons
,
Los Angeles Lakers
On Wednesday night the Celtics played their first of two back-to-back games starting off on the road in Toronto. The Celtics came into the night looking for their fifth straight win, all coming after the loss of their All-Star point guard Rajon Rondo. The Raptors made moves early this trade season and have a new look team led by former Memphis Grizzly, Rudy Gay. Rudy was involved in a blockbuster three team deal that sent longtime Raptor Jose Calderon out of town and brought Gay in. Life without Rondo has caused the Celtics to implement an all new free flowing offense. In doing so the ball handling responsibilities are being shared by every player on the floor. In their first four wins the Celtics saw a very even distribution of scoring and tonight followed the same script. The team had six players in double digit scoring lead by their defensive anchor Kevin Garnett who finished with a season high 27 points. With the game hanging in the balance the Celtics stayed strong in the final minutes sneaking away with their fifth straight win 99-95. Boston Celtics forward Paul Pierce, center, drives to the basket as Toronto Raptors' Amir Johnson, right, and Rudy Gay defend during first-half NBA basketball game action in Toronto, Wednesday, Feb. 6, 2013. (AP Photo/The Canadian Press, Frank Gunn) The Celtics continued to excel on the offensive end but unlike recent games the majority of the scoring came from their starters. All five finished in double digits while Lee and Bradley did a great job putting pressure on Toronto's guards. Paul Pierce had a rough shooting night going just 2-11 but managed to contribute in other ways finishing with 12 points, 11 rebounds, and 6 assists. Courtney Lee has strung together numerous quality performances with arguably his best tonight as he went 6-11 for 15 points. By far the biggest contribution came from KG with the 27 points on 11-18 shooting. The Celtics looked to him continuously down the stretch and he managed to step up big when it mattered most. The Raptors were led by their newest acquisition, Rudy Gay, who finished with a team high 25 points on 8-24 shooting. Although he was their top scorer the Celtics were able to keep Gay contained forcing him to shoot 1-7 from behind the arc. With Calderon gone Kyle Lowry has stepped into the starting point guard role full time and showed flashes of greatness instilling hope for the Raptors future. He finished with a near triple-double made of 17 points, 7 rebounds, and 8 assists. Toronto Raptors' Andrea Bargnani (7) falls as he battles for the ball with Boston Celtics' Leandro Barbosa (12) during first-half NBA basketball game action in Toronto, Wednesday, Feb. 6, 2013. (AP Photo/The Canadian Press, Frank Gunn) The Celtics bench struggled in comparison to their recent games with just one player achieving double figures in scoring. This came from their "instant offense" player, Leandro Barbosa who shot 5-8 good for 14 points in 21 minutes. Barbosa has stepped up big off the bench and has been seeing extended playing time due to the loss of Rondo. His style is anything but ordinary made up of off balance shots that oddly enough are extremely efficient. Jeff Green also had a solid performance finishing with 8 points, 6 rebounds, and some stellar defense against the Raptors frontcourt. The Celtics will return home tonight as they play again tomorrow at home against the Lakers. This will mark the first and only visit of their long time rivals at the TD Garden. The team will have a good shot of extending their win streak to six games as the Lakers just lost their veteran forward Pau Gasol for six to eight weeks with a torn plantar fascia. Tip off is at 8:00pm as the game will be nationally televised. Despite both teams struggles this year you can expect a high intensity game as always between the two most winning franchises in NBA history. [Discuss on CG Forums!]
Original Story:
http://celticsgreen.blogspot.com/2013...
THE BACKYARD
BEST OF MAXIM
RELATED ARTICLES
BOS G Rajon Rondo's surgery is expected to be on Feb 12 or 13 and will be a procedure using either his ligaments or a cadaver,source told Y! — Marc J. Spears (@SpearsNBAYahoo) February 8, 2013 After a brief burst of "maybe Rondo will return quicker than we think" stuff last night, it's now obvious his season is over. Spears added that Rondo has "spoken to three doctors...
Everyone who's been following this team for the past few years knows Kendrick Perkins and Rajon Rondo developed a very close friendship over their first few years with the team.  Rondo's post-Perk trade funk has widely been blamed on him sulking over the team sending away his best buddy. But a change in uniform doesn't mean there's a change in their friendship.  And when...
News broke last night that Rajon Rondo might be able to return sooner than expected which sent Twitter into a frenzy, with some crying out for Rondo to think of the long-term implications and others dreaming of a hobbled Rondo leading his team to the NBA Finals. Shortly afterwards, Danny Ainge put a stop to any speculation that Rondo might return early: Con't.... Ainge says Rondo...
The 2012-13 campaign has been anything but good to them, but the Boston Celtics will forge ahead Thursday, hoping to squeeze any semblance of positivity out of a midseason date with their historic rival, the Los Angeles Lakers. Get NBA odds for the classic matchup at Bovada. With the recent news that not only Rajon Rondo but also standout rookie Jared Sullinger will miss the remainder...
The Celtics may have lost both Rajon Rondo and Jared Sullinger for the season due to injuries, but the team's recent play wouldn't suggest any problems. Boston has won four in a row since Rondo went down, and the team appears to be rolling right along despite whatever injury troubles pop up. While Kevin Garnett and Paul Pierce's names swirl in trade rumors, however, the Celtics...
After sifting through what the Raptors fans had to say while watching their team blow a 10 point 4th quarter lead tonight, I mostly just feel bad for them.  They clearly haven't had much of anything good to root for from this team, ever.  The recent acquisition of Rudy Gay seemed to have put some playoff dreams in their heads, which Boston apparently shattered this evening...
The Memphis Grizzlies have struggled since dealing Rudy Gay. Perhaps surprisingly, though, his absence has seemingly taken a bigger toll on defense. The Grizzlies' defensive woes, however, pale in comparison to what the Golden State Warriors are experiencing. Both will try to avoid three-game losing streaks Friday night when they meet in Memphis. The Grizzlies (30-18) have...
Six straight wins have lifted the Celtics three games over .500, and into 7th place in the Eastern Conference. Not ideal playoff position by many stretch, but the team has flourished since losing Rajon Rondo for the season, and it seems they've done enough to impress team President Danny Ainge. According to Ric Bucher, Ainge has taken note of the recent stretch, propelled by...
8 a.m. ET: The Raptors got a whole lot more interesting last week when the perennial Atlantic Division also-rans picked up Rudy Gay in a three-team trade with the Grizzlies and Pistons. They still sit comfortably outside the playoff picture — at 17-31, they are 7 1/2 games behind the Celtics in the race for the No. 8 seed in the Eastern Conference — but they did begin Gay's...
Let's rewind for a minute. Go back two Sundays, when the severity of Rajon Rondo's injury was just coming to light. If someone had told you then, as the Celtics prepared to take on the Heat and attempt to avoid their seventh straight defeat, that Rondo would suffer a season-ending knee injury and Paul Pierce would score more than 17 points just once in the next five games, what...
When the Memphis Grizzlies traded Rudy Gay to the Toronto Raptors, there were rumors that immediately started to swirl over the futures of just about everyone else on the team. Zach Randolph is one of the men that could be moved by the trade deadline.
posted by Romy AquinoNow, that the trade has passed.....Rudy Gay has been spectacular so far for the Toronto, but how about those former Raptors in Detroit and Memphis?  These photos say it all.  For Raptors fans, this just looks weird.How did Jose Calderon and Ed Davis make out in their new team debuts?Jose Calderon vs. NYK:  26 min 15 pts (7-12), 3 ast, 1 rebEd Davis vs. WAS...
NBA News

Delivered to your inbox

You'll also receive Yardbarker's daily Top 10, featuring the best sports stories from around the web. Customize your newsletter to get articles on your favorite sports and teams. And the best part? It's free!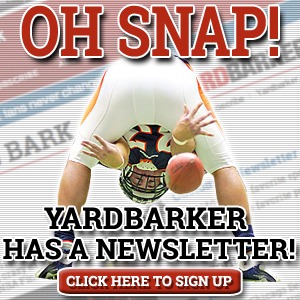 Latest Rumors
Best of Yardbarker

Today's Best Stuff

For Bloggers

Join the Yardbarker Network for more promotion, traffic, and money.

Company Info

Help

What is Yardbarker?

Yardbarker is the largest network of sports blogs and pro athlete blogs on the web. This site is the hub of the Yardbarker Network, where our editors and algorithms curate the best sports content from our network and beyond.