Found March 03, 2013 on NorthWest Sports Beat:
Win the winnable games The Portland Trail Blazers are coming off their first double-digit victory since Jan. 23, and they'll need to build off that momentum to make a push at the postseason. Matchup: Portland Trail Blazers (27-31) vs. Charlotte Bobcats (13-46) Venue: Rose Garden Time: 7:00 PM PT Date: Monday, March 4, 2013 As the 10th seed out West, the season isn't lost for Portland just yet. However, a loss to the Charlotte Bobcats would put things in perspective, and a run at the lottery would seem far more likely than a run at the playoffs. Ben Gordon torched the Blazers the last time the two met. (Photo: Matt Rochinski/Bobcats.com) Game Notes/How They Match Up The last time these two matched up, it proved to be one of the most dramatic comebacks of the 2012-13 season. Portland trailed by 18 with just over five minutes to play, but good defense, quick offense and extreme determination proved to be the difference makers. The Blazers forced overtime, and ended up outscoring the Bobcats 118-112 when it was all said and done. On the season, the Bobcats have had trouble containing their opponents at the most fundamental levels. They score the fourth-fewest points in the league, they give up the third-most points per game and they don't move the ball well in their offensive sets. There's no reason the Blazers should lose this game, but it's no secret that they have played both up and down to their competition this season. What to Watch: Portland When it comes to the Trail Blazers, there's only one thing to watch for Monday night against the Bobcats, and that's energy. When the Blazers have played the NBA's best, they've come out with high energy, and they've been able to exert a level of confidence that makes you believe they can beat anybody. However, when they've faced off against the teams they're supposed to beat, that's when they get content and give away winnable contests. The blowout win against the Minnesota Timberwolves should be huge for this team's confidence. Having a game under their belt that proves they can win big should set a precedent when it comes to the league's bottom-tier teams. Charlotte is as winnable as it gets, and as long as the Blazers play with both energy and confidence, they'll be fine this time around. What to Watch: Charlotte The Charlotte Bobcats have been the worst team in the NBA this season, and there's simply no debating that fact. They've won just 13 of their 59 games, they don't have a true go-to player and the talent on their roster is as shallow as it gets around the Association. So how did they manage to find success against the Blazers back on Dec. 3? Three-point shooting. Led by Ben Gordon, the Bobcats completed 48 percent of their long-range attempts. Gordon was 8-of-12 from behind the arc, and he scored a game-high 29 points in 35 minutes. The Portland Trail Blazers are coming off a big win against the Charlotte Bobcats. (Photo: AP) Charlotte is just 22nd in the league in three-point shooting. If their shot isn't falling, they won't find success on the offensive side of the floor. Portland needs to defend the three-point line, and if it does it well from start to finish, it will have the edge come Monday night. Key Matchup When the Blazers traveled to Charlotte for the first game of this series, Damian Lillard scored an impressive 24 points while knocking down 11 of his 14 free-throw attempts. Unfortunately, he was just 1-of-8 from behind the arc, which brought his field-goal percentage down to 37.5 percent for the game. Kemba Walker, on the other hand, shot 47.4 percent throughout the contest, and he scored 22 points—the most of any Bobcats starter. Both of these young guards have the potential to be great, but efficiency is what's going to help them find success right away. Damian Lillard has been the more consistent of the two throughout the season, but another poor shooting night  could help the Bobcats get ahead early. It's become clear that Portland's success rises and falls with Lillard, so a good showing will be necessary if the team hopes to take down a winnable opponent. Injury Report Portland: DAY-TO-DAY—Nicolas Batum Charlotte: N/A Prediction There's no reason the Blazers can't win this game. As long as they play with energy from start to finish, they'll avoid having to play catch up late in the contest. Blazers 111 – Charlotte 97 CLICK HERE TO CHECK OUT THE BLAZERS BLOG IN OUR CLUBHOUSE TODAY AT NWSB!
Original Story:
http://www.nwsportsbeat.com/trailblaz...
THE BACKYARD
BEST OF MAXIM
RELATED ARTICLES
LaMarcus Aldridge had 23 points and 14 rebounds, and the Portland Trail Blazers handed the Charlotte Bobcats their seventh straight loss with a 122-105 victory on Monday night. Nicolas Batum and Damian Lillard each finished with 20 points for the Blazers, who had seven players in double figures and shot nearly 60 percent from the field. Meyers Leonard, Portland's 7-foot rookie...
NBA legend Michael Jordan has more to worry about, as it's being reported that another woman (making it two) have come out and claims that Jordan is INDEED the father of her child.According to Gossip Extra, the woman, Pamela Smith, is claiming that Jordan and her had sex, which produced a love child. She's suing Jordan for child support and also to prove (by way of a paternity...
Damian Lillard scored 24 points, J.J. Hickson added 18 points and 16 rebounds and the Portland Trail Blazers beat the Minnesota Timberwolves, 109-96, on Saturday night to earn only their second win in nearly a month. LaMarcus Aldridge had 17 points and eight rebounds for Portland, which had six players score in double figures. The Blazers jumped out to a 10-point lead in the first...
Now or never The Portland Trail Blazers have been on the outside looking in when it comes the playoff picture since All-Star Weekend. The team was exceeding expectations to start the year, but following a seven-game losing streak in February, their odds of making the postseason have decreased, to say the least. That being said, there's still a month and a half until the season...
Tonight, I forgot there was a game.  Apparently, so did the Charlotte Bobcats.  That's a bad joke thousands of people make all the time.  I often make it.  My dear sweet, long suffering mother often asks, "Are the Bobcats playing tonight?"  I respond with the incredibly ingenius "Well, they were scheduled to, but they forgot [...]
While the Portland Trail Blazers were one of the league's worst rebounding teams during February, they opened this month with a season-best effort on the boards. Portland shouldn't have much trouble building off that performance on Monday night when they host the NBA-worst Charlotte Bobcats, who have been historically bad on the glass lately. After a season-worst four-game...
Newsflash: Michael Jordan is worth a lot of money, that is, if you count $650 million as a lot.  As insane as it sounds (and it sounds incredibly insane), MJ still pulls in $60 million in royalties…ANNUALLY. So when Jordan went and spent $2.8 million, it was no big thing.  But hey, it's still a $2.8 million home.  He bought it to not live out of a suitcase when he's in town...
Ever since it became official that New Orleans will drop "Hornets" and become the "Pelicans" next season, Charlotte is in full force trying to reclaim the team's original nickname to replace "Bobcats." Titled "Let's take back our buzz," (which sounds like some motto for hard core drinkers) check out the video of the push for &quot...
By: John Fortney – Staff Writer (@jfort753) You Maynor or may not want to add this guy! It was a short night in the NBA last night with only four games going so I'm starting you off with a possible deep league add if you are looking for assists. It's my man Eric Maynor, with 7 points 1 rebound and 12 assists in 31 plus minutes. Maynor was very quietly acquired by the Portland...
We need a silver lining, right?  Gillie the Kidd shot 50% from the floor, was perfect from the free throw line, and grabbed 6 boards.   Watching Bobcats games as of late is becoming hazardous to any fan's health.  It is one thing to watch a young team develop its youth, and see its youth growing while they lose by reasonable margins, but it is something completely...
The Bobcats didn't put up much of a fight on Friday night against the Utah Jazz. Not only did backup center Enes Kanter absolutely destroy them for an impressive 20-20 line, but they also lost by 30 and scored just 68 points. Good thing they have an equally dysfunctional squad on the docket on Sunday [...]
Top Blazers After slowly watching their record dip well below the .500 mark, the Portland Trail Blazers finally started getting back to some winning basketball. Even though the previous week saw a split (a loss to Denver, then a win against Minnesota), one aspect of Portland's game is incredibly different; that change lies with the play of the Blazer bench. Putting up league worst...
NBA News

Delivered to your inbox

You'll also receive Yardbarker's daily Top 10, featuring the best sports stories from around the web. Customize your newsletter to get articles on your favorite sports and teams. And the best part? It's free!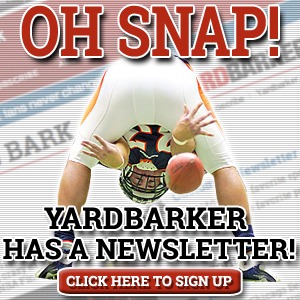 Latest Rumors
Best of Yardbarker

Today's Best Stuff

For Bloggers

Join the Yardbarker Network for more promotion, traffic, and money.

Company Info

Help

What is Yardbarker?

Yardbarker is the largest network of sports blogs and pro athlete blogs on the web. This site is the hub of the Yardbarker Network, where our editors and algorithms curate the best sports content from our network and beyond.