Found March 12, 2012 on Fox Sports West:
PLAYERS:
Dorell Wright
,
Monta Ellis
,
David Lee
,
Stephen Curry
,
Blake Griffin
,
Chris Paul
,
Kobe Bryant
,
Maurice Williams
,
Eric Bledsoe
,
Brandon Rush
,
Randy Foye
,
DeAndre Jordan
,
Klay Thompson
,
Chauncey Billups
,
Ekpe Udoh
,
Kenyon Martin
TEAMS:
Golden State Warriors
,
Los Angeles Clippers
,
Boston Celtics
,
Los Angeles Lakers
,
Miami Heat
LOS ANGELES (AP) -- Dorell Wright scored 18 of his 20 points in the first half, Monta Ellis added 19 points and 11 assists, and the Golden State Warriors knocked the Los Angeles Clippers out of first place in the Pacific Division with a 97-93 victory Sunday night. David Lee had 18 points and 10 rebounds after spending most of the game in foul trouble, helping the Warriors beat the Clippers on the road for the fourth straight time despite blowing a 21-point third-quarter lead. Stephen Curry, a game-time decision due to a mildly sprained right ankle, was in the starting lineup and missed three shots before going to the bench with 5:53 left in the first quarter. He played 10 scoreless minutes. Blake Griffin had 27 points and 12 rebounds for the Clippers, who missed 16 of 35 free throws. The loss, coupled with the Lakers' 97-94 victory over the Boston Celtics a few hours earlier in the first half of the Staples Center doubleheader, put the Clippers a full game behind their L.A. rivals in the race for the Pacific Division lead and homecourt advantage in the opening round of the playoffs. Clippers All-Star guard Chris Paul, who tied a season high with 36 points in Friday night's 120-108 win at San Antonio despite suffering a nasal fracture in the first quarter, went the Kobe Bryant route and wore a clear protective facemask against the Warriors. He finished with 23 points and five assists. Mo Williams, whose season-high 33 points against the Spurs helped snap the Clippers' string of 17 straight losses at San Antonio, missed his first seven shots in 25 scoreless minutes before ending the drought with a 3-pointer from the top of the key that sliced the Warriors' lead to 83-81 with 5:38 to play. Griffin, who missed eight of 15 from the line, converted Eric Bledsoe's inbounds pass from the baseline into a dunk that tied the score at 83 with 4 12 minutes remaining. But they weren't able to pull ahead. The Warriors regained the lead on Ellis' driving reverse layup with 3 minutes to go, and Brandon Rush added a midair dunk off an offensive rebound before Lee, who picked up his fifth foul 56 seconds into the final quarter, added a twisting layup with 1:27 left. Ellis, who scored 32 points against the Clippers in a 104-97 win on Feb. 20 at Oakland, quieted the sellout crowd momentarily by hitting a fadeaway 16-footer with 12.6 seconds left in the third quarter after Los Angeles sliced a 21-point deficit to 76-64 with a 9-0 run capped by Randy Foye's 3-pointer. The Clippers began a six-game homestand by making only six of 22 shots in the first quarter, while the Warriors jumped out to a 28-16 lead with 16 points by Wright -- including four 3-pointers and an alley-oop dunk off a lob from Ellis. Wright, an eight-year veteran who was born in Los Angeles, came in averaging 9.5 points in his 36 previous starts this season. The Clippers trailed 55-42 at intermission after missing 11 of 23 free throws -- including an air ball by DeAndre Jordan. Rookie Klay Thompson and Rush hit 3-pointers at both ends of a 10-2 spurt that extended Golden State's lead to 14. NOTES: Wright was the 19th overall pick in the 2004 draft. He signed with the Warriors as a free agent in July 2010 after six seasons with the Miami Heat, averaging 16.4 points in 82 starts while leading the league in 3-pointers (194) and attempts (516). ... Trailing 67-50, the Clippers received an unconventional technical foul for having six players on the court. ... The Clippers (23-16) are 8-9 since starting G Chauncey Billups suffered a torn left Achilles tendon that ended his season. ... Jordan has 15 points, 22 rebounds and 10 blocked shots in 82 minutes during the Clippers' three meetings with Golden State -- including a career-high eight blocks in 105-86 win over the Warriors on opening night at Oakland. The Warriors signed him to the restricted free agent to an offer sheet on Dec. 11, and the Clippers matched it the following day. ... Warriors C Ekpe Udoh rejected a layup by Griffin late in the first quarter, extending his streak to 16 straight games with at least one blocked shot. ... Paul extended his consecutive-game streak with at least one steal to 43. ... The Clippers are 0-4 at home when trailing after three quarters, compared to 4-11 on the road. ... Clippers reserve F Kenyon Martin missed his second straight game with sore ribs.
Original Story:
http://www.foxsportswest.com/03/12/12...
THE BACKYARD
BEST OF MAXIM
RELATED ARTICLES
Dorell Wright scored 18 of his 20 points in the first half, Monta Ellis added 19 points and 11 assists, and the Golden State Warriors knocked the Los Angeles Clippers out of first place in the Pacific Division with a 97-93 victory Sunday night. David Lee had 18 points and 10 rebounds after spending most of the game in foul trouble, helping the Warriors beat the Clippers on the road...
Two sources confirm the Magic are discussing a three-team trade involving the Warriors and Hornets that would send Monta Ellis, Andris Biedrins and Dorell Wright to Orlando.
According to CBSSports.com, Golden State Warriors owner Joe Lacob has nixed a deal that would have sent Monta Ellis to the Orlando Magic and Andrew Bogut to the Warriors. Said the report: The Magic's attempt to put together a three-team deal that would've sent Ellis to Orlando and Andrew Bogut from Milwaukee to Golden State didn't pass muster with the Warriors' owner. The...
During last night's NBA affair between the Golden State Warriors and the Los Angeles Clippers, Clippers star forward Blake Griffin was not welcomed to a block party thrown by Warriors guard Monta Ellis. Watch as Monta sends this ball into the front row:
In a trade that strikes me as a big surprise, Monta Ellis will be sent to Milwaukee in exchange for Andrew Bogut.  Stephen Jackson, who quickly fell out of favor with Bucks coach Scott Skiles, is also headed (back) to Golden State, and big men Ekpe Udoh and Kwame Brown will be on their way to Wisconsin.  Monta has been involved in various trade rumors recently, but none of them...
Finally! A trade. Not the one I was hoping to see and analyze, but it's interesting enough Yahoo's Adrian Wojnarowski broke it first. Here are the deets of the deal. Now let's break down the fantasy impact of this transaction. Improves Value, Loses Value, No Change, Slight Drop in Value Andrew Bogut - This is a lateral move for Bogut. His talent is undeniable and is likely...
MILWAUKEE (AP) -- A person with direct knowledge of the deal says the Milwaukee Bucks have agreed to trade center Andrew Bogut and forward Stephen Jackson to the Golden State Warriors. The Bucks will receive guard Monta Ellis, forward Ekpe Udoh and center Kwame Brown, the person confirmed to The Associated Press on condition of anonymity because the deal had not been announced...
By JEFF BARTL, STATS WriterThe Milwaukee Bucks moved into the thick of the Eastern Conference playoff race after their most recent win, and they're hoping a blockbuster trade will help keep them there.One night after acquiring high-scoring guard Monta Ellis, Milwaukee seeks its fourth straight victory Wednesday night when it hosts the Cleveland Cavaliers, who can tie the Bucks...
The first major pre-deadline trade is in: The Golden State Warriors are sending Monta Ellis, Ekpe Udoh and Kwame Brown to the Milwaukee Bucks for Andrew Bogut and Stephen Jackson. The fantasy implications are unclear so far. Immediately, Ellis and Udoh owners will lose games (Tuesday, for sure, and maybe Wednesday). I'd expect them to debut with the Bucks on Friday. ...
The Bucks have traded Andrew Bogut and Stephen Jackson to the Warriors for Monta Ellis, Ekpe Udoh and Kwame Brown.
The Milwaukee Bucks and Golden State Warriors got the NBA's trade deadline off to a rousing start Tuesday night by pulling off a five-player deal. In the trade Golden State sent Monta Ellis, Ekpe Udoh and Kwame Brown to Milwaukee in exchange for Andrew Bogut and Stephen Jackson. Bogut was the first overall pick in the 2005 NBA Draft and has spent his entire seven-year career...
NBA News

Delivered to your inbox

You'll also receive Yardbarker's daily Top 10, featuring the best sports stories from around the web. Customize your newsletter to get articles on your favorite sports and teams. And the best part? It's free!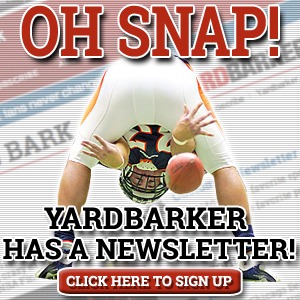 Latest Rumors
The Backyard

Today's Best Stuff

For Bloggers

Join the Yardbarker Network for more promotion, traffic, and money.

Company Info

Help

What is Yardbarker?

Yardbarker is the largest network of sports blogs and pro athlete blogs on the web. This site is the hub of the Yardbarker Network, where our editors and algorithms curate the best sports content from our network and beyond.