Found April 04, 2013 on Fox Sports West:
LOS ANGELES The Clippers crossed off one major item from their to-do list, but there was hardly a sense of contentment late Wednesday night and understandably so. They became the first Clippers team in franchise history to win 50 games in a season, beating the Phoenix Suns 126-101 at Staples Center. Now they have an opportunity to clinch the Pacific Division title on Sunday when they play the Lakers. Theres something delicious about that thought beat the Lakers and deny their co-tenants a shot at making the playoffs. Hey, they might even want to hang their division banner somewhere in the vicinity of all those NBA championship banners the Lakers currently display on the Staples wall. The Clippers could have clinched the division had the Golden State Warriors lost on Wednesday, but now they can do it against their downtown rivals. Thats definitely our motivation, to win the division, Clippers guard Chris Paul said. We want to win it on our own terms if at all possible. Of equal importance, the Clippers finally played with some much-needed passion after failing in their three previous attempts at win No. 50. They scored the first 15 points of the game, endured a second-quarter lull, then outscored the Suns 38-20 in the third. They desperately needed a game like this, even though it was against a Suns team that has the worst record in the Western Conference. But it can also be a springboard going into their final six regular-season games. You should be playing your best basketball at the end of the season, Blake Griffin said. We havent really been doing that, so its good to get a win like this. But at the same time no disrespect to Phoenix we need to do this against the teams that are in the playoff hunt or are in the playoffs or teams that we might be playing. Paul and center DeAndre Jordan had double-doubles, Paul with 15 points and 12 assists and Jordan with 20 points and 12 rebounds in 30 minutes. It was Jordans first 20-point game since Nov. 18; of his 10 baskets, eight were dunks. Backup center Ryan Hollins was ejected in the fourth quarter after a scuffle that began with Suns guard Goran Dragic and ended in a shoving match with Michael Beasley. In going for a loose ball, Hollins put Dragic in a headlock at the 8-minute, 57-second mark. Jermaine ONeal attempted to pull Hollins away, but as the group moved toward the Phoenix bench, Beasley pushed Hollins. Hollins was assessed a flagrant 2 foul, and both he and Beasley were ejected. I definitely didnt have intent to hurt, and I dont think he did either, Hollins said of Dragic. It was a momentarily ugly scene, but it hardly put a damper on the Clippers rout, or on their enjoyment of 50 wins. In the 43 years that the teams been around, getting to 50 wins is something special, Paul said. Its nice to be a part of. Its something thats good for our team and for our fans. Ever since I got here, weve talked about setting a precedent. We expected to get at least 50 wins, and we expected more. Its something to enjoy. If they want more, theyll have a chance Sunday. For a team that has endured so much losing, what could be better than beating the Lakers with a title on the line?
Original Story:
http://www.foxsportswest.com/nba/los-...
THE BACKYARD
BEST OF MAXIM
RELATED ARTICLES
Los Angeles Clippers star Blake Griffin is young, incredibly talented, filthy rich, one of the best players in the NBA, and as far as the world knows not married--so why shouldn't he date a model? There is no telling for certain if he is (just yet), but there is reason to believe that the 24-year old Mayor of Lob City is hooking up with a model, WestVelyn Snipes. At a family...
Lamar Odom is best known as an NBA champion and husband of Khloe Kardashian, but to one professional basketball player in Europe, Odom's a godsend. According to TMZ, when Ryan Pearson was 11 years old his family was struggling financially. Pearson's mother, Leslie, says Odom took him under his wing, seeing the potential in him, and gave him the opportunity to play basketball...
Professional athletes aren't required to use their fame and recognition to help the disadvantage, but if they do, they then have a responsiblity to do what is necessary to make sure that everything and everyone remains accountable. Case in point, Lamar Odom. The Los Angeles Clippers forward started a foundation back in 2004 called Cathy's Kids. He named it after his mother. She...
YOU'RE MINE
Things got a little testy during the fourth quarter of Wednesday night's game between the Clippers and Suns when Ryan Hollins, who has a reputation of cheap shots, got tangled up with Goran Dragic and held on a bit too long, appearing to have put him in a headlock. As the two players untangled themselves and exchanged words, their teammates crowded around them which is when Suns'...
When a 7-foot center picks a fight with a 6-foot-3 point guard, nobody wins. On Wednesday night, the Clippers held a significant lead over the Phoenix Suns, but that didn't stop L.A.'s big man, Ryan Hollins, from doing a little instigating. With 8:59 remaining in the fourth quarter, Hollins grabbed Goran Dragic and put him in a headlock with seemingly no intention of letting...
LOS ANGELES (AP) -- DeAndre Jordan had 20 points and 12 rebounds, Chris Paul added 14 points and 12 assists, and the Los Angeles Clippers led all the way in beating the Phoenix Suns 126-101 on Wednesday night for their franchise-record 50th win. Willie Green and Caron Butler scored 15 points each, and Blake Griffin had nine points, seven assists and five rebounds to help the Clippers...
Video: DeAndre Jordan is a funny dude
Los Angeles Clippers forward Lamar Odom is facing allegations that he misused funds from the tax exempt charity he created to help underprivileged kids and raise money for cancer research.In 2004, Odom created a charity called "Cathy's Kids" in honor of his late mother, who died from cancer when Odom was just 12 years old. The charity has raised an estimated $2.2 million...
By JUSTIN EINHORN STATS Senior Editor On the verge of matching their longest losing streak of the season and following two particularly bad defeats, the Los Angeles Clippers may be getting a break with the Western Conference's worst team coming to town. Chris Paul expects them to treat it like a playoff game. The Clippers get their fourth crack at a franchise-record 50th victory...
During the fourth quarter of Wednesday night's Clippers-Suns game, Ryan Hollins got tangled up with Goran Dragic and held on a bit too long, appearing to have put him in a headlock. Beasley defended his teammate, getting into it with Hollins which led to him being ejected from the game. Dragic called it a "dirty play" postgame, and Beasley explained his need to come to "Gogi's"...
NBA News

Delivered to your inbox

You'll also receive Yardbarker's daily Top 10, featuring the best sports stories from around the web. Customize your newsletter to get articles on your favorite sports and teams. And the best part? It's free!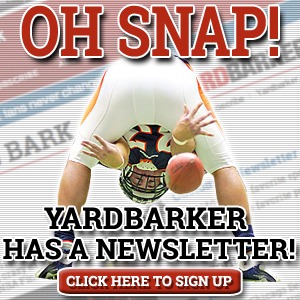 Latest Rumors
The Backyard

Today's Best Stuff

For Bloggers

Join the Yardbarker Network for more promotion, traffic, and money.

Company Info

Help

What is Yardbarker?

Yardbarker is the largest network of sports blogs and pro athlete blogs on the web. This site is the hub of the Yardbarker Network, where our editors and algorithms curate the best sports content from our network and beyond.