Posted December 24, 2012 on AP on Fox
PLAYERS:
Blake Griffin
,
Chris Paul
,
Jamal Crawford
,
Jared Dudley
,
Luis Scola
,
Markieff Morris
,
Alvin Gentry
,
Shannon Brown
,
Marcin Gortat
,
Ronny Turiaf
,
DeAndre Jordan
,
Michael Beasley
,
Vinny Del Negro
TEAMS:
Los Angeles Clippers
,
Phoenix Suns
The Los Angeles Clippers are starting to make easy victories look routine. Blake Griffin scored 23 points, Chris Paul had 17 points and 13 assists and the Clippers extended a franchise record with their 13th consecutive victory, 103-77 over the Phoenix Suns on Sunday night. Reserve Jamal Crawford added 22 points for the Clippers, who won in Phoenix for the first time since April 17, 2007. Los Angeles' overall win streak is an NBA season best and its six straight road victories are also a franchise best. ''We're just taking care of business right now,'' Griffin said. ''To be honest, we're not really concerned with `You haven't won here since then' or `You haven't won this many games in a row.' ''We hear it all but we're about just getting these wins and if they come within a streak or when we haven't won somewhere, that's fine.'' The Clippers have won by an average of 13 points and boast four victories of 20 or more points during their streak. ''Our starters did a good job in the first quarter and then our second quarter, we jumped on them,'' said Clippers coach Vinny Del Negro. Jared Dudley scored 19 points, Luis Scola had 11 and Markieff Morris added 10 for the Suns, who have dropped two straight after winning four in a row. Phoenix shot 52.2 percent in the first quarter but only 29.8 percent the rest of the way and tied a season low for points. ''Chris Paul was a one-man wrecking crew on defense,'' Dudley said. ''He took us completely out of our offense. Our turnovers and bad offense led to points. They're a team you really can't afford to do that to.'' Suns coach Alvin Gentry was ejected with 2:33 left in the first half when he received a pair of technical fouls seconds apart. The teams combined for six technical in the game's first three quarters. ''I've got to do a better job of keeping my cool in that situation,'' Gentry said. ''He (Rodney Mott) thought I deserved two technical fouls so that's the way it is.'' Phoenix kept it close for the first quarter and the first half of the second. Shannon Brown sank an 11-foot pull-up jumper on a fast break as the Suns trimmed an eight-point deficit to 43-40 with 5:36 left in the first half. That would be the Suns' next-to-last field goal of the half. Crawford, meanwhile, hit a long 3-pointer and a pair of free throws to key a 15-3 run that helped give the Clippers a 58-43 lead at halftime. ''It was our defense right there towards the end of the half,'' Paul said. ''I think we were up like six and then you look and we're up 15. We got some very timely steals.'' Los Angeles continued to extend its lead in the third, aided by five Phoenix turnovers in the first three minutes of the period, and used a 16-3 run to end the quarter for a 91-60 lead. The Suns had 16 turnovers against the Clippers, who lead the NBA by forcing an average of 17.5 per game. Los Angeles was a bit sloppy with the ball, too, turning it over 16 times. ''They're playing show basketball with the alley-oops and the fancy passes,'' said Suns center Marcin Gortat, who had eight points and 12 rebounds but also four turnovers. ''They can afford to turn the ball over a few times. Our team can't fall for that. We have to run what the coach is telling us to run and to execute.'' NOTES: Paul either scored or assisted on all but one basket over the final five minutes of the first quarter. ... The Clippers matched a franchise record by holding their eighth straight opponent below 43 percent shooting. ... The Clippers' prior best road winning streak was set in 1974-75 by the then-Buffalo Braves. ... Suns C Jermaine O'Neal and Clippers C Ronny Turiaf also received technical for an altercation in the second. Gortat and DeAndre Jordan also were handed technicals. ... Suns F Michael Beasley was inactive with the flu.
Original Story:
http://msn.foxsports.com/nba/story/lo...
THE BACKYARD
BEST OF MAXIM
RELATED ARTICLES
Chris Paul and his long-lost twin, Cliff Paul, star in the latest State Farm ad where both guys were "born to assist", in one way or another:
Ok, we searched the Web to see if Blake Griffin is dating Los Angeles Clipper lover Sabrina Maserati but we never found a definite answer. It seems as though Griffin has no trouble finding a date. For now we will call the friendly acquaintances. Check her out below:  
PHOENIX (AP) -- The Los Angeles Clippers are starting to make easy victories look routine. Blake Griffin scored 23 points, Chris Paul had 17 points and 13 assists and the Clippers extended a franchise record with their 13th consecutive victory, 103-77 over the Phoenix Suns on Sunday night. Reserve Jamal Crawford added 22 points for the Clippers, who won in Phoenix for the first...
Usually it's Blake Griffin that benefits in lob city from the nice alley-oop skills of Chris Paul, but not this time.  Eric Bledsoe threw down a huge alley-oop from Paul last night against the Sacramento Kings that would rival pretty much any Griffin dunk I've seen this year.  Check out the huge jam below. The Clippers won the game 97-85 over the Kings. Check...
LeBron James and Chris Paul were named Eastern and Western Conference Players of the Week, respectively, for games played Monday, Dec. 17, through Sunday, Dec. 23.
PHOENIX -- The Phoenix Suns got off a plane from Portland at 3 a.m. Sunday after a tough loss to the Trail Blazers. Nine hours later, the Suns found themselves in the path of a runaway train from Los Angeles. Blake Griffin collected 23 points and 11 rebounds, and Chris Paul added 17 points and 13 assists as the Clippers blew open a close game just before halftime and easily handled...
As a watcher and lover of basketball, I despise few things more than the hack-a-whoever strategy. It bogs down play, it makes a potentially thrilling game a monotonous shuffle to the free throw line and it does not even work most of the time. Yet when the alternative is letting a healthy Dwight Howard completely dominate your post defenders or allowing two-time NBA Most Valuable...
Olympic teammates share the honr.
The NBA is pushing it's Christmas day lineup hard and for good reason (see below for the impressive lineup).  First it was Carol of the Bells performed with bouncing balls, this one was uniquely good.  Now they give us James Harden, Jason Kidd, Chris Paul and Blake Griffin singing their tone def version of Jingle [...]
PHOENIX Suns coach Alvin Gentry said it point blank beforehand: The Los Angeles Clippers are the best team in the NBA. The Clippers' 103-77 victory over the Suns did nothing to refute that. The Clippers toyed with Phoenix while extending their franchise-best winning streak to 13 games, breaking a tie with Oklahoma City for the longest winning streak in the league this season...
NBA News

Delivered to your inbox

You'll also receive Yardbarker's daily Top 10, featuring the best sports stories from around the web. Customize your newsletter to get articles on your favorite sports and teams. And the best part? It's free!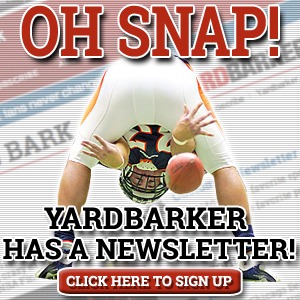 Latest Rumors
The Backyard

Today's Best Stuff

For Bloggers

Join the Yardbarker Network for more promotion, traffic, and money.

Company Info

Help

What is Yardbarker?

Yardbarker is the largest network of sports blogs and pro athlete blogs on the web. This site is the hub of the Yardbarker Network, where our editors and algorithms curate the best sports content from our network and beyond.