Found January 20, 2013 on isportsweb.com:
PLAYERS:
Kevin Durant
,
Russell Westbrook
,
Serge Ibaka
,
Kevin Martin
,
Vince Carter
,
O.J. Mayo
,
Darren Collison
,
Elton Brand
,
Mike James
,
Glen Davis
,
Chris Kaman
,
Jameer Nelson
TEAMS:
Dallas Mavericks
,
Oklahoma City Thunder
,
Orlando Magic
After losing a heart-breaker of a game to the Oklahoma City Thunder, 111-114 in overtime, the Dallas Mavericks are now on the road to regroup the will power that got them these last 4 wins. Even though Dallas lost to Oklahoma City, it was still a good game and the Mavs didn't give up. It took a while for some of them to warm up, but the good thing of it was that the rest of the team didn't falter and kept grinding it out. The Thunder are the Western Conference Champions and a very formidable opponent, but they, well outside of Kevin Durant and Russell Westbrook, they played like any normal team has been playing this whole season, so Dallas really doesn't have anything to hang their heads about. Durant, after being called out by his grandma this week about his language, set a career high of scoring 52 points, with 12 of those being in the overtime and Westbrook added 31 of his own for the Thunder to lead them to a victory. Others  scoring for the Thunder were Serge Ibaka who added 11 points and had 14 rebounds and Kevin Martin added 11. Dallas though had a balanced attack being led by a season high 29 points from Vince Carter who also connected on 4 of his 8 three point attempts. Dirk and OJ Mayo each added 18 points where Dirk had 9 rebounds and Darren Collison tipped in 15 points of his own. Elton Brand had another double-double with 10 points and 13 rebounds and vet Mike James added 10 points of his own. The problem Dallas had was that they again let a team get a double digit lead on them before they tried to rally back, but was unable to rally completely until late in the game. At one point, Dallas trailed by as much as 14 points and then they would rally a bit, but, then Oklahoma City would get another run going and then we were back to another 14 point deficit again, until Dallas finally was making it work in the fourth. Throughout the first 3 quarters, Dirk and Brand were a combined 3 points on 1 of 17 shooting, but then they decided to come alive in the fourth quarter and accounted for 22 of the 33 points that the Mavs scored in that quarter; but it was the three pointer that Mayo hit with only 2.3 seconds left in the fourth that gave Dallas that umph to get over that edge and gave them a 105-105 tie and force Oklahoma City into overtime. The good thing of it is that Dallas showed that they still have some stuff left in the tank and can be competitive against the big teams, they just have to be able to sustain themselves in order to pull off one of these miraculous wins against teams like Oklahoma City and others in the top seeds. Dallas  has come very close in those games and even secured the wins, but it just was not in their favor tonight and with Dirk and Brand having an off night, it was going to bode well for the Mavs and the outcome proved it. The Mavs had good numbers across the board in stats for the game, but just allowed Durant the shots that he wanted to get and in the end, unfortunately, was the hero for them and we were left holding the bag with another loss. So now Dallas has  to regroup themselves and travel to Orlando to take on the Magic who can be a little testy at times, but Dallas should be able to handle them and get a win. Howard is gone, Gortat is gone so they don't have a real big man in the middle, even though Glen Davis holds the court in that area, but maybe Chris Kaman and even Brand should be able to handle him and they just need to contain Jameer Nelson and Aaron Afflalo on the perimeter and take care of the business at hand. And with that, I will bid you a good day and say good luck and let's go Mavs!
Original Story:
http://feedproxy.google.com/~r/isport...
THE BACKYARD
BEST OF MAXIM
RELATED ARTICLES
Kevin Durant scored his career best 52 points Friday night as the Thunder took out the Mavericks in overtime, 117-114. Durant scored 9 of the Thunders 12 overtime points. His look for the night, "honey  dijon slacks, white button-up with a red tie for accent and a gray cardigan. LOVE this look for him.   photo via Instagram
Kevin Durant scored a career-high 52 points, including the go-ahead basket with 16.5 seconds left in overtime, and the Oklahoma City Thunder held off a Dallas Mavericks rally for a 117-114 victory Friday night. The Thunder, who won their sixth straight, ended a season-high four-game winning streak for the Mavericks. It was Oklahoma City's second overtime win against Dallas this...
DALLAS -- Kevin Durant scored a career-high 52 to lead the Oklahoma City Thunder to a hard-fought 117-114 overtime victory Friday night over the Dallas Mavericks at American Airlines Center. Oklahoma City (32-8) won its sixth game in row in its first return trip to Dallas since beating the Mavericks in the first round of the playoffs last season. Both meetings between these clubs...
DALLAS -- The Mavericks have "a heart of a champion," says Kevin Durant. "Dallas is a championship-level team, no matter what their record is." Ah, but OKC is a championship-level team and has the record to prove it. The Thunder downed the Mavs in a Friday night thriller, a 117-114 decision in yet another OT game, this time Durant as the tone-setter with 52 points...
What's an NBA player to do away with a few days off before facing a Los Angeles opponent?  Party, of course.  After Sunday's OT loss to the Nuggets, Thunder teammates, Kevin Durant & Russell Westbrook touched down in LA and hit up GreyStone Manor in West Hollywood:
Every morning, we will give you five things from the night before in the NBA to start your day. 1: Durant's day in Dallas Kevin Durant is largely thought of as one of the great scorers in the NBA. Yet, Durant has only reached the mythical 50-point mark once in his career in the regular season. At least, before Friday. Durant put on a scoring show for the majority of the...
Let it be known that in the [I tried to count all the games three times and came up with three different numbers between 500 and 700] game of the 2012/13 NBA season, Kevin Durant became the first to achieve 50 points.  Durant dropped a career-high 52, actually; 21 of which came at the free throw line (on the same number of attempts).  Shawn Marion, who gave up 17 of the 52, thought...
Kenneth Faried scored the go-ahead layup in overtime, and the Denver Nuggets overcame 30-plus point games from Kevin Durant and Russell Westbrook to beat Oklahoma City 121-118, snapping the Thunder's six-game winning streak. Corey Brewer scored 26 points, including 15 in the fourth quarter, to lead the Nuggets, who reversed a 20-point loss to Oklahoma City last Wednesday. Danilo...
DENVER (AP) -- Kenneth Faried scored the go-ahead layup in overtime, and the Denver Nuggets overcame 30-plus point games from Kevin Durant and Russell Westbrook to beat Oklahoma City 121-118, snapping the Thunder's six-game winning streak. Corey Brewer scored 26 points, including 15 in the fourth quarter, to lead the Nuggets, who reversed a 20-point loss to Oklahoma City last...
By Sam Amico FOXSportsOhio.com Kevin Durant and the Thunder take over the top spot, while the Clippers, Spurs and Heat all continue to prove they're extremely worthy challengers. Also, check out the week's top performances. 1 Thunder 32-9 1 Kevin Durant isnt quite LeBron, but hes closer than ever. And today, the Thunder are the best team in the league because of it. ...
The Oklahoma City Thunder and Los Angeles Clippers own the NBA's top two records, yet both are coming off losses. One of them is about to have the makings of a losing streak. Oklahoma City continues its season-high six-game road trip Tuesday night at Staples Center where the Clippers will try to avoid their second set of back-to-back losses this month. The Thunder are a league...
DENVER - Kenneth Faried finished with 16 points and made a go-ahead layup late in overtime as the Denver Nuggets held off the Oklahoma City Thunder 121-118 on Sunday night. Kevin Durant scored a game-high 37, and Russell Westbrook had 36 points and nine assists for the Thunder, who were trying to win for their grieving coach, Scott Brooks, who led his team with a heavy heart after...
NBA News

Delivered to your inbox

You'll also receive Yardbarker's daily Top 10, featuring the best sports stories from around the web. Customize your newsletter to get articles on your favorite sports and teams. And the best part? It's free!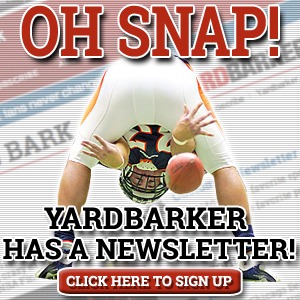 Latest Rumors
Best of Yardbarker

Today's Best Stuff

For Bloggers

Join the Yardbarker Network for more promotion, traffic, and money.

Company Info

Help

What is Yardbarker?

Yardbarker is the largest network of sports blogs and pro athlete blogs on the web. This site is the hub of the Yardbarker Network, where our editors and algorithms curate the best sports content from our network and beyond.