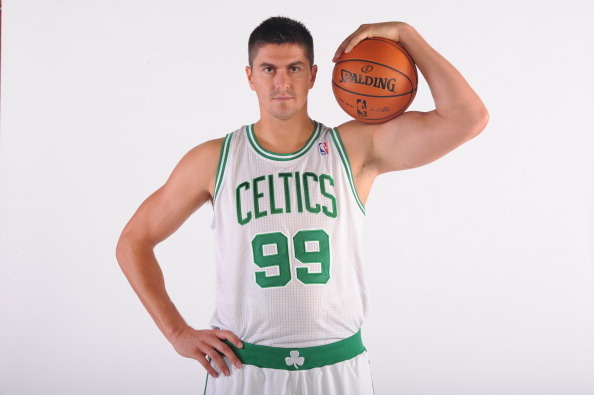 Since being released by the Minnesota Timberwolves under the NBA's amnesty provision, Darko Milicic has signed a one-year deal with the Boston Celtics. Many skeptics, including myself, have questioned what exactly it is that Milicic brings to the table. Having been largely unable to contribute as a member of five different teams over the past nine years, most of us have come to the conclusion that Darko, despite his obvious physical gifts, will simply never turn himself into a productive NBA player.
Milicic feels differently, of course, and he's recently vowed to do "whatever it takes" to make the Celtics a better team. Courtesy of CSNNE.com, here he is stating that he'll go as far as to "kill someone on the court."
"I'm done trying to prove I'm the No. 2 pick and that [expletive] stuff," Milicic told CSNNE.com. "This year, it's all about Celtics, to show that I am a team player. It's not about me. It's about us as a team.

Milicic added: "I'll do whatever it takes, whatever I need to do to help this team. So now, if I have to go kill someone on the court, I'll kill someone on the court."
Coming from a seven-foot behemoth of a man dubbed "The Serbian Gangster," this is actually somewhat frightening. If nothing else, maybe Darko can be the type of imposing presence that makes offensive players think twice before driving the lane.
One of the things that worries me about Darko is the negative effect that his own frustration tends to have on his play. This has been going on for nine disappointing years, and as effective a motivator as Doc Rivers is, I'm not exactly convinced that he'll find a way to channel Darko's anger into constructive energy. To quote Rick Adelman, "[Darko] hasn't done anything to really give you a lot of faith that he's going to go out and do the job."
Can't argue with that.
Read the rest of this story...
MORE FROM YARDBARKER:
Kevin Durant has...RUSSELL MANIA!
MORE FROM YARDBARKER
NBA News

Delivered to your inbox

You'll also receive Yardbarker's daily Top 10, featuring the best sports stories from around the web. Customize your newsletter to get articles on your favorite sports and teams. And the best part? It's free!