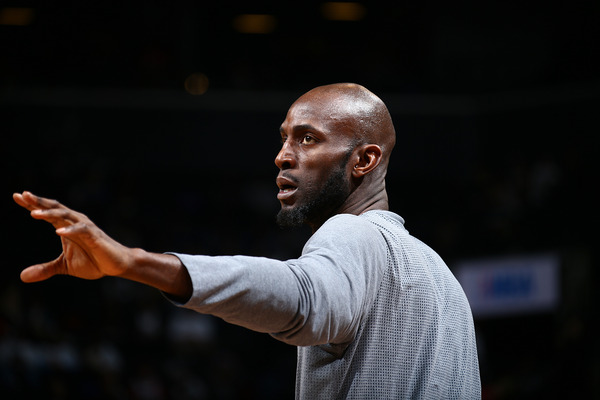 Count DeAndre Jordan among the Clippers players left impressed with Kevin Garnett's intensity.
Nathaniel S. Butler/NBAE via Getty Images
Kevin Garnett was officially named a consultant for the Los Angeles Clippers earlier this week. And it apparently didn't take long for the fiery Garnett to make an impression on his new crew of pupils.
Garnett, who will work primarily with the team's big men in his new role.made an appearance at Clippers practice on Tuesday. And it became clear the recently retired icon wanted to make his presence known immediately. His booming voice reportedly could be heard throughout the practice facility as he shouted out instructions to players.
KG, who previously spent time with the Clippers in an unofficial capacity during training camp, later worked independently DeAndre Jordan, primarily focusing on low-post shooting techniques.
The Clippers center clearly was left pretty impressed with Garnett's teaching methods.
"Yeah, you've got to be locked in," Jordan said, via The Los Angeles Times. "That's just his personality. He's an intense person. He's locked in all the time and that's contagious, man. I'm glad that we got him here. I'm glad that I'm able to take advantage of that. Whenever he's here, he's going to get tired of me."
Jordan later referred to Garnett as "a great spirit and a great basketball mind, a Hall of Fame guy." The Clippers center added he intends to soak up as much knowledge as possible from the NBA icon.
"I just want to be a student whenever he's here," Jordan said of Garnett.
Garnett of course has a history with several members of the Clippers organization, including head coach Doc Rivers, Brandon Bass and Paul Pierce, all of whom KG knows well from their time together with the Boston Celtics.
Having Garnett as a resource at practices obviously cannot but help the Clippers big men. But let's just hope his new role as an official Clippers consultant doesn't interfere with his side gig serving as host of "Area 21," his no-holds-barred show frequently featured on TNT's "Inside the NBA."
Suffice to say, we need more of the KG who savagely took Charles Barkley down a notch last week.
MORE FROM YARDBARKER:
Best athlete by state all time
MORE FROM YARDBARKER
NBA News

Delivered to your inbox

You'll also receive Yardbarker's daily Top 10, featuring the best sports stories from around the web. Customize your newsletter to get articles on your favorite sports and teams. And the best part? It's free!