Found June 26, 2013 on Fox Sports Southwest:
PLAYERS:
Mark Cuban
,
Donnie Nelson
,
Dwight Howard
,
Jason Kidd
,
Samaki Walker
,
Kelvin Cato
,
Dirk Nowitzki
,
Don Nelson
,
Troy Aikman
,
Mike Modano
,
Etan Thomas
,
Juwan Howard
,
Calvin Booth
,
Eduardo Najera
,
Jordan Hamilton
,
Rudy Fernandez
,
George Karl
,
Tyler Zeller
,
Jared Cunningham
,
Bernard James
,
Jae Crowder
TEAMS:
Dallas Mavericks
,
Los Angeles Lakers
,
Atlanta Hawks
,
Miami Heat
,
Charlotte Hornets
,
Denver Nuggets
,
Cleveland Cavaliers
,
Iowa State Cyclones
,
Fresno State Bulldogs
,
Notre Dame Fighting Irish
,
Oregon State Beavers
,
Florida State Seminoles
With the 2014 NBA Draft now just over one day away, the speculation about what the Dallas Mavericks might or might not do with that 13th pick is starting to ramp up again. Will Mark Cuban, Donnie Nelson and company trade that pick to free up more space to make a serious run at a max-level player like Dwight Howard an even stronger possibility? Or will the Mavs draft an international player like German point guard Dennis Schroeder, whose name has been mentioned by one media type who knows the team better than almost anyone? Not only is Schroeder a point guard, a clear area of need for the Mavs, but he's also not due to turn 20 until this fall and he's under contract to his club back home for another year, meaning he won't count against the cap in 2013-14. But the Mavs' various options on Thursday have already been discussed almost to death, so here's a look at several eventful draft-night moments over the past two decades. 1994-97: Four Strikes and You're Out Okay, so maybe the Mavs' draft haul between 1994 and 1997 wasn't a total loss thanks to them picking Jason Kidd second overall in '94, but it was pretty close to being a total wash. That's because with the 19th pick in the 1994 draft, they took Tony Dumas, who lasted 143 games in Dallas and did average 11.6 points per game in 1995-96 but was pretty spare to say the least. The top pick in '95 was none other than ex-Duke big man Cherokee Parks at No. 12 and his time in the Association is at best forgettable. The Mavs then took ex-Louisville standout Samaki Walker ninth in the '96 draft and the former Cardinal put up some decent numbers for some abysmal teams in Big D but is universally regarded as a lottery bust of truly monumental proportions. And in 1997, the Mavs took ex-Iowa State big man Kelvin Cato with the 15th pick and summarily dealt him to Portland in exchange for the rights to Australian big man Chris Anstey. The big Aussie played all of 82 games for Dallas, the highlight being the 5.9 points and 3.8 rebounds he averaged in 1997-98, making him yet another big whiff on draft night. 1998: A True Steal of a Deal But for all the misses the Mavs have had on draft night, there was definitely at least once when they got it right and that came in 1998 when Dallas took former Michigan forward Robert "Tractor" Traylor sixth overall and traded him to Milwaukee for the rights to the man who would become a franchise icon in Big D in one Dirk Nowitzki. Few of us could have envisioned the sort of player the big German would have become on that fateful June night back in '98, but then Mavs head coach Don Nelson definitely did and Nowitzki has meant so much to the franchise, especially during its improbable run to the 2011 NBA title that he has earned his spot on the Dallas sports version of Mount Rushmore alongside other greats like Troy Aikman, Mike Modano and Nolan Ryan. Of course, everyone in the Metroplex knows full well what Nowitzki has accomplished in the league, but Traylor hung around in the league for a while before staying in the game by playing overseas for a number of years before his tragic passing in 2011 due to a heart attack. For a guy who battled weight issues for most if not all of his career, he still seemed to do pretty well for himself but the Mavs definitely made the right call in trading him on draft night, no doubt about that at all. 2000: Two More Forgettable Names in Mavs History In 2000, the Mavs took former Syracuse big man Etan Thomas 12th overall and the Tulsa native didn't play a single minute for the club when he was included in a package of players that went to Washington in a pre-deadline deal that netted the Mavs the likes of Juwan Howard and Calvin Booth. Dallas also acquired the rights to Courtney Alexander, a two guard from Fresno State, who had been taken 13th overall by the Hornets. Alexander's career with the Mavs was a bit more noteworthy than Thomas', mainly because he played a total of 38 games before he too was dealt to the nation's capital with Thomas in the huge deal with the Wizards. However, the '00 draft wasn't a total loss as in the second round, the Mavs traded the rights to former Vanderbilt forward Dan Langhi to Houston in exchange for a blue-collar player from Oklahoma named Eduardo Najera. Of course, Eddie went on to become a huge fan favorite during his two stints in Dallas and now coaches the Mavs' D-League affiliate, the Texas Legends, so the night wasn't a total wash. 2011: Another Interesting Turn of Events Mavs fans remember this draft as being one where the team picked 26th and chose former University of Texas forward Jordan Hamilton, who was then shipped to Denver. Hamilton was regarded as something of a project because he left UT early and with a veteran-laden team, his prospects for minutes weren't great. So, the Mavs shipped him to the Nuggets, netting Spanish scorer Rudy Fernandez in the deal. However, as we all remember, Fernandez never played a minute in Dallas. He was shipped to Denver in a deal that netted the Mavs a second-round pick. Much was made when the Mavs acquired Fernandez, who had turned some heads during his time in Portland, but for several reasons he never ended up playing a single minute in Big D. All in all, it's hard to quibble with this draft, especially since the Mavs were fresh off an NBA title. Hamilton has done OK in Denver under now former coach George Karl and was an interesting player at that spot, but many saw him as a project and rightfully so. And while some might gripe about the Mavs only getting a second for Fernandez, at least they got something for him. The way this scenario all played out illustrates something those who cover and follow the NBA closely have known for years, picks late in the first round really don't have much value at all, do they? 2012: Jury's Still Out In last June's draft, the Mavs had the 17th overall pick and selected Notre Dame big man Tyler Zeller with that pick. However, the rights to Zeller were shipped to Cleveland in exchange for the rights to ex-Oregon State guard Jared Cunningham, who played all of eight games for the Mavs last season. In fact, Cunningham spent much of last season with Frisco of the D-League, averaging 15.3 points, three assists and nearly three rebounds in his 15 games in Collin County, 13 of which were starts. This year's Summer League figures to be big for Cunningham not just for this season but as far as his future with the team. As for Zeller, he played in 77 games for an abysmal Cavaliers team and averaged 7.9 points and 5.7 rebounds in just over 26 minutes of action per night. The Mavs did net former Florida State big man Bernard James and ex-Marquette standout Jae Crowder in a pair of trades in the second round and both showed nice flashes as rookies but how much do they figure into this franchise's long-term plans? Right now that's tough to say.
Original Story:
http://www.foxsportssouthwest.com/nba...
THE BACKYARD
BEST OF MAXIM
RELATED ARTICLES
DALLAS -- Let the recruiting begin. "I reached out to (Dwight Howard)," Dirk Nowitzki said Thursday from just outside the Dallas Mavericks draft room. "I told him that we'd love to have him... And if I need to jump on a plane, I'm free. I'm available." And thus marks an official beginning to the Dwight-to-Dallas saga... It didn't come in the...
After two years building a roster on the notion of temporary, the Dallas Mavericks and owner Mark Cuban are ready for something a little more permanent. The question is whether finding new partners for Dirk Nowitzki - or deciding to keep some of the old ones - starts during the NBA draft Thursday night or in free agency next week. While Cuban still believes the Mavericks did the...
DALLAS -- The Dallas Mavericks are approaching tonight's NBA Draft and the July 1 opening of free agency as if they have a legitimate shot at big fish Dwight Howard. A national report now calls it unlikely the All-Star center will remain with the Lakers and Dallas is the front-runner destination. The valid base of the story is two years in the making. Howard has long admired...
He's one of the more popular players in recent Dallas history. His self appointed nickname, his fan friendly attitude, his ability to be the perfect complementary player for Dirk, all of it puts him near the top of the list of my favorite players of all time. And now he's saying he'd come back to [...]The post Jason Terry Would Come Back To Dallas appeared first on The Dallas Sports Rant.
According to Adrian Wojnarowski of Yahoo! Sports, the Dallas Mavericks have traded their No. 16 pick, which they acquired just moments before the trade, and second-year shooting guard, Jared Cunningham, to the Atlanta Hawks for the No. 18 and No. 44 pick in Thursday's draft. Looking to shed salary cap in pursuit of free agent Dwight Howard, the Mavericks shed Cunningham's salary...
Turns out, the Dallas Mavericks might have a shot at Dwight Howard after all. ESPN's Chris Broussard Tweeted today that Howard hasn't made up his mind, but is unlikely to re-sign with the Lakers because of coach Mike D'Antoni's system. That leaves Houston and Dallas as the favorites to sign Howard, however, Broussard said Howard is so indecisive, nothing is out...
So the most wishy-washy professional athlete of his generation has an interest in playing for the Dallas Mavericks? I'll believe it when I see it. An ESPN report Thursday suggested that Lakers center Dwight Howard is excited about joining the Mavs because he would be the face of the franchise. Dirk Nowitzki might be one of the greatest players in NBA history, but he's never...
NBA star Dirk Nowitzki and Bayern Munich goalkeeper Manuel Neuer held a match in Germany to benefit their respective charity organizations on Sunday. And during that match, Nowitzki showed that basketball players are catching up to footballers in the art of egregious flopping. [Continue Reading] Ironically, Nowitzki spoke about flopping to the Dallas Morning News before the Heat...
Dirk Nowitzki made a recruiting call to Dwight Howard. "I reached out to him, but that's probably as far as I would go," Nowitzki said. "I told him we'd love to have him and that's really about it. It's not like we call each other every day. I didn't write him a letter. I just had a little phone contact and that was about it." Nowitzki regards Howard as the best...
NBA News

Delivered to your inbox

You'll also receive Yardbarker's daily Top 10, featuring the best sports stories from around the web. Customize your newsletter to get articles on your favorite sports and teams. And the best part? It's free!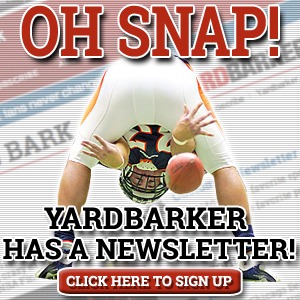 Latest Rumors
The Backyard

Today's Best Stuff

For Bloggers

Join the Yardbarker Network for more promotion, traffic, and money.

Company Info

Help

What is Yardbarker?

Yardbarker is the largest network of sports blogs and pro athlete blogs on the web. This site is the hub of the Yardbarker Network, where our editors and algorithms curate the best sports content from our network and beyond.