Found August 25, 2013 on isportsweb.com:
Over the last three years, the Chicago Bulls have been lead to the NBA elite by what I like to think of as the Three Ds: Defense, D-Rose, and Depth. Rose came first, and the defense and depth came along the same offseason when Tom Thibodeau was hired. Before this past year, I thought the Bulls were down to just one of those three; defense. Rose was out for the year, and the previously dominant bench group of Omer Asik, C.J. Watson, Kyle Korver, Ronnie Brewer, and Taj Gibson was broken up, with only Gibson staying in Chicago. That group, which was the best bench unit in the NBA, and one of the best defensive lineups period in the NBA, was replaced with a group consisting of Gibson, Marco Belinelli, Nate Robinson, Kirk Hinrich and Nazr Mohammad as the main players. I was not nearly as high on this bench unit as I was on the previous one, understandably. The team went on to thoroughly make me eat my sentiments. The depth of the Bulls absolutely carried the team through the season, along with the typically rock-solid defense. Each player played the role of hero at different points throughout the season. Belinelli played the role of pick and roll ballhandler and scorer, Hinrich played great defense on Deron Williams in the playoffs, and Robinson did his Nate Robinson things, exploding for 25 or 30 points in many different big games through the season. Now, however, the bench has been remade again, as Robinson and Belinelli have moved on after one-year deals with the Bulls. Marquis Teague will be looked to to fill Robinson's 3rd point guard spot, and the Belinelli/Richard Hamilton combination is replaced on the wings by Mike Dunleavy and rookie Tony Snell. Let's examine each player's potential role this upcoming season. TAJ GIBSON Gibson will continue, as he has been for the past few years, to be the Bulls' 6th man and utility big man. Gibson, despite only being in his 4th season, is already 28 years old and at this point, is probably near or at his ceiling as a player. While some may lament his lack of star potential or flashiness, Gibson is almost exactly what you look for from a bench player: versatile enough to defend multiple positions, athletic, consistent and always gives consistent effort. He's not as polished offensively as Carlos Boozer, but seems to finish with more authority at the rim and has a decent mid-range jumper himself. A rather good illustration of what Taj Gibson does well. Defensively is where Gibson really is valuable to this team. His defense is the perfect antidote to whenever Carlos Boozer is missing his defensive rotations or struggling to defend the pick and roll. Thibodeau, being the defense-first (and second, and third…) coach that he is, often leaves Gibson in to finish games over Boozer. Some fans may look at his stats and worry that the Bulls' best bench player is a career 8 point, 6 rebound per game player, and that his stats have not improved much since his rookie year, but his value is in so much more than offense and stats. He can spell Joakim Noah and Boozer, and can even switch out and defend perimeter players on occasion. He is a great player to have coming off the bench. MIKE DUNLEAVY Dunleavy will most likely be the first perimeter player off the bench, with Jimmy Butler graduating to the starting lineup. He will be a different type of swingman than the Bulls have had in recent years; he's kind of like a mix of Belinelli's ballhandling and Korver's shooting. Dunleavy is an excellent 3-point shooter, something that will be a breath of fresh air for the Bulls. Belinelli was a good shooter, but Dunleavy has been up around 40% the last few seasons, including a career-high 42.8% from deep last season for the Milwaukee Bucks. He's a good passer who will move the ball when it needs to be moved and shoot when he is open. What he won't do, though, is provide the defense that a guy like Ronnie Brewer did. Dunleavy's career defensive rating is 107; for context, the Cleveland Cavaliers were the 4th-worst rated defensive team last season with a defensive rating of 106.9. He doesn't have the quickness to stay in front of most players, but he is a smart defender who will position himself well and rotate defensively. The Bulls hope Dunleavy can use his varied offensive game to help them out on that end. KIRK HINRICH Ah, good ol' Captain Kirk. Hinrich never turned into the elite point guard Bulls fans may have hoped when he was drafted 7th overall in 2003, but like Gibson, Hinrich he is well suited to being an effective role player off the bench. Like Gibson, he can defend and play multiple positions, point guard and shooting guard. He's tough, works hard on defense and understands his strengths and limitations. He has notably been Chicago's Dwyane Wade stopper whenever they play Miami (Wade only averages less points per game against Boston, Charlotte, and Detroit than Chicago). With Hinrich and Gibson, Chicago has the ability to mix and match defensive assignments and make sure the opponent's best perimeter and low-post threats are well guarded while the bench unit is in the game. On offense, Hinrich is a good shooter, at 37.9% for his career from three-point range. Like Dunleavy, he will move the ball and not try and do too much. EVERYONE ELSE: Gibson, Dunleavy, and Hinrich will be the top three reserves for Chicago because of their intelligence as veterans, positional versatility and defensive abilities (well, sort of for Dunleavy). But the Bulls have a couple of other interesting players on the bench. Marquis Teague was the starting point guard on the national-champion Kentucky Wildcats, and has some real quickness and ability to get into the lane. Rookie Tony Snell has great length, athleticism and good shooting ability and could turn into Jimmy Butler 2.0, but will have to work hard to get off the bench. Nazr Mohammad will do what he does as a solid veteran and smart player, but he doesn't offer much high-level play anymore. Second-round rookie Erik Murphy offers intrigue as a 3-point shooting big man. Last year, the Bulls bench surprised me with how well they played. This year, again, I am concerned with how they might perform, as the creativity and scoring ability of Nate Robinson is gone. They will play good defense (I think I would play good defense if all I did was shake Tom Thibodeau's hand) and compete, like always. It will be a third different bench in three years, for Chicago, and hopefully, they will be as good as the last few.
Original Story:
http://feedproxy.google.com/~r/isport...
THE BACKYARD
BEST OF MAXIM
RELATED ARTICLES
Let's be honest guys, former Chicago Bulls star Scottie Pippen lives a pretty good life and well, judging from his wife's Instagram account, life is pretty good. Larsa Pippen posted an image of her working on her golf swing while wearing a bikiniInstagram page today:
Chicago Bulls: One Player They Should Trade For- Jimmer Fredette By Mike Elworth: Owner and Publisher Trade: Marquise Teague, 2014 2nd Round Pick Receive: Jimmer Fredette - The Chicago Bulls are considered one of a handful of teams that are capable of beating the Miami Heat in a seven game series and winning a title, if Derrick Rose comes back healthy and plays at his past superstar...
Such a cold cold world. I know Derrick Rose can't wait for the season to start, so the memes will go away. Don't worry about my last tweet, #Bulls fans… Just consider @NSYNC as motivation. (h/t @cjzero) pic.twitter.com/Ivfy6yJ5yr — The Bulls Show (@TheBullsShow) August 26, 2013
I've been sitting on this Scalabrine short film for about 7 months now. Figured I'd wait until the dog days of the offseason to post it. Apparently back when Brian Scalabrine was with the Bulls a couple small business owners who make a sports drink got the White Mamba to participate in their short film ad campaign. If you can't get enough Scal (or Greater Than Coconut...
Bulls News

Delivered to your inbox

You'll also receive Yardbarker's daily Top 10, featuring the best sports stories from around the web. Customize your newsletter to get articles on your favorite sports and teams. And the best part? It's free!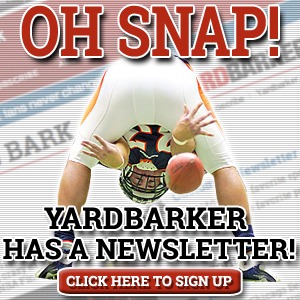 Latest Rumors
Best of Yardbarker

Today's Best Stuff

For Bloggers

Join the Yardbarker Network for more promotion, traffic, and money.

Company Info

Help

What is Yardbarker?

Yardbarker is the largest network of sports blogs and pro athlete blogs on the web. This site is the hub of the Yardbarker Network, where our editors and algorithms curate the best sports content from our network and beyond.