Found November 13, 2012 on Project Spurs:
PLAYERS:
Steve Nash
,
Dwight Howard
,
Kobe Bryant
,
Pau Gasol
,
Shawn Marion
,
Raja Bell
,
Jodie Meeks
,
Steve Blake
,
Antawn Jamison
,
Jordan Hill
TEAMS:
Los Angeles Lakers
,
Phoenix Suns
,
Dallas Mavericks
,
Utah Jazz
,
San Antonio Spurs
,
New York Knicks
The San Antonio Spurs face the Los Angeles Lakers for the first time Tuesday night.  Aside from being the two dominant teams in the post Jordan NBA, the two teams don't have a ton in common and the Spurs fan base doesn't really like the Lakers franchise.  Spurs fans specifically hate this Lakers team because of the hype that came with it once Steve Nash and Dwight Howard were traded for over the summer.  Now, the one likable part of the team, former Spurs assistant Mike Brown, is gone. Hiring former Phoenix Suns and New York Knicks head coach Mike D'Antoni is the one way to make this Laker team even more unlikable for Spurs fans.  Reuniting D'Antoni with Nash brings back memories of the Seven Seconds or Less Suns.  Like the rest of the country, Spurs fans have fond memories of those Suns teams.  Unlike the rest of the country, those memories involve the Spurs beating the Suns in the playoffs over and over again.  And if Nash's class and no-quit attitude is the part of those Suns teams Spurs fans respected, D'Antoni's constant complaining on the sidelines and unwillingness to adjust his offensive system no matter what the situation is what we turned our noses up at. That's an unfair and mostly ignorant perception of D'Antoni, who is a very good coach.  Having said that, this hire doesn't strike fear in the heart of Spurs fans.  Yes, when Howard gets healthy he and Nash are going to wreck teams with the pick and roll.  However, D'Antoni's system also works well when there's plenty of shooters on the court, which the Lakers don't have a ton of, especially in their starting five.  You can leave Metta World Peace alone and Kobe Bryant's never been confused for a sharpshooter, though he's never going to be left too wide open.  Despite the lack of shooting, they're still going to be a monster offensive team because of the talent of Howard, Bryant Nash and Pau Gasol. The defensive side of the ball is a different story altogether.  The common theory is that having Howard there is going to make the Lakers a good defensive team once he's completely healthy, whenever that happens.  If D'Antoni's Suns defenses were middle of the pack with Amar'e Stoudemire as his rim protector, Howard should make them really good, right? Well, those Suns defenses also had Shawn Marion and Raja Bell, two top notch defenders in their prime.  The Lakers don't have one above average perimeter defender.  That's a lot of ground Howard will have to make up for when guys get by Nash, Bryant and World Peace on drives to the basket.  Also, the Lakers could become a middle of the road defensive team, but history shows teams need to be very good defensively to win a title.  The last team to have a defensive rating (points allowed per 100 possessions) outside the top ten was the 2000-2001 Lakers. The Lakers' lack of depth will be a mixed bag under D'Antoni.  One one hand, D'Antoni's never been one to go deep into his bench.  We're likely to see a rotation of Nash, Bryant, World Peace, Gasol, Howard, Jodie Meeks, Steve Blake, Antawn Jamison and a little bit of Jordan Hill sprinkled in.  So that's good news considering how bad the LA bench has been this season.  It's also not great because that likely means 37 year old and recovering from a fractured leg Nash, 34 year old Bryant, 32 year old Gasol and recovering from back surgery Howard will all be playing heavy minutes before the postseason even starts. Despite all these concerns, the Lakers are still going to be really good.  They'll win at least 50 games and most likely the Pacific Division.  The Spurs are still going to have a hell of a time defending that Nash/Howard pick and roll and there's still the issue of having no one to defend Gasol if Duncan's defending Howard, and oh yeah, Kobe Bryant is still going to do Kobe Bryant things.  The Lakers are going to be better under Mike D'Antoni than they were during the first five games of the season.  At the same time, his presence doesn't make the Lakers an overwhelming favorite to get out of the West, it just means they're a lock to be Spurs fans favorite team to root against. Photo: USA Today
Original Story:
http://www.projectspurs.com/2012-arti...
THE BACKYARD
BEST OF MAXIM
RELATED ARTICLES
Steve Nash will soon be reunited with Mike D'Antoni, his former coach while the two were in Phoenix.  Nash and D'Antoni had a lot of success with the Suns, but no championships of course.  They both hope to change that with the Los Angeles Lakers, but Nash has to return to action first.  He spoke with reporters yesterday and gave an idea of when he may return.According...
Shaq wants his social media audience to know one thing about his take on current Lakers' center Dwight Howard. It's not hate. Responding to a tweeter who told the Hall of Fame center to stop 'Hating On Dwight Howard', Shaq recorded a YouTube video of his response. "First of all, how do you spell 'hate'?...Read the Rest...
Steve Nash will be re-evaluated on Friday.
Dwight Howard dunks amongst three Spurs on Tuesday. The By The Numbers recap for the Lakers' 84-82 loss to the San Antonio Spurs at Staples Center on Tuesday night. The Lakers are now 3-5, and next play home to Phoenix on night. 503 The Lakers regular season winning percentage against the Spurs after Tuesday night's loss. They're now 74-73 all-time against San Antonio, but...
The San Antonio Spurs (6-1) will take on the new-look Los Angeles Lakers (3-4) in Los Angeles who haven't gotten off to good start. Aside from adding Steve Nash and Dwight Howard to the mix, the Lakers went through a coaching change firing former Spurs assistant coach Mike Brown and added Mike D'Antoni. Needless to say, this Lakers team will need a bit more time to get some...
The Los Angeles Lakers have hired former Phoenix Suns and New York Knicks coach Mike D'Antoni instead of Phil Jackson, reports LATimes.com. D'Antoni, 61, signed a reported four year deal that may pay him $12 million for three guaranteed seasons with a team option in the fourth year. He will join the team in a week or two after he recovers from knee-replacement surgery...
Mike D'Antoni is burdened with bringing the 2013 Los Angeles Lakers to a place based off of expectations rather than the realistic capabilities of this particular group of guys. The NBA's most fascinating team made a drastic change earlier this week and now they take their rightful place as…well still the league's most fascinating team.  The change I'm of course referring...
Is D'Antoni a better fit than uncle Phil Jackson?
The Pringles Man has come back to the NBA as Mike D'Antoni (and not Phil Jackson) will serve as the head coach of the Los Angeles Lakers. Steve Nash is pleased.The post Mike D'Antoni To The Lakers: The Return Of The Pringles Man appeared first on The Sports Fan Journal.
Pau Gasol got home from the game and read about it on Twitter, while Dwight Howard got a midnight message on his BlackBerry. They shared most Los Angeles Lakers fans' mix of surprise, trepidation and anticipation. Just when everybody thought the Lakers were getting back together with Phil Jackson, they switched course in the middle of the night and went with Mike D'Antoni...
As a Laker fan, I am glad to see that the franchise removed Mike Brown as its head coach.Don't get me wrong.  I think Brown is a good guy, a good coach and pretty much got jobbed in this whole deal.  Still, he didn't belong.  He wasn't Laker-like and certainly wasn't a fit for the roster that has been assembled.  The things he wanted to do may have worked for...
The Los Angeles Lakers announced Nov. 11 that they have hired Mike D'Antoni to take over the NBA club's head coaching duties. D'Antoni takes over from Mike Brown, who was fired on Nov. 9. The move came as a bit of a surprise to many Lakers fans who were almost certain the team was going to rehire 67-year-old former coach Phil Jackson to take over the squad for the third time...
NBA News

Delivered to your inbox

You'll also receive Yardbarker's daily Top 10, featuring the best sports stories from around the web. Customize your newsletter to get articles on your favorite sports and teams. And the best part? It's free!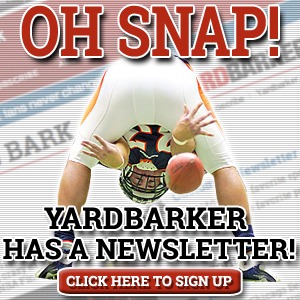 Latest Rumors
Best of Yardbarker

Today's Best Stuff

For Bloggers

Join the Yardbarker Network for more promotion, traffic, and money.

Company Info

Help

What is Yardbarker?

Yardbarker is the largest network of sports blogs and pro athlete blogs on the web. This site is the hub of the Yardbarker Network, where our editors and algorithms curate the best sports content from our network and beyond.