Found November 28, 2012 on Project Spurs:
PLAYERS:
Dwight Howard
,
Nikola Vucevic
,
J.J. Redick
,
Kawhi Leonard
,
Stephen Jackson
,
Gary Neal
,
Danny Green
,
Al Harrington
,
Manu Ginobili
,
Gregg Popovich
TEAMS:
Orlando Magic
,
San Antonio Spurs
,
Washington Wizards
,
Los Angeles Lakers
The San Antonio Spurs (12-3) are traveling to the Amway Center to go head-to-head with the Orlando Magic tonight (5-8). The Spurs are on a four game winning streak and coming off tough back to back wins against Toronto in a double overtime thriller and a dominating performance against the winless Washington Wizards. I had the opportunity to talk to Orlando Magic Daily's Philip Rossman-Reich to help get some insight on what we can expect to see from this new look Magic team. Philip discuss how the Magic are adjusting without Dwight Howard, the sixth man matchup, and more. Jose: With Orlando at 5-8, how has the team adjusted without Dwight Howard at the center position? Philip: The adjustment at the center position is still very much a work in progress. Nikola Vucevic has some talent and has some skill but he has not quite gotten to the point where he can consistently use it. Against Boston on Sunday, he sat out most of the second half and all of the tense moments at the end. Orlando is still figuring out what it has in the second-year center. The Magic are not running their offense through the post anymore, to say the least. That has means the Magic are taking much fewer 3-pointers and are struggling to get open 3-pointers. This is a team that has to work incredibly hard offensively to get good looks in the half court. It certainly is a brand new team. Jose: What Magic player has shown the most improvement so far this season? Philip: J.J. Redick has impressed me the most this season. We all know he can shoot and he has taken a larger role in the offense. I think most people expected him to be able to handle that. What I do not think anyone expected was for his passing to improve this dramatically. Redick is dishing out 5.0 assists per game and dishing out a 27.0 percent assist rate. Those would both be career highs if he keeps them up. It is very visible though how much Redick has improved as a playmaker this year so far. He is very dialed in and playing very well. Jose: With the Spurs being thin at the small forward position with injuries to Kawhi Leonard and Stephen Jackson, how will San Antonio fare against Orlando with Gary Neal starting at the shooting guard position and Danny Green moving over to starting small forward? Philip: The Magic tend to go very small with their lineups. With Hedo Turkoglu and Al Harrington out, the Magic are starting rookie Maurice Harkless at the three and play J.J. Redick and Aaron Afflalo on the wings late in games. It is very possible to match up with Orlando then because of this lack of size late and the lack of experience early. Not that teams should sleep on these players. Harkless is out there to provide some energy and learn the game, so he attacks the offensive glass hard and does a good job defensively. Redick and Afflalo are also pretty solid players who know how to execute late in games. Is there an advantage there? I don't know. Jose: The bench match up pits Manu Ginobili vs. JJ Redick. Who has the advantage between the two? Philip: Manu is probably the overall better player and he can do more off the dribble than Redick. But if Ginobili is guarding Redick and has to chase him around screens, it could be a long night for Ginobili. Somehow I doubt Gregg Popovich will have him do that when they share the floor. Both teams get a ton of offensive balance and can get scoring from just about anyone on their bench. Ginobili could potentially do a lot more so I give him and the Spurs bench the edge. Jose: What's your prediction and why? Philip: I think San Antonio will win. The game should be close through three quarters, but I think San Antonio's size and experience will win out. That is how Boston won in overtime Sunday in Orlando and I have the feeling Orlando will have some of the same problems on the offensive glass. The Magic will continue to play these good teams tight, but they are not quite at the level to win these type of games yet. But it would not surprise me if the Magic keep it tighter even later and eke out a win. Then again, San Antonio could just as easily suffocate the Orlando offense and win this one with ease. This Magic team is still hard to figure out.
Original Story:
http://www.projectspurs.com/2012-arti...
THE BACKYARD
BEST OF MAXIM
RELATED ARTICLES
New team, same old Dwight Howard. After starting the 2012 NBA season at 1-4, the Los Angeles Lakers have bounced back nicely as they currently stand with a record of 7-7 in the Western Conference. During a recent team flight, Howard somehow gained control of the in-board intercom and decided to have some at the expense of some of his teammates. The major target of his rant was Kobe...
Dwight Howard was at Serra High School on Wednesday to film a series of commercials for Mission Athletecare and their various on court products, such as Court Grip, which reduces on court slippage.  Howard joins Dwyane Wade, Brandon Jennings and Carmelo Anthony as other partners with the company.
Lakers center Dwight Howard will make nearly $20 million playing basketball this season.  The man inside the Los Angeles Kings mascot suit will probably make zero dollars dancing around at Kings games this year. So when the two got together for a little contest during the Lakers' Wednesday morning shoot-around, you would think that Howard should dominate.  Right?  Even if the...
While Time Magazine will count down their picks for the most influential people of the year sometime in the near future, GQ Magazine has something far more interesting in the meantime: "The Least Influential People of 2012″.  Topping the parody list is this year's biggest loser, Mitt Romney, followed by celebrity trainwreck of the year, Amanda Bynes, Madonna with a failed...
GQ recently released a list titled "The Least Influential People of 2012″.  One particular NBA player made that list.  That player, you may ask?  Dwight Howard of the Los Angeles Lakers.  GQ did include an important note that states, Please note that these folks are ranked in no particular order, because all zeros are created equal. With that said, Dwight Howard is listed...
On this week's podcast, we hear from J.J. Redick about Sunday's overtime loss and discuss how big this Magic homestand is along with the upcoming West Coast road trip: Listen to internet radio with Orlando Magic Daily Weekend on Blog Talk Radio  
The continuing chronicle of Dwight Howard versus The Free Throw Line hit a new rut for the Los Angeles Lakers center on Tuesday when Howard, at the end of the team's morning shootaround, was defeated by Bailey, the Los Angeles Kings lion mascot, in a shooting contest Repeatedly. Upon Baileys invitation, according to Dave McMenamin of Sulia.com, Howard was challenged to a free...
During the fourth quarter of last night's Indiana Pacers/Los Angeles Lakers game, Indiana forward Gerald Green was attempting to throw down a baseline slam dunk.Sadly for Gerald, he ended up missing the dunk attempt and to add insult to injury, his second shot attempt was swatted by Lakers center Dwight Howard:
Los Angeles Lakers center was challenged by Los Angeles Kings mascot "Bailey" to a free throw and three-point shooting contest. Bailey won both challenges. "Sometimes you have to lose to win," joked Howard afterwards. Howard's free throw average this season is 47.8 percent while his three-point average is 0.00 percent as it should be.  
I know box scores don't tell the whole story of a game but it can sure tell a lot. And there have been a couple crazy games already this week in the NBA. On Monday night, the Oklahoma City Thunder defeated the Charlotte Bobcats 114-69. In the middle of the 3rd quarter the score was 79-25. And then the Thunder coach pulled the starters. If this was last year when they were the worst...
NBA News

Delivered to your inbox

You'll also receive Yardbarker's daily Top 10, featuring the best sports stories from around the web. Customize your newsletter to get articles on your favorite sports and teams. And the best part? It's free!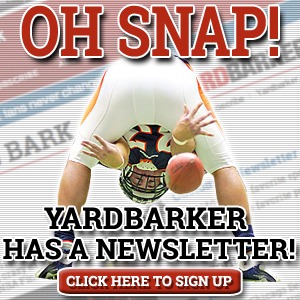 Latest Rumors
Best of Yardbarker

Today's Best Stuff

For Bloggers

Join the Yardbarker Network for more promotion, traffic, and money.

Company Info

Help

What is Yardbarker?

Yardbarker is the largest network of sports blogs and pro athlete blogs on the web. This site is the hub of the Yardbarker Network, where our editors and algorithms curate the best sports content from our network and beyond.