Found January 23, 2012 on NBA 24/7 365:
PLAYERS:
Roy Hibbert
,
Andrew Bynum
,
Dwight Howard
,
Derek Fisher
,
Baron Davis
,
Kyle Lowry
,
Al Harrington
,
Timofey Mozgov
TEAMS:
Memphis Grizzlies
,
Indiana Pacers
,
Los Angeles Lakers
,
Orlando Magic
,
New York Knicks
,
Houston Rockets
,
Denver Nuggets
Monday, January 23rd: Grizzlies @ Warriors, 10:30 ET, NBATV: The Grizzlies (along with the Rockets) are on the NBA's longest winning streak at an impressive six games.  The Warriors are coming off of a devestating loss to the Pacers.  Sprinkle in a little bit of that Oracle Magic and you've got all the ingredients of an exciting upset.  It's on the Warriors to deliver, but we all know damn well that they're a team capable of winning on any given night. Tuesday, January 24th: Magic @ Pacers, 7:30 ET, NBALP: Roy Hibbert just got done beasting on Andrew Bynum, why not tune in to see how he fares against Dwight Howard?  Hibbert will have height and length advantages over Howard, but he'll have to find a way to keep the East's most athletic big man (notice I said the East's, not the league's, because that's debatable word to King DeAndre of Lob City) beneath the top of the square.  Hibbert is already having a career season, but for him to put up outstanding efforts against Bynum and Howard consecutively… that might get him on ESPN's First Take or some bullsh!t.  Get 'em Hibbs! Wednesday, January 25th: Clippers @ Lakers, 10:30 ET, NBATV: If the Clippers can win this game they'll clinch the season series over their Staples Center rivals for the first time since… my god, the Clipps didn't even take it in '05/06 when they came within a game of the Western Conference Finals.  Okay, I don't know when the last time the Clippers took the regular season series over the Lakers was, but if they've ever done it it was a really long time ago.  Derek Fisher can say it's not a rivalry all he wants, but you know the Clippers hate the Lakers, and you know the Lakers would rather not lose to the Clippers twice in two weeks.  Rarely do they lose to them twice in a year, let alone two weeks.  Thursday, January 26th: Grizzlies @ Clippers, 10:30 ET, TNT: You want to watch the Celtics?  'Cause that's the only other option.  Those poor old Celtics… 5th in the league in points allowed, still can't win.  That's offensive futility at it's un-finest. Friday, January 27th: Bobcats @ Sixers, 7:00 ET, NBALP: You will watch this game to observe young prospects.  Don't watch the score, don't look at the statistics, and don't mind all the empty seats.  Just keep your eyes on the court.  Prepare to be wowed by Philly's night shift.  That may not mean anything to you now, but it will if you get the CSN Philadelphia feed.  Also, BJ Mullens.  He's a boss. Saturday, January 28th: Knicks @ Rockets, 8:00 ET, NBALP: A six-game slate of probable laughers on this night, but that's okay because it gives me an opportunity to get a Knicks game into the mix.  Remember, your NBA week isn't complete until you've watched the Knicks lose.  I'm hearing rumbles of a possible debut of the savior, Baron Davis.  I'll be looking forward to watching Kyle Lowry eat his lunch. Sunday, January 29th: Clippers @ Nuggets, 8:00 ET, NBALP: Lakers @ Wolves is an intriguing choice, but why are the Lakers on the road on a Sunday?  That's not right… I didn't even know they did that.  Must be a result of this funny lockout scheduling.  Anyway, even if the Lakers were to be wearing white against those pesky T-Wolves I'd have to roll with my main man Al Harrington and the Denver Nuggets.  He'll check into this game early after Timofey Mozgov leaves two minutes in with a fractured ego.  Watch your head, Timofey… DeAndre is on the prowl, and his dunks make Griffin's look delicate.
Original Story:
http://nba247365.com/?p=4617
THE BACKYARD
BEST OF MAXIM
RELATED ARTICLES
We've made no attempt to hide our respect and admiration for NBC's 'Parks and Recreation' here at Ball Don't Lie. To this author, it's the best and most fully realized out and out comedic half-hour on TV, and the guest appearances from former Indiana Pacer Detlef Schrempf and current Pacers like Roy Hibbert only add to our appreciation of the show. The fact...
Glen Davis will make his return to the TD Garden Monday night after being trading to the Orlando Magic for Brandon Bass this past offseason. Davis spent four seasons in Boston where he averaged 7.6 points and 4.1 rebounds per game and played a role in helping Boston win the 2008 NBA championship. When Kendrick Perkins made his return to Boston earlier this month, the crowd greeted...
Asked what Glen Davis brings to the Magic… "Food. Drinks. By the time he brings the food, there's no food left. He usually eats it before he brings it to the table." —Dwight Howard, talking about the former Celtic and his penchant for enjoying a good meal. A large good meal. From WEEI, via The…
Both Jameer Nelson and Orlando Magic GM Otis Smith placed some of the blame for Nelson's struggles this season on Dwight Howard's massive shoulders, which doesn't seem like the most brilliant of tactics. Per the Orlando Sentinel: "Jameer Nelson admitted that Dwight Howard's mention of playing with other point guards affected him. A slumping Nelson said Howard's talking...
by Abe Schwadron | @abe_squad Five games on tap, here we go… Magic 102, Pacers 83 Dwight Howard only played 25 minutes, but he scored 14 points, making him the all-time franchise leader in scoring for Orlando, passing Nick Anderson for No. 1. Meanwhile, Ryan Anderson scored 24 points, including 5 threes, and the Magic held the Pacers to just 8 team assists and forced them into...
NBA News

Delivered to your inbox

You'll also receive Yardbarker's daily Top 10, featuring the best sports stories from around the web. Customize your newsletter to get articles on your favorite sports and teams. And the best part? It's free!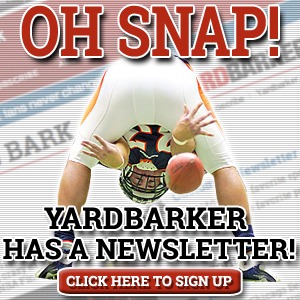 Latest Rumors
Best of Yardbarker

Today's Best Stuff

For Bloggers

Join the Yardbarker Network for more promotion, traffic, and money.

Company Info

Help

What is Yardbarker?

Yardbarker is the largest network of sports blogs and pro athlete blogs on the web. This site is the hub of the Yardbarker Network, where our editors and algorithms curate the best sports content from our network and beyond.