Found January 30, 2013 on Fox Sports Florida:
MIAMI The Miami Heat are on a short list to sign injury-riddled center Greg Oden, the 2007 top draft pick who hasnt played in the NBA in more than three years. But the soonest Oden could be available to play for the Heat is next season.Odens agent, Mike Conley, said in a phone interview Wednesday with FOX Sports Florida that Oden could visit Miami as soon as next week.We havent set it up yet but we want to go down there and meet with (the Heat) and get to know them and vice-versa, Conley said.Although Conley had talked to FOX Sports Florida last year about Odens interest in the Heat, he had said on Jan. 10 he hadnt heard anything yet from the team about his client. However, he said he talked to Miami president Pat Riley shortly thereafter.Weve been talking on and off for the last two or three weeks, Conley said of Riley. Theyre interested. Conley said theres a very good chance Oden, 25, will sign with an NBA team before the end of the season for rehab purposes and to get to know the organization. However, he said Oden, who has had five knee surgeries and last played in an NBA game on Dec. 5, 2009, definitely would not play again until next season.Conley confirmed another team on Odens list is Cleveland. He said Boston also could be a possibility although there havent been conversations yet with the Celtics.If the Heat were to sign Oden this season, they would need to have an open roster spot. The South Florida Sun-Sentinel reported Wednesday the Heat will guarantee the contract of forward Jarvis Varnado for the rest of the season after his second 10-day contract expired. That would give Miami 14 players with guaranteed deals.The Heat on Wednesday signed center Chris Andersen to a second 10-day deal, which is the limit a player can get. So a roster spot would be open if Andersen isnt eventually signed for the rest of the season.Of course, the Heat could waive or trade a player if that is required to open a roster spot for Oden. The trade deadline is Feb. 21.The Heat only could offer Oden a minimum contract. But Conley said thats not a significant consideration at this point.Thats not something that were really concerned about now, said Conley, who said its a possibility Oden could sign with a team just for the remainder of this season to test the waters and then again be a free agent during the summer.The Cavaliers could offer Oden more money. And while they are are hardly championship caliber, they do benefit by being just up the road from where Oden played at Ohio State.Theres definitely interest (in Cleveland) because obviously hes from Ohio State and so theres a lot of synergy there with that team, Conley said of Oden, who is from Indianapolis, and the Cavaliers.That's sort of a home-state team, so Cleveland would make sense also.Regarding Boston, Conley said he could see that definitely being a possibility down the road as a destination.Conley, whose son Mike Conley Jr., is a point guard for the Memphis, said he had conversations in the past with previous owner Michael Heisley about Oden joining the Grizzlies. But he said there have been no talks with the Grizzlies since Robert Pera bought the team last year from Heisley.Conley wouldnt name any other teams. He said about four could be in the mix for Oden to visit this season. Oden attended Ohio States game Tuesday against Wisconsin in Columbus, Ohio. But he didnt shed any light on a future destination."I'm worried about the knee," Oden told the Cleveland Plain Dealer. That's it I'm just getting my knee ready so when things do happen ,I'll be ready to play next year. I'm still in the rehab process, but I'm it taking slow. I could possibly be playing at this point, but I've done that before and I got injured before, so I'd rather take everything I am doing slow. Oden has had five surgeries on both his knees since entering the NBA with Portland in 2007-08, including two surgeries last February, one being his third microfracture procedure. Oden played in just 82 games with the Trail Blazers over 4 seasons before being waived by the team last March.Since then, Oden has been splitting his time between Indianapolis and Columbus while rehabbing on his own.Hes looking great, Conley said. Hes moving well.For now, Conley said there is no rush for Oden to pick a team. If it doesnt work out next week and with the All-Star break coming up Feb. 15-17, Conley said there is a chance Odens visit to Miami could get pushed back until later in February.Oden, though, is interested in the Heat. And Conley said the feeling is mutual.Chris Tomasson can be reached at christomasson@hotmail.com or on Twitter @christomasson
Original Story:
http://www.foxsportsflorida.com/01/30...
THE BACKYARD
BEST OF MAXIM
RELATED ARTICLES
Greg Oden's return to the NBA is quickly moving from speculation to substance. Jeff Goodman of CBSSports.com reports that Oden plans to visit Miami next week to meet with team president Pat Riley and other members of the Heat. The Cavaliers, who could potentially pay Oden more, are also interested in the big man, according to Goodman. Oden, who dominated as a 7-footer in college...
When a player receives a 10-day contract from an NBA team, they generally want to get on the floor as much as possible and prove that they are worth signing for the rest of the season.  This is true of Jarvis Varnado, but it appears his lack of playing time has not discouraged the Miami Heat.  They are working on a contract to sign Varnado for the remainder of the season.According...
It's always a bummer when a sports fan has to miss a great game to go to work instead. But be consoled, everyday folks, that the scheduling conflicts sometimes happen to people with much higher-paying jobs, too. LeBron James, of all people, is going to miss the Super Bowl this Sunday, and he's not happy. "How disgusting is that?" he said Wednesday, according to the Florida...
[Mario Chalmers] believes he belongs in a listing of the top point guards in the NBA. "I'd say top 10,'' the Miami Heat fifth-year man said of where he ranks. "I'm not in the lower part (of the top 10), I'm in the middle part. I just have confidence in myself. I think I can compete with the best of them.'' All of this is coming from a guy averaging 7.7 points and...
Joe Johnson puts Chris Bosh on skates as he hits him with a nasty crossover and drills the mid-ranger:
LeBron James was finally able to get the monkey off his back last year by winning an NBA championship with the Miami Heat. He will never silence all of his critics, but there is much less to rag on LeBron for now than there was seven months ago. However, Brooklyn Nets forward Reggie Evans still feels that LeBron has yet to accomplish much. Why? Because of the lockout. "It doesn't...
James' agent and childhood friend, Rich Paul, born and raised and still living in Cleveland, has been privately telling people for two years of his intrigue with bringing the prodigal son back as the conquering hero in Cleveland. James will ultimately make the call to return – just like he made it to leave – rest assured that the most important voices in his ear will be partial...
If there's a case to be made that there's a contender for the Eastern Conference crown other than the Miami Heat, no one has stepped up and made it just yet. But after another Heat demolition of the Nets, this time a 105-85 pounding Wednesday night, it's obvious that Brooklyn no longer has any business engaging in that debate. In their first and only visit to Barclays...
After LeBron James went out with a whimper in the 2011 NBA Finals against the Dallas Mavericks, the media launched another spring time assault on the "disappearance" of King James. That 2010-11 season was the first of the Big Three era in South Beach, yet James, who was in his eighth season, had lost his second Finals series, and was being questioned for the second playoffs in...
Back on Monday, the Miami Heat traveled to Washington D.C. to visit the White House and celebrate their 2012 NBA Championship.Heat stars LeBron James and Dwyane Wade decided to roam the halls and took some time to take a photo with a portrait of 42nd USA president Bill Clinton:(Courtesy of TMZ/Image courtesy of LeBron James Instagram Account)
LeBron James had 24 points, nine rebounds and seven assists, and the Miami Heat blew out Brooklyn in the second half for a 105-85 victory Wednesday night, their 13th in a row over the Nets. Dwyane Wade added 21 points and Chris Bosh had 16 for the Heat, who outscored the Nets 56-36 in the second half after it was tied at halftime. In their first game since falling in double overtime...
NBA News

Delivered to your inbox

You'll also receive Yardbarker's daily Top 10, featuring the best sports stories from around the web. Customize your newsletter to get articles on your favorite sports and teams. And the best part? It's free!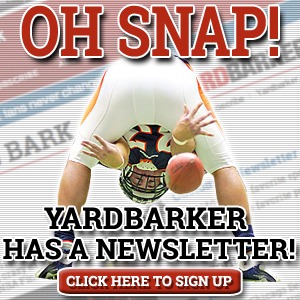 Latest Rumors
The Backyard

Today's Best Stuff

For Bloggers

Join the Yardbarker Network for more promotion, traffic, and money.

Company Info

Help

What is Yardbarker?

Yardbarker is the largest network of sports blogs and pro athlete blogs on the web. This site is the hub of the Yardbarker Network, where our editors and algorithms curate the best sports content from our network and beyond.