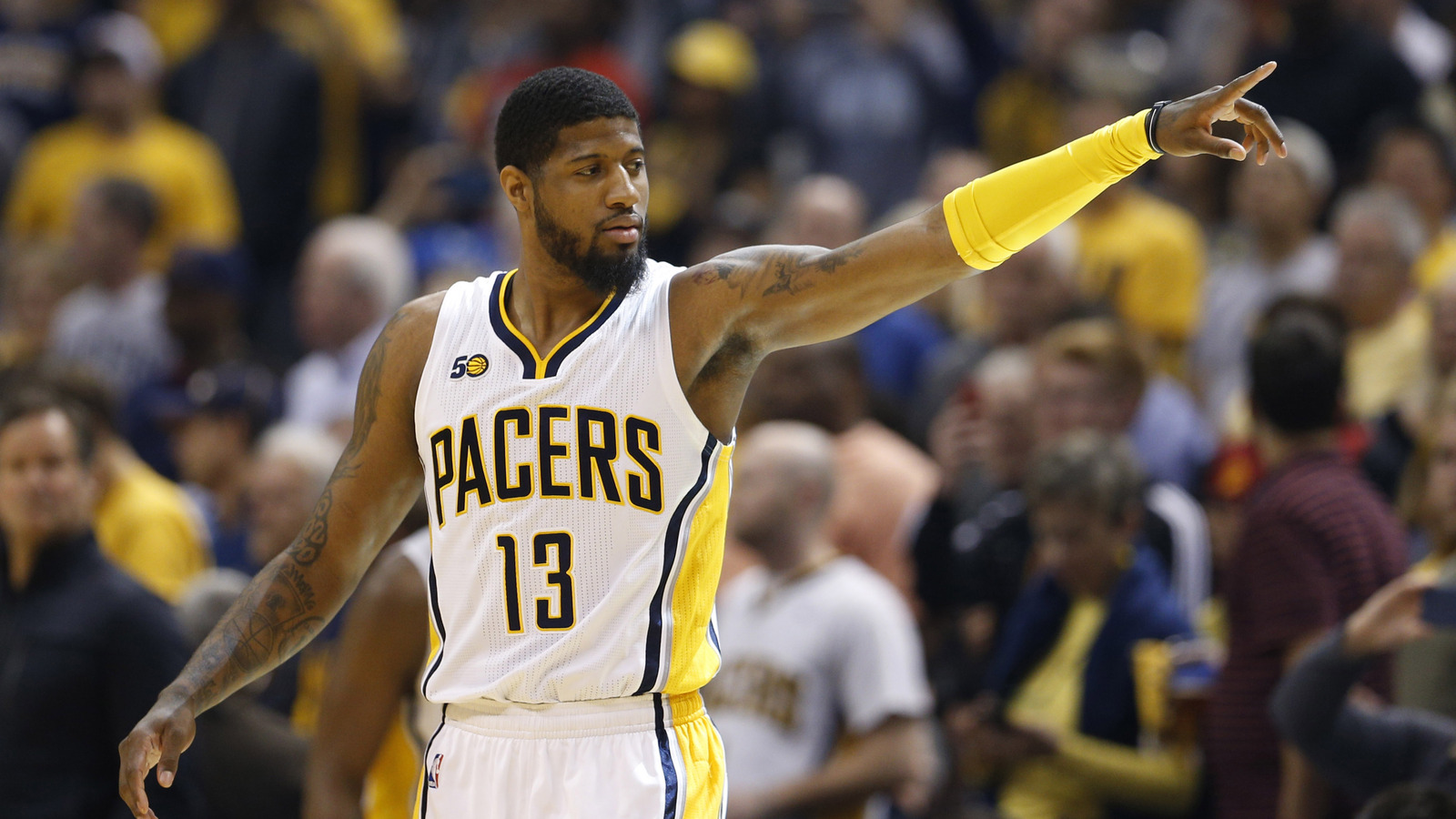 The new All-NBA teams will set the tone for where players like George will end up in the offseason.
Brian Spurlock-USA TODAY Sports
Thursday's unveiling of the All-NBA teams will have a major financial impact on the league and could affect teams' abilities to retain players.
As part of the new CBA, the owners and players agreed to some terms that give teams an opportunity to pay more to keep their veteran star players. The new rule allows a "Designated Player Veteran Exception" for a player entering their eighth or ninth year with their original franchise. To be eligible for the designation, a player needs to be named to any of the three All-NBA teams or as Defensive Player of the Year in either the season preceding the extension or two of the three prior seasons. It will also apply to the league's Most Valuable Player in any of the three seasons before the extension.
The Indiana Pacers are unfortunately losing an opportunity to gain an edge in retaining Paul George.
George was third-team All-NBA last year but did not make it this year or two years ago. Had he made it this year, the Pacers would have been able to offer him more money than other teams. The same goes for the Utah Jazz and Gordon Hayward, as Hayward did not make it this year and therefore will not be eligible for this major extension.
The Vertical's Bobby Marks shared which players benefit from being named All-NBA this season. The list includes Kawhi Leonard, John Wall, Russell Westbrook and Steph Curry, if he becomes a free agent.
Leonard has now made it two years in a row.
Correction on Kawhi Leonard

5 years/$217 million that would start in 2019-20 and can be signed next summer (2018).

— Bobby Marks (@BobbyMarks42) May 18, 2017
John Wall is now eligible this summer to sign the Designated Player Veteran Extension.

4 years/$168m, $37.5m in 19-20.

— Bobby Marks (@BobbyMarks42) May 18, 2017
Players Eligible to sign the Designated Player Veteran Extension in July:

R. Westbrook
J. Harden
J. Wall
S. Curry (as a FA)

— Bobby Marks (@BobbyMarks42) May 18, 2017
Klay Thompson made All-NBA last year but not this year, so he would have to do it again next year to qualify.
All-NBA honors would have made Klay Thompson eligible in 2018.

Thompson will now have to earn All-NBA in 2017-18 to become eligible.

— Bobby Marks (@BobbyMarks42) May 18, 2017
This is good news for teams like San Antonio and Washington, who will be looking to lock up their stars for a while. It also means that it should be a little easier for Hayward and George to leave their current teams if they choose to.
QUIZ: Name every NBA MVP
Can you name every NBA MVP?
MORE FROM YARDBARKER
NBA News

Delivered to your inbox

You'll also receive Yardbarker's daily Top 10, featuring the best sports stories from around the web. Customize your newsletter to get articles on your favorite sports and teams. And the best part? It's free!