Found January 30, 2013 on We Talk Fantasy Sports:
The Memphis Grizzlies, Toronto Raptors, and Detroit Pistons made some noise around the NBA Wednesday night as they all agreed on a blockbuster trade that will clearly effect these franchises going forward, not to mention the rest of your fantasy season!The Grizzlies, Raptors and Pistons agreed to a six-player trade Wednesday that sent star swingman Rudy Gay to Toronto.The Grizzlies, in the midst of a money-motivated makeover, acquired forward Ed Davis and veteran guard Jose Calderon in the deal that also sent backup center Hamed Haddadi to the Raptors.Memphis then shipped Calderon to Detroit for Austin Daye and Tayshaun Prince.The Grizzlies also received a 2013 second-round pick from Toronto as part of the deal.  ESPNWe'll start with the center piece Rudy Gay. Gay's fantasy value goes sky high, as now he'll be the leader of the offense in Toronto. Right now Gay is averaging 17.2 points, 2.6 assists, and 5.9 rebounds. Yes Gay was leading the Grizzlies in scoring, but he had to share the ball with Zach Randolph (15.8 points), Marc Gasol (13.7 points), and Mike Conley (13 points).  Going to the Raptors, Gay will be the main guy alongside DeMar DeRozan who is averaging 17.3 points this year.  With Ed Davis and Jose Calderon off the team Kyle Lowry is the only other healthy option to score for the Raptors, as Andrea Bargnani has yet to return from injury. I'll be shocked if Gay doesn't average 20+ points the rest of the season.A lot of people think DeMar DeRozan loses fantasy value with this trade, but I think playing alongside Rudy Gay will only improve his game.  DeRozan is a very athletic player just like Rudy Gay and he can learn a lot from Gay. I expect DeRozan to stay right around 17 points for the season but I see his 2.2 assists to go up. Jose Calderon was dishing out 10+ assists pretty much on a nightly basis so with Kyle Lowry the main PG on the roster, I expect the Raptors to spread the ball around which will result in a higher assist total for DeRozan who now has a teammate who can score 20 points a night.The Grizzlies lose their leading scorer but they acquired 23 year old big man Ed Davis. Ed Davis who had been starting with the Raptors will certainly return to the bench as the Grizzlies already have Marc Gasol at center and Zach Randolph at power forward.  He's been seeing around 33 minutes over the last month, but that number will be lowered by about 10 minutes.  Davis owners will certainly take a hit in this trade, as with limited minutes he won't be taking 10+ shots anymore and he'll also be coming off the bench alongside Darrell Arthur who was the last big men left off the bench after sending Marreese Speights to Cleveland.Taking Rudy Gay's spot in the Grizzlies starting lineup will be Tayshaun Prince. Prince who is a NBA Champion played the last 10 seasons with the Pistons and will go from one of the worst NBA teams to arguably a top 5 team. Prince does a little bit of everything and will be a perfect fit in Memphis. It's hard to think that Prince's fantasy value can take a big blow as he's going to a team where they traded the leading scoring and a guy who plays his position.  Expect Prince to keep his 12 points, 4.5 rebounds and 2.5 assists pace the rest of the way. However I'm not sure if he can maintain a 43% from 3pt the rest of the season as that's nearly 10% higher than he's shot in the past 3 years.It's going to be interesting in Detroit to see how they manage Jose Calderon and Brandon Knight. There is no doubt in my mind that Calderon will turn Knight into a better PG as time goes on as Calderon is a great leader on the court and can mentor Knight who is only 20 years old.  I believe Knight will keep his job as the starting PG and Calderon will take a seat on the bench. However I do think Calderon will still get a lot of playing time. He's a quarterback on the basketball court and can really help create shots for an awful Pistons basketball team.  When Calderon is on the court, I also see Knight moving over to shooting guard as he's only averaging 4 assists a game anyways. As a Brandon Knight fantasy owner your probably going to take a slight loss at assists but he'll probably take more jumpers and have less turnovers as Calderon will control the ball.  Calderon fantasy value won't take much of a hit either as he'll still get plenty of playing time even if he does come off the bench and when he's on the court he'll rack up the assists no matter who he is playing with. Still expect around 10 points a night from him as well.Hamed Haddadi is expect to be waived and I don't expect Austin Daye to get much playing time in Memphis. 
Original Story:
http://www.wetalkfantasysports.com/20...
THE BACKYARD
BEST OF MAXIM
RELATED ARTICLES
There are good problems to have as a head coach and one of those is trying to incorporate a player like Rudy Gay into the mix. However, as a great of a player as Gay is for Casey to utilize, the reality is he's trying to do that midseason while losing a valued floor general in Jose Calderon. Still, the Raptors head coach has a great player to throw in the mix in Gay and Casey...
In a deal that I honestly thought would never happen after the Grizzlies front office managed to get under the luxury tax threshold by dealing Marreese Speights, Rudy Gay has been traded.The Raptors will send out Jose Calderon and Ed Davis for Gay and Hamed Haddadi.The Pistons will acquire Calderon, with the Grizzlies receiving Tayshaun Prince and Austin Daye.The Grizzlies...
The Raptors could have drafted Rudy Gay in 2006 with the first overall selection.
Rudy Gay has struggled at times this season, but could be rejuvenated by the new situation with the Raptors.
The first domino before the February 21 trade deadline fell Wednesday when the Grizzlies traded Rudy Gay to the Raptors for Jose Calderon and Ed Davis and then sent Calderon to the Pistons for Tayshaun Prince and Austin Daye. It was not quite the deal everyone expected for Gay, but it was not totally unexpected that Gay would get moved. Memphis is desperate to get under the tax...
The Memphis Grizzlies, playing for the first time after trading away Rudy Gay, get set to face the Thunder in Oklahoma City tonight. While the Gay swap for Ed Davis, Tayshaun Prince, and Austin Daye saves the tea money and improves depth in the long-run, they'll be fairly depleted in tonight's match-up. AccuScore has the Thunder as heavy favorites with 87.3 percent chance at...
The Pistons will acquire Jose Calderon, with the Grizzlies receiving Tayshaun Prince and Austin Daye in addition to Ed Davis in the Rudy Gay trade that sends him to the Raptors.
According to Marc Stein, ESPN: ESPN sources say Grizzlies and Raps have deal in place to swap Rudy Gay and Hamed Haddadi for Ed Davis and Jose Calderon. Sources say deal will morph to include third team to take Calderon, with Detroit at the front of the line to land the Spaniard after chasing him all season. Third team not yet in stone but Pistons have had interest in Calderon all...
Despite a hefty contract, the Toronto Raptors hope the addition of Rudy Gay will help them turn around their season and make a serious push for the playoffs. The veteran small forward could debut with his new team Friday night when the Raptors look to avoid a fourth straight loss while trying to continue their recent home success against the Los Angeles Clippers. Toronto (16-30...
The Grizzlies' new owner is defending the trade of his team's leading scorer and other moves to dump salary, saying he believes they can do some ''serious damage'' in the playoffs with the changes. Robert Pera took part in a web chat Friday with Memphis' season ticket holders along with chief executive officer Jason Levien, and Pera's first question...
By: Jeff Rosenberg – Staff Writer (@Jewish_Jeff) Nice way to kick off what looks to be a busy trade season for the NBA. Wednesday night saw the Memphis Grizzlies officially trade SF/PF Rudy Gay, sending him to the Toronto Raptors along with C Hamed Haddadi. Memphis receives PF/C Ed Davis from Toronto, as Toronto also sends PG Jose Calderon to the Detroit Pistons. Finally, the Pistons...
Hey, did you hear there was a big basketball trade last night? Yes, yes, Rudy Gay was traded! Ed Davis was traded! Jose Calderon, too! If you want to read all about the fantasy basketball implications of the deal you can click right on this here little link. You'll be magically transported to fantasy basketball trade analysis nirvana. Or Nirvana if you're a music fan. Well, now...
NBA News

Delivered to your inbox

You'll also receive Yardbarker's daily Top 10, featuring the best sports stories from around the web. Customize your newsletter to get articles on your favorite sports and teams. And the best part? It's free!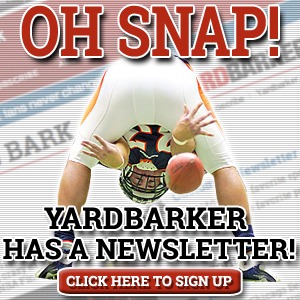 Latest Rumors
Best of Yardbarker

Today's Best Stuff

For Bloggers

Join the Yardbarker Network for more promotion, traffic, and money.

Company Info

Help

What is Yardbarker?

Yardbarker is the largest network of sports blogs and pro athlete blogs on the web. This site is the hub of the Yardbarker Network, where our editors and algorithms curate the best sports content from our network and beyond.