Found August 27, 2012 on Player Perspective:
Here's a photo of Lebron James thinking about how he can get more money from people willing to overpay for sneakers. If you haven't heard yet, Miami Heat star Lebron James has new shoes coming out that cost $300 or close to it (so says the rumors). For some reason expensive sneakers bring out a range of reactions. From the people who swear up and down that that's alllll poor people do is buy sneakers rather than save to be not so poor OR the people who lament the fact that poor kids can't get the shoes they think are so cool. Neither argument makes sense. Greg Doyel over at CBS took the second tack and wrote an entire diatribe about the price of Lebron's shoes being further proof that he doesn't get "it."
That's why this story turns my stomach. If James were somebody else — if he were, say, Kobe Bryant, the son of a professional basketball player — I'd have to find another reason to hate these shoes. And maybe I'd fail. Maybe if it were Kobe being Kobe, blithely marketing $300 shoes for children who live the affluent childhood he once lived, I'd let it slide. That's a hypothetical, so I'm done wasting time on it. What's real is this:
[To finish reading this post click Read More]
LeBron James, 27, just put his name on a pair of shoes that 14-year-old LeBron James couldn't have bought. This is world-class greed and corporate cluelessness, something we never saw even from Michael Jordan himself. In 1985 Nike released the first pair of Air Jordans for the whopping price of $65, and that's not me being sarcastic. In 1985, $65 was a whopping price. Ask your parents for a pair of Air Jordans, as some my friends did in 1985, and you'd get laughed out of the living room. In today's money, with inflation factored in, those $65 Air Jordans in 1985 would sell for about $140 in 2012.
It's terrible that among all the things that poor kids deserve and very often can't get (nutritious foods, safe spaces to play, quality education) the sneaker issue comes up whenever some folks want to point out that they're deprived or have society spitting in their faces. But what I find most troubling about Doyel's opinion is the expectation that Lebron reduce his earning potential because he USED to be poor. Back when Michael Jordan became the premiere seller of grossly over priced sneakers the argument that the shoes were out of reach for the kids who wanted them the most made more sense. But now, the sneaker industry is driven by guys old enough to rent a car without an additional fee. The guys who grew up on Jordans are the primary sneaker enthusiasts now. It's not that the younger generation doesn't wear sneakers, it's that youthful fashion in 2012 is less about high priced sneakers and hoodies with labels and more about fit and color like those yellow skinny jeans young dudes wear that adults are always wailing about like geriatric idiots. Adults are driving the sneaker industry and Lebron should be fully allowed to take as much money as they can get from them without being shamed into doing otherwise. Lots of young ladies want to wear Manolo Blahnik heels but no one is pressuring the Spanish designer to make a line with shoes that cost less than $600-$3000. Speaking of which, rappers often attach themselves to brands younger folks cannot afford. And rap is often full of poverty war stories which results in often DIRECT profits from the communities who can't afford them. Why are those musicians not also expected to scale down the price of their items to suit the poor kids who presumably look up to them? When it comes down to it, Lebron's sneakers are a luxury expense…just like ipads, Celine bags, golf and a multitude of other things the vast majority of Americans couldn't afford if Suze Orman was making the decision. Like any parent, poor ones are free to say "no" you can't have that which is something my mom certainly never had a problem doing.         Related Posts:
Pinpointing the Exact Moment I Became a Fan of Lebron James
A Handy Guide to Bashing Lebron's 45 point 15 rebound 5 assist performance against Boston
Apparently Hipster Clothing IS Allowed Under the NBA Dress Code
Chris Bosh and Those Other Two Heat Players Will Appear On Oprah Next Week
Lebron James, Dwyane Wade and Others Wear Hoodies to Support Justice for Trayvon Martin
Original Story:
http://feedproxy.google.com/~r/Player...
THE BACKYARD
BEST OF MAXIM
RELATED ARTICLES
Lebron James wants to be the modern day Michael Jordan, as he's saying that he would love to star in the remake of Jordan's 90's film "Space Jam". During his Q&A session he held on his Twitter account with fans, James stated that he loved the "Space Jam" movie and that he wish that there would be a Space Jam 2. "I love the movie! Wish...
We all knew Paul George had some ups, but wow. In the words of LeBron James, the Pacers guard has some "crazy bounce." George recently threw down an awesome, 360, under-the-legs, windmill jam at the Festival of Sport event in Shanghai, China. It was similar to a dunk George used at the 2012 Slam Dunk Contest, except he added even more flair this time around. James, who...
The 2011-12 NBA season is the books; congrats to the Miami Heat and LeBron James for finally getting his ring. Now it's time to look back of some of the top plays of the NBA season. Today it's the top 10 dunks from the past NBA season. Find out who got the top spot below.   Follow me on twitter @ScottBasketball  http://twitter.com/#!/ScottBasketballAlso like...
Torren Jones had some good moments at the LeBron James Skills Academy in July. Scout.com put together a highlight reel of the 2013 post in action.
Dwyane Wade participates in his share of charitable golf tournaments, so the Miami Heat guard is not a complete stranger to fairways and greens. But from the sound of it, Wade's understanding of the game has a ways to go before he can become a scratch golfer. In an interview with ESPN Chicago, Wade proved he is sane by saying he believes Michael Jordan is still greater than LeBron...
Put Paul George in an airplane.  Equip him with a parachute and drop him anywhere in the world.  Assuming he reaches the ground unharmed, chances are he'll be the best dunker in whichever town it is that he lands. Recently, Paul George found himself in Shanghai, China.  He was there with LeBron James (among others) on one of those promotional missions for Nike, and he pretty...
Kevin Durant vs. LeBron James is shaping up to be one of the greater basketball rivalries of all time. While James currently has the upper hand, winning last season's MVP and the NBA Finals against Durant's Oklahoma City Thunder, it is still a close gap. Durant won the scoring title for the third year in a row and stole the show at the Olympics in London this summer. Even...
Although its been about a week since Team USA took home the gold in men's hoops at the 2012 Summer Olympics, the below blooper reel was recently released.Check out such stars as Kevin Durant, LeBron James, and Carmelo Anthony having some fun during team practices and flights: (Courtesy of Pro Basketball Talk)
Fact: At 6'8″ tall, Paul George is the NBA's tallest starting shooting guard.  Also fact: Paul George is the most athletic shooting guard you don't know a thing about (other than him being 6'8″.  George was attending the "Festival of Sport" event in China over the weekend when he was pulled out of his chair to show off his dunking skills…and show off he did. George...
  Now this is hilarious. Here we are thinking that ESPN is entirely all over LeBron's nuts and then we come across a post like this: http://tinyurl.com/czkxqnm    
NBA News

Delivered to your inbox

You'll also receive Yardbarker's daily Top 10, featuring the best sports stories from around the web. Customize your newsletter to get articles on your favorite sports and teams. And the best part? It's free!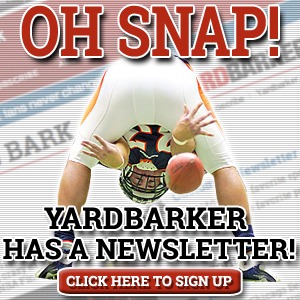 Latest Rumors
Best of Yardbarker

Today's Best Stuff

For Bloggers

Join the Yardbarker Network for more promotion, traffic, and money.

Company Info

Help

What is Yardbarker?

Yardbarker is the largest network of sports blogs and pro athlete blogs on the web. This site is the hub of the Yardbarker Network, where our editors and algorithms curate the best sports content from our network and beyond.