Found June 21, 2012 on Fox Sports:
PLAYERS:
LeBron James
,
Dan Gilbert
,
Dwyane Wade
,
Chris Bosh
,
Mike Miller
,
Doc Rivers
,
Tiger Woods
,
Udonis Haslem
TEAMS:
Miami Heat
,
Cleveland Cavaliers
,
Dallas Mavericks
,
Boston Celtics
,
Oklahoma City Thunder
LeBron James has been called heartless, callous, narcissistic, cowardly and selfish. And that was just in one letter from Dan Gilbert, the man who used to pay him to play for the Cleveland Cavaliers. One more win, and James will have to be called something else: NBA champion. It could happen Thursday, when the Miami Heat play the Oklahoma City Thunder in Game 5 of the NBA Finals. The Heat lead the best-of-seven series 3-1. They could clinch the championship with a win in the same arena that hosted the infamous ''Yes. We. Did.'' party for James, Dwyane Wade and Chris Bosh upon their formal signings in Miami on July 9, 2010 - one day after he made the regrettable choice to announce ''The Decision'' in a televised special. ''I haven't even really looked at it as just one game away,'' said James, the league's reigning MVP for a third time. ''I look at it as this is our next game. As crazy as it sounds, I haven't got caught up in it. I won't get caught up in it because I'm not going to let ... you know, the human nature is to automatically think about after we win it, what are we going to do? I'm not there. I won't get there until those zeros hit and I see that we won.'' Vilified for both exercising his right to leave Cleveland and for the manner in which he announced the move, James has spent two years in Miami chasing that elusive first championship. He remains one of the world's most polarizing athletes, not to mention one of the world's best-paid both on and off the court, with his annual income recently estimated by Forbes to be $53 million. But apparently, when it comes to LeBron James, enormous money and fame is not enough to satisfy everyone. He needs a title. And if it happens ... ''Perceptions better change, OK?'' Heat forward Mike Miller said. ''You would be looking at a three-time MVP and a world champion. There's a very, very, very, very, very short list of those. A very short list. The way I've seen him improve in just the two years I've been around him, I've seen the maturation the whole time, and it's a scary thought because it's not going to stop. It's a freight train right now.'' James' successes are celebrated. His failures might be more celebrated. When the Heat lost last year's finals to the Dallas Mavericks, all the blame went James' way, and with good reason. He averaged three points in fourth quarters of those six games. The most common complaint, one that James acknowledges is true, is that he didn't make enough plays in the biggest moments. He managed only eight points in the loss that turned the series around and spun it in the Mavericks' favor. ''Old Lesson for all,'' Gilbert tweeted a few minutes after Dallas won the championship in Miami. ''There are NO SHORTCUTS. NONE.'' Gilbert didn't mention James by name in the tweet - or in his letter that came out shortly after The Decision. He didn't have to, either. The Heat are understandably biased when it comes to perceptions about James. Some of Miami's competitors are as well. ''He does the right thing,'' Boston Celtics coach Doc Rivers said. ''When he makes the right pass and the guy misses the shot, he's criticized. When he forces a shot in a double team, he's criticized. It's the way it is for him, for whatever reason. He's competitive as heck. He's one of the most powerful players to ever play the game. And maybe it isn't enough. I don't know.'' Rivers said he thinks only one athlete might be able to relate to what James has to deal with - Tiger Woods. ''Tiger over the last two or three years,'' Rivers said. ''Other than that, no one. No athlete that I can ever remember being under the scrutiny - definitely in basketball. I've never seen anyone under the scrutiny that LeBron James is under.'' So in these playoffs, instead of trying to defeat the scrutiny, James is trying to ignore as much of it as he can. He hasn't been taking phone calls or tweeting. He's not watching much television. Instead of reading articles about him or the playoffs, he's been reading books, something that now seems to be part of his pregame ritual. (''It slows my mind down,'' James said.) ''He's just focused, you know, just like the rest of this team,'' Wade said. ''He has a goal, and he wants to reach that goal, and he doesn't want nothing to stand in his way, and he doesn't want himself to stand in his way. He wants to make sure once you leave the game or you leave the series, you can say, I gave it my all. I don't know if we all could have said that last season.'' James' free-agent courtship officially lasted about a week, The Decision went on for an hour, and the words that changed so many aspects of James' life that night took only four seconds to say that night. ''I'm going to take my talents to South Beach and join the Miami Heat,'' James said, that unforgettable phrase. He did it for this reason, for this moment, to get the ring that he's wanted for so long. If he gets it, everything that happened over the past two years doesn't get erased. But it may seem a lot more worthwhile. ''When you've got a guy who's probably achieved all the individual accolades that you can probably achieve at the highest level of basketball and doesn't have a title, it's kind of like ... it's just not complete, not whole,'' Heat forward Udonis Haslem said. ''For him, it gives him an opportunity to close another book, another chapter in his book.'' --- Follow Tim Reynolds on Twitter at http://www.twitter.com/ByTimReynolds
Original Story:
http://msn.foxsports.com/nba/story/If...
THE BACKYARD
BEST OF MAXIM
RELATED ARTICLES
LeBron James is the MVP of the NBA Finals. James finished with 26 points, 13 assists and 11 rebounds in Game 5 of the title series Thursday night, leading the Miami Heat to a 121-106 victory over the Oklahoma City Thunder. Miami won the second title in franchise history, and James won for the first time in three finals appearances. James and the Cleveland Cavaliers were swept...
LeBron James is the MVP of the NBA Finals. James finished with 26 points, 13 assists and 11 rebounds in Game 5 of the title series Thursday night, leading the Miami Heat to a 121-106 victory over the Oklahoma City Thunder. Miami won the second title in franchise history, and James won for the first time in three finals appearances. James and the Cleveland Cavaliers were swept...
PASS THE MIC
Let's be honest here, LeBron James celebrating his first NBA title at Club LIV this morning with LMFAO is about as bad as it gets in the celebration category. There were no Ace of Spades bottles that we know of. No massive speeches from the King. No giant bar bills (more on that later this morning). Just LeBron rapping with the douchiest club group of the 21st century. Nice...
MIAMI Forget for a moment the painful grimace on the face of LeBron James. When he was carried off the court late Tuesday by teammate Juwan Howard and trainer Jay Sabol, isn't that how an enduring moment from a defining career turn, rich with symbolism, is supposed to look? It appeared that way Wednesday, the day after, when the buildup to Game 5 revolved less around the minutiae...
Charles Barkley is on the list of great NBA players who never won a title. LeBron James had won three regular season MVP awards before winning his first NBA title, but at age 27 and in his 9th season in the league, he finally won one. Barkley said on NBA TV after Game 5 on Thursday that he was happy for LeBron. "As someone who never won an NBA championship, I always root for...
I stopped watching after the end of the 3rd quarter. I couldn't handle watching LeBron James celebrate. The guy was trying to sell the drama on a freaking cramp on Tuesday. I could only imagine his reaction to winning his first rin as. visions of a giant box of Summer's Eve hitting the court clouded [...]
During the NBA playoffs, there has been some questionable fashion choices by the players and even LeBron James decided to rib one of his teammates about his glasses.When Heat star Dwyane Wade was at the podium for a postgame interview in game four, LeBron was watching on a close-circuit television and decided to point out Wade's nerdy glasses where he called Wade out saying that...
The smoke hasn't cleared from the celebration in Miami, and already the experts, fans, and folks at random water coolers across the globe are wondering will they be able to repeat? Can LeBron James deliver on his bostrous claim of winning seven titles? It's apparent that winning the first one has sparked even more debate about the future. The questions surrounding the...
MIAMI -- The wait is over. Now LeBron James, Dwyane Wade and Chris Bosh can have a championship celebration with an actual championship trophy. Pushing to an early 17-point lead and then building from there, the Miami Heat defeated the Oklahoma City Thunder 121-106 Thursday night at AmericanAirlines Arena, closing out the best-of-seven NBA Finals in Game 5, sweeping the three...
WHAT HOT SEAT?
LeBron James is an NBA champion. James put together another stellar performance in Game 5 of the NBA Finals as the Miami Heat beat the Oklahoma City Thunder 121-106 to win their second NBA title. James, the regular season's most valuable player finished the game with a triple-double. He scored 26, with 13 assists and 11 rebounds and was voted the Finals most valuable player...
Dwyane Wade, Chris Bosh and LeBron James especially got a huge monkey off their back Thursday night when they were able to finally deliver an NBA title to the City of Miami in the Big Three era. Not only that though the Heat did it in convincing fashion disposing of the upstart Oklahoma City Thunder in five games with a very convincing win to close things out. LeBron James was phenomenal...
NBA News

Delivered to your inbox

You'll also receive Yardbarker's daily Top 10, featuring the best sports stories from around the web. Customize your newsletter to get articles on your favorite sports and teams. And the best part? It's free!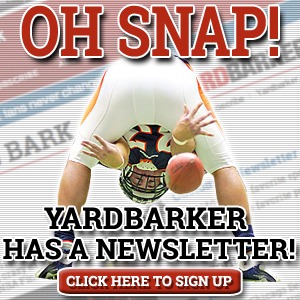 Latest Rumors
The Backyard

Today's Best Stuff

For Bloggers

Join the Yardbarker Network for more promotion, traffic, and money.

Company Info

Help

What is Yardbarker?

Yardbarker is the largest network of sports blogs and pro athlete blogs on the web. This site is the hub of the Yardbarker Network, where our editors and algorithms curate the best sports content from our network and beyond.