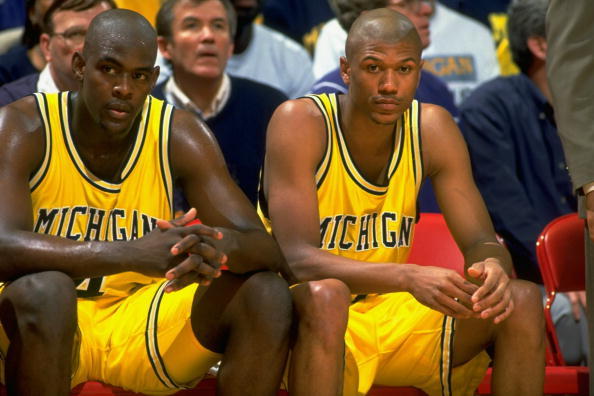 It's the first Friday of the NBA season and you know what that means: a brand new season of ESPN's NBA Countdown! Gone are Magic and Michael Wilbon. In their place, Doug Collins and Sage Steele. Returning to the set, and giving the people what they want, are Bill Simmons and Jalen Rose, who didn't take long to drum up some sorely-needed controversy from an ESPN set (that includes all ESPN sets). At one point, a discussion about Kevin Durant led to Jalen listing the multiple times he came up short in high school and college championship games — the most famous being the 1993 NCAA championship game. In the course of his comments, Jalen managed to slip in a nasty upper cut to Chris Webber's ego: "Fortunately, I wasn't the one who called the timeout". We call it an upper cut because Jalen's been taking small jabs at Webber ever since The Fab Five aired as part of ESPN's "30 For 30″ documentary series — jabs that range from subtle frustration to playful sarcasm, yet, ultimately, all kind of sad and pathetic. However, Friday night's would have to qualify as a true whopper, as Jalen's matter-of-fact tone seems to imply that he blames Michigan's loss to North Carolina solely on Webber and his timeout. Considering this comes on the heels of Kenny Smith taking shots at C-Webb last night on TNT (Webber did respond via Twitter), it'll be interesting to see how (or if) Webber responds to Jalen. Note: this Vine is all we have until better video surfaces, so just deal with it. [Vine] Article found on: Next Impulse Sports
MORE FROM YARDBARKER:
Best basketball players never to play in the NBA
MORE FROM YARDBARKER
NBA News

Delivered to your inbox

You'll also receive Yardbarker's daily Top 10, featuring the best sports stories from around the web. Customize your newsletter to get articles on your favorite sports and teams. And the best part? It's free!