Found February 13, 2013 on Hoop Fantasies Fantasy Basketball Blog:
Houston Rockets guard James Harden will rest his sore ankle Wednesday, according to Yahoo Sports' Marc Spears. However, Harden will play in Sunday's All-Star Game. Harden led the Rockets to a 116-107 win Tuesday over the Golden State Warriors. The Beard scored 27 points (hitting 7-of-22 and all 11 of his free throws) to go with two 3-pointers, seven rebounds, five assists and three steals in 39 minutes. Harden took a nasty fall on his right ankle in the game but kept playing. The post-game report says he had his feet in a bucket of ice and knees wrapped in bandages. "I can barely walk. Still limping," Harden told reporters. "I kind of felt the momentum going our way in the third quarter … so I didn't want to shut it down." For his part, Harden was quoted in last night's gamer that he wants to play. "Why not? I'm tough," he told reporters. Harden is a top-10 fantasy player. In 53 games, he's averaging 26.1 points, 1.96 3-pointers, 4.8 rebounds, 5.7 assists, 1.9 steals and .5 blocks. Rockets James Harden will miss Wednesday's game at Clippers with ankle injury but will be ready for Sunday's All-Star Game. — Marc J. Spears (@SpearsNBAYahoo) February 13, 2013 Photo: Derral Chen.
Original Story:
http://feedproxy.google.com/~r/LifeIs...
THE BACKYARD
BEST OF MAXIM
RELATED ARTICLES
THE LONG AND SHORT OF IT
J.J. Watt is by no means a small man. In fact he is a very large fella and clocks in at a solid 6′ 5″, 295 lbs. However, perceptual contrast is everything especially when you take a photograph of him standing next to 7′ 6″ Yao Ming. This is a great photo but it doesn't compare to Yao's time in Africa or him playing golf. Great lunch with @yaoming today. Have a feeling...
Houston Rockets point guard Jeremy Lin guest stars in the latest "This is SportsCenter" commercial for ESPN, where he uses his Harvard background to help Jay Crawford with his writing. Video via ESPN. H/T TNLP. Related Posts: Henrik Lundqvist translates for Muppets' Swedish Chef in ESPN ad (Video) Visit us at holdoutsports.com and follow us on Twitter...
The Los Angeles Clippers stormed out to a 46-28 lead in the first quarter and held on to  beat the Houston Rockets on Wednesday night 106-96. With the game well in hand and the team leading by 16 midway through the second quarter, Clippers center Ryan Hollins let his foot do the talking as he appeared to intentionally kick Rockets guard Jeremy Lin as Lin was falling to the floor...
ESPN has released their latest promo video for This Is SportsCenter staring Houston Rockets guard Jeremy Lin.  If you didn't know this interesting fact, you must have been sleeping under a rock during last year Linsanity season; Jeremy Lin is a Harvard grad. So it seems fitting that in this commercial, Lin would be teaching Jay Crawford how to use big words like "terminal velocity...
GIVE HIM THE BOOT
Los Angeles Clippers center Ryan Hollins thought he got a quick one in last night against the Houston Rockets when he kicked Jeremy Lin in the stomach, but he was caught red footed.  Check out the video below of Hollins giving Lin the boot to the stomach and then holding his hands up like he didn't do anything. Check out our Home Page for more stories and follow us on Twitter and Facebook
This video was made as a tribute to Mr. James Bucklin, whose valentine will always be Yao Ming.  Many people don't understand what Yao is or what he could have been had injuries stayed far away.  We miss the big fella and only hope he is doing well.  This is a bitter sweet video. PS. no one made this video for James, that was a joke.
Jeremy Lin had a block on one end of the court and then went coast to coast for a dunk on Francisco Garcia of the Sacramento Kings on Sunday night. Those two impressive plays were not enough though for the Houston Rockets as the Kings won 117-111.Lin finished with 12 points but fouled out.
For those of you who have yet to witness Francisco Garcia get posterized by Jeremy Lin in the 2/10 Rockets-Kings matchup, take 29 seconds out of your day to view the following. After tallying a huge block, Lin dribbles coast-to-coast (note at :05 seconds; Lin's merciless handles in crossing Demarcus Cousins) and slams it home in Garcia's dome.With this impressive block...
Ryan Hollins of the Los Angeles Clippers may regret this spur of the moment decision during their game against the Houston Rockets on Wednesday night. Hollins was frustrated and as Lin took a tumble in front of him, he used the moment to blatantly kick Lin. Ryan, you can expect a call from Mr. Stern's office today. Article found on: Cosby Sweaters
NBA News

Delivered to your inbox

You'll also receive Yardbarker's daily Top 10, featuring the best sports stories from around the web. Customize your newsletter to get articles on your favorite sports and teams. And the best part? It's free!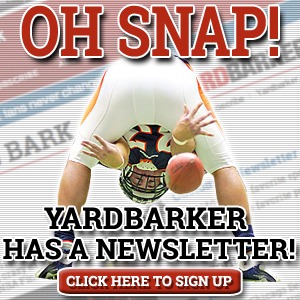 Latest Rumors
Best of Yardbarker

Today's Best Stuff

For Bloggers

Join the Yardbarker Network for more promotion, traffic, and money.

Company Info

Help

What is Yardbarker?

Yardbarker is the largest network of sports blogs and pro athlete blogs on the web. This site is the hub of the Yardbarker Network, where our editors and algorithms curate the best sports content from our network and beyond.