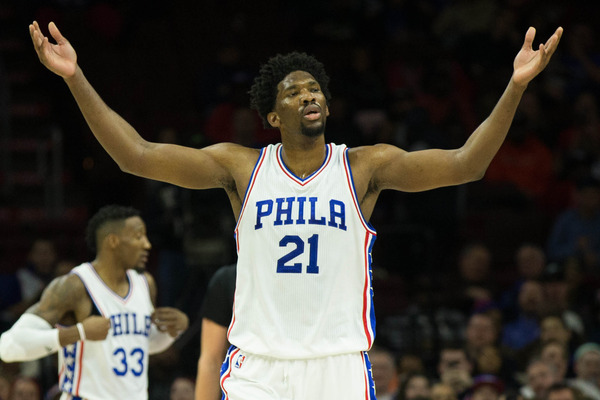 76ers center Joel Embiid is pretty pumped up about the team being undefeated in 2017.
Bill Streicher-USA TODAY Sports
The Philadelphia 76ers narrowly snatched victory from the jaws of humiliating defeat on Tuesday night, beating the Minnesota Timberwolves by a score of 93-91 at Wells Fargo Center.
But the victory came after the Sixers blew a 26-point lead early on in the third quarter by allowing the T'Wolves to stage a furious comeback. The improbable almost became reality when a Ricky Rubio three-pointer tied the game up at 91 points apiece with barely any time left on the clock.
A buzzer-beater from Robert Covington allowed the 76ers to avoid abject embarrassment and now everything evidently is hunky-dory in the City of Brotherly Love.
At least that's how Joel Embiid sees it, at least in one way. The center, after putting on his rosiest of rose-colored glasses, took to Twitter (and Instagram) to accurately proclaim that the 76ers, despite being 9-24 on the season, are undefeated since the calendar rolled over to 2017.
Undefeated in 2017 #TheProcess pic.twitter.com/PUraSHZgmn

— Joel Embiid (@JoelEmbiid) January 4, 2017
The Process, indeed. Philly's remarkable undefeated start to 2017 may even help Embiid sell a lot more Shirley Temples. Maybe.
To put things in their proper perspective, though, the 76ers have only played one game in 2017, so they are now 1-0 in the New Year. But we would be remiss not to mention that the Sixers closed out 2016 with a 124-122 win over the Denver Nuggets on Dec. 30. That means Philly has a nifty two-game winning streak.
So the Sixers have that going for them, which is nice. And that's regardless of how long the team's recent hot streak that closed out 2016 and opened up 2017 rolls along.
MORE FROM YARDBARKER:
Can Russell Westbrook win the MVP on a team that's not elite?
MORE FROM SPORTRESS OF BLOGITUDE:
MORE FROM YARDBARKER
76ers News

Delivered to your inbox

You'll also receive Yardbarker's daily Top 10, featuring the best sports stories from around the web. Customize your newsletter to get articles on your favorite sports and teams. And the best part? It's free!