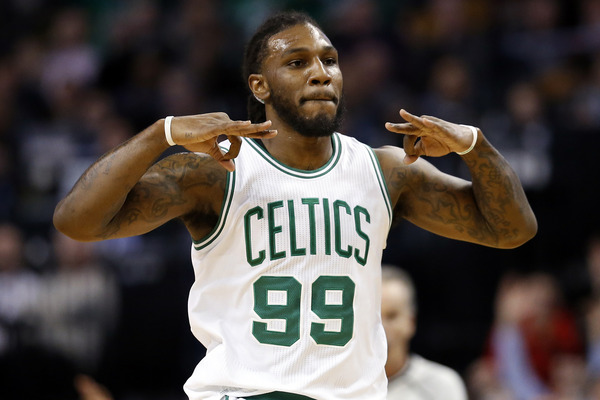 Boston Celtics forward Jae Crowder (99) reacts after a three point basket during the first quarter against the Washington Wizards at TD Garden.
Greg M. Cooper-USA TODAY Sports
John Wall and Jae Crowder got into it after the Boston Celtics beat the Washington Wizards 117-108 on Wednesday night.
After the game, Wall had some words for Crowder, who did not react well. The Celtics forward pointed his finger in Wall's face, who slapped back, leading to a skirmish.
Here are a few angles of the Wall-Crowder, Wizards-Celtics argument: pic.twitter.com/75tw37WEqf

— CSN Wizards (@CSNWizards) January 12, 2017
A few other players from each side joined in to break things up. Those two weren't the only ones to get into it on Wednesday — Marcus Smart and Bradley Beal also had an incident earlier in the game.
Wall had an off game as he shot just 4 of 21 for nine points, while Crowder was hot and threw in 20. Wall said after the game that Crowder started it.
"Yeah. I was just standing there — just standing there," Wall said via CSN Mid-Atlantic. "I had just said, 'What up?' to [Celtics point guard Isaiah Thomas] and then I was walking back toward my locker room."
MORE FROM YARDBARKER:
Can Russell Westbrook win the MVP on a team that's not elite?
MORE FROM LARRY BROWN SPORTS:
MORE FROM YARDBARKER
NBA News

Delivered to your inbox

You'll also receive Yardbarker's daily Top 10, featuring the best sports stories from around the web. Customize your newsletter to get articles on your favorite sports and teams. And the best part? It's free!