Found April 12, 2013 on Larry Brown Sports:
JR Smith reportedly has been ordered to pay over $48,000 to a jewelry company for allegedly not paying a bill after ordering some items from them in 2010. According to TMZ, Smith ordered a diamond chain, two Black Jesus pendants and some earrings from Lemmerman's — totaling $25,500. The company sued Smith for $48,101, which was the amount of the jewelry plus interest and attorney's fees. Smith did not respond to the suit and was ordered by a judge to pay $48,000. Lemmerman's advertises a great deal of custom-made jewelry on their website. They also seem to be quite popular with athletes; CJ Miles, Ryan Gomez, Keith Bogans, and Jared Sullinger are among the players whose names appear on the site for their products. Below is a look at the Black Jesus pendant ordered by Smith: That is pretty sweet looking. I have nothing against Black Jesus, but where's the love for Korean Jesus?
Original Story:
http://larrybrownsports.com/legal/jr-...
THE BACKYARD
BEST OF MAXIM
RELATED ARTICLES
J.R. Smith, born and raised in Jersey, attended St. Benedict's in Jersey City and went pro out of high school. J.R. has had a good career by most standards. However something else burns inside. Like MCA said, " Like the sound that go's to the depths of your soul" That sound is basketball in J.R.'s world. He wants more than the money, fame and respect at this point in his...
A judge has ruled on a jewelry company's claim that New York Knicks guard J.R. Smith stole some jewelry including a chain with a diamond-studded Afro-American rendition of Jesus Christ hanging from it.  The judge ordered the NBA star to pay back $48,000 for the bling. A jewelry company called Lemmerman's just won the lawsuit for the reportedly purloined chain, two Black...
It isn't unusual for retailers to give athletes and celebrities stuff, with a promise to be paid later. The retailers look at it as free advertising. If JR Smith wears his Jesus Piece to the club, all the broke guys, who want to look like JR Smith, will spend their rent money on buying the same chain. Unfortunately for the retailers, sometimes the celeb never pays and they are...
First DeJuan Blair, now Knicks guard J.R. Smith has been ordered to pay a jeweler for items, including two black Jesus pieces, he took out on a loan back in 2010. According to TMZ: A jewelry company called Lemmerman's sued Smith, claiming he ordered a bunch of bling back in 2010 — including a diamond chain, two Black Jesus pendants and some earrings — totaling $25,500 … but...
The story of the night for the New York Knicks (52-27) was the astonishing shooting from JR Smith, who led the team to a 101-91 victory over the short-handed Cleveland Cavaliers (24-55). Smith was a scorching 13-16 from the field, finishing with 31 points and chipping in five rebounds. Smith hit 12 straight field goals during a late second half stretch, that ultimately closed the...
photo via @TeamSwish Jocks and diamond laced jewelry always seems to cause some sort of problems. The latest athlete accused of skipping out on a jewelry bill? That would be Knicks star JR Smith. Per TMZ, Smith reportedly purchased $25,000 worth of jewels back in 2010 that included; earrings, a diamond chain and two Black Jesus pendants. The black ice pendant is reportedly worth...
The Knicks have kept rolling since my last bench report a week ago, posting a 3-0 record since last Thursday. Two of the three wins recorded this past week are very solid ones, one coming last Friday at home against the Bucks, and the other was an even stronger win against Western power Oklahoma City Thunder. The most recent victory was this past Tuesday night at the Garden as the...
On March 18th, the 38-26 Knicks, currently on a four-game losing streak came into the EnergySolutions Arena looking to turn it around against the Utah Jazz. The team was still in a position of strength in that they undoubtedly had their most talented collection of players in years and were battling over the highly sought after second seed; a spot that would delay any Eastern Conference...
With their recent victories against the Heat, Celtics, Thunder and Grizzlies, the New York Knicks are back in the spotlight. Coming off of a brutal West Coast trip and a 4-game losing streak, the Knicks have turned it around and compiled a 13-game winning streak. While the Knicks have played a great team-game, the team has relied on bonafide superstar Carmelo Anthony. Through his...
The Turn On The Knicks 12 pack is back, with our final grades for the New York Knicks roster. Currently at 51-27 and sitting in the number two seed, the 2012-2013 season has been an immense success for the Knicks to this point. Here is how their individual players grade out 1. Carmelo Anthony – A - A terrific season from the Knicks best player, who is on an epic tear as of late...
The New York Knicks clinched its first Atlantic Division title since 1994 courtesy of a 120-99 win over the Washington Wizards on Tuesday night. The players were in unquestionably high spirits in light of their accomplishment, as was their coach, Mike Woodson. Showcasing an ability to laugh at himself, Woodson hammed it up, mugging for the camera as J.R. Smith took photos of a shirt...
Last night, the Cavaliers fell to the New York Knicks 101-91, largely due to the stellar performances of New York's 1-2 punch of Carmelo Anthony and J.R. Smith (31 points each). Rather than a traditional recap, I thought I'd take a stab at looking at some of the crazy cross-matchups that occurred in this game's, primarily centered around Anthony playing the power forward position...
Knicks News

Delivered to your inbox

You'll also receive Yardbarker's daily Top 10, featuring the best sports stories from around the web. Customize your newsletter to get articles on your favorite sports and teams. And the best part? It's free!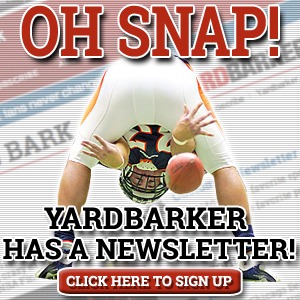 Latest Rumors
Best of Yardbarker

Today's Best Stuff

For Bloggers

Join the Yardbarker Network for more promotion, traffic, and money.

Company Info

Help

What is Yardbarker?

Yardbarker is the largest network of sports blogs and pro athlete blogs on the web. This site is the hub of the Yardbarker Network, where our editors and algorithms curate the best sports content from our network and beyond.