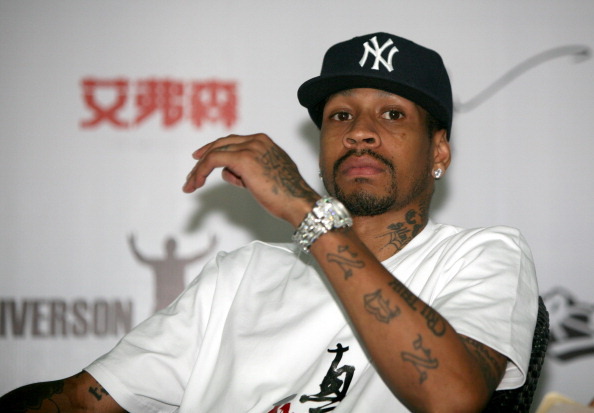 A judge who presided over Allen Iverson's divorce ripped into the former NBA star's parenting, stripped him of custody of his children, and ordered him to attend Alcoholics Anonymous (AA) to address his drinking problem, TMZ reports. The Atlanta judge recently signed off on Iverson's divorce from ex-wife Tawanna, and awarded her legal and physical custody of the couple's five children. Iverson reportedly has visitation rights, but he has to follow strict rules in order to maintain them. Iverson reportedly must not consume any alcohol for the next 18 months, and he must not have alcohol within 24 hours of seeing his children. He also has been ordered to see a psychiatrist and attend AA meetings for a year, per TMZ. In the final ruling, the judge ripped into Iverson. "[Iverson] does not know how to manage the children; has little interest in learning to manage the children and has actually, at times, been a hindrance to their spiritual and emotional growth and development. "For example, he has refused to attend to an obvious and serious alcohol problem, which has caused him to do inappropriate things in the presence of the children while impaired," the judge writes, per TMZ. The judge also scolds Iverson for leaving his children alone without supervision. Iverson's personal life has appeared to be a mess since he stopped playing in the NBA. His divorce case got so ugly that at one point his ex wanted a list of all his sexual partners while they were together. Iverson's financial problems were exposed, and his mansion was in foreclosure as of last December. The judge's ruling is not a surprise. In 2010, we exposed Iverson for hosting a party when he was supposed to be taking care of his daughter. There were also reports of him having an alcohol problem. Maybe the judge's ruling will actually help Iverson turn around his life. The post Judge rips Allen Iverson as parent, orders him to attend AA meetings appeared first on Larry Brown Sports. Related posts: Allen Iverson's wife wants a list of his sexual partners since they were married Allen Iverson reportedly attending Celtics-Sixers Game 6 in Philadelphia Allen Iverson fighting Atlanta mansion foreclosure, says it's his wife's fault
MORE FROM YARDBARKER:
Best athlete by state all time
MORE FROM YARDBARKER
NBA News

Delivered to your inbox

You'll also receive Yardbarker's daily Top 10, featuring the best sports stories from around the web. Customize your newsletter to get articles on your favorite sports and teams. And the best part? It's free!