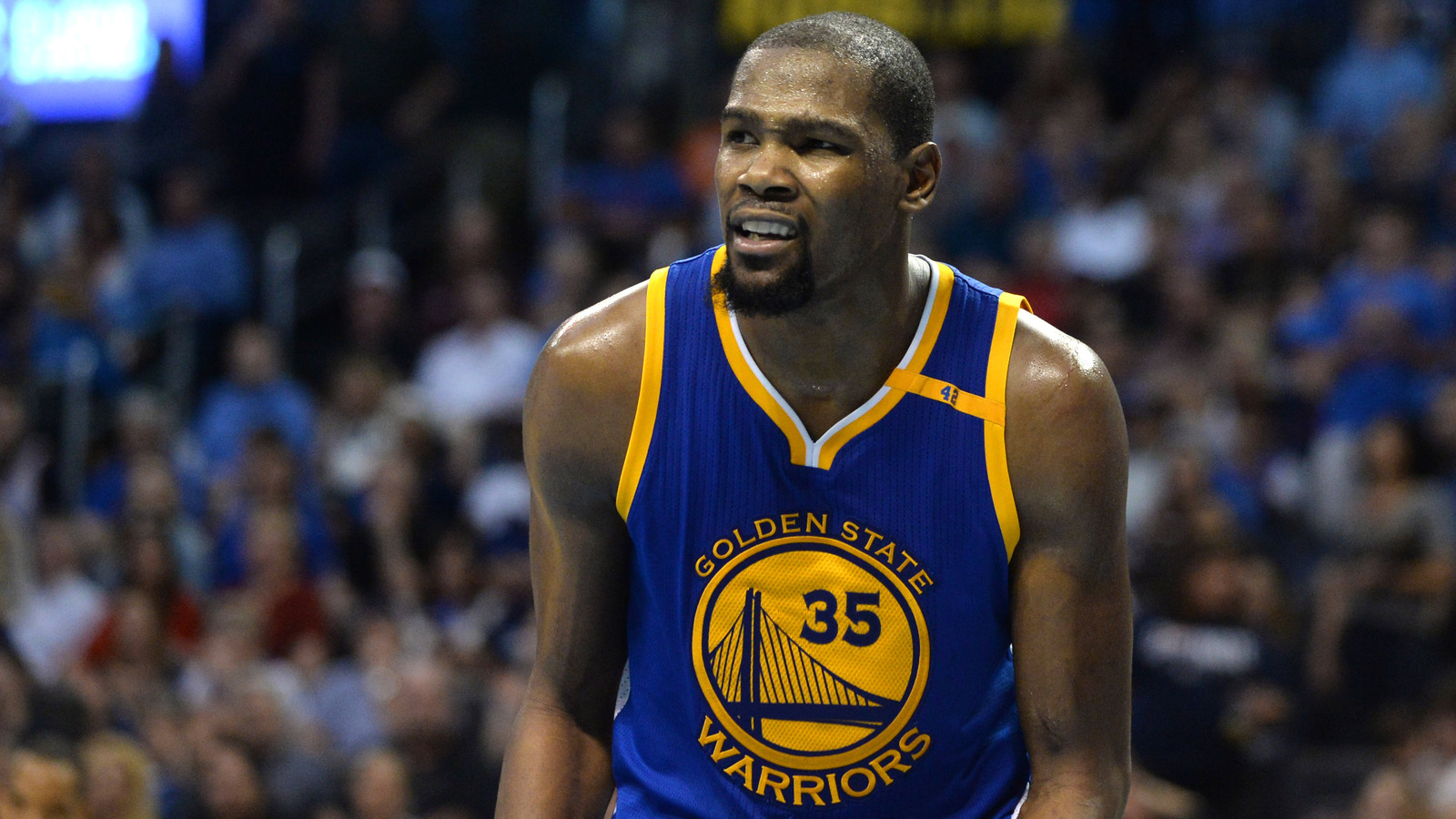 Feb 11, 2017; Oklahoma City, OK, USA; Golden State Warriors forward Kevin Durant (35) reacts after a play against the Oklahoma City Thunder during the fourth quarter at Chesapeake Energy Arena.
Mark D. Smith-USA TODAY Sports
Perhaps the most intriguing subplot of 2017 NBA All-Star Weekend is how things will play out between Kevin Durant and Russell Westbrook while sharing the same bench as Western Conference teammates.
To hear it from Durant, there's not going to be any kind of drama, or at least that's his prediction.
Durant, Stephen Curry, Klay Thompson and Draymond Green will all play in Sunday's game with their Golden State Warriors head coach Steve Kerr running the show. Durant, Curry and Kerr appeared on ESPN Radio Thursday and not surprisingly, the topic of Westbrook came up.
Durant insists fans and the media are making the Westbrook angle a bigger story than it deserves.
"Everybody loves drama, man. It feels like we're in a big soap opera. A reality TV show," Durant said. "So many people want to know about our relationship, or a phone call, instead of worrying about the game, which is the most important thing. And I'm sure both of us and the rest of the players feel the same way."
Things obviously are tense between Durant and Westbrook, especially after the two jawed during Durant's first game back in OKC last weekend. Curry believes the drama is being overblown and every player just wants to enjoy the experience.
"I feel like we'll be mature enough to just enjoy being All-Stars and being in that locker room and what wearing the West All-Star jersey means and celebrating everybody's accomplishments," Curry said.
Kerr, as he did Wednesday, continues to play things close to the vest concerning whether or not he'll put Westbrook out with Durant, Curry, Thompson and Green at any point.
"I've definitely considered it," Kerr said, later adding, " I'm not going to share it with you here today."
Durant, when asked about the possibility of the Warriors' four All-Stars playing alongside Westbrook, similarly wouldn't say too much.
"Haven't thought about that one," Durant claimed. "I know that's the million-dollar question. Whoever he throws out there, man, I'm sure it'll be fun."
And if Westbrook does end up on the court with four Warriors? Buckle up, one way or another.
MORE FROM YARDBARKER
NBA News

Delivered to your inbox

You'll also receive Yardbarker's daily Top 10, featuring the best sports stories from around the web. Customize your newsletter to get articles on your favorite sports and teams. And the best part? It's free!