Found February 13, 2013 on Next Impulse Sports:
The Oklahoma City Thunder marched into Salt Lake City on Tuesday night and got worked by the Utah Jazz, 109-94, but the final score isn't what seemed to irk Kevin Durant the most. He took to Twitter after the game to share his thoughts on what it's like sitting on the visitor's bench at EnergySolutions Center: I love playing in Utah, just upset at how the fans treated us behind our bench….we don't deserve that..but I'm movin on — Kevin Durant (@KDTrey5) February 13, 2013 Not helping Durant's cause was the fact he committed his first career flagrant foul (about as tame a flagrant foul as you'll ever see), but this is the same crowd that booed Derek Fisher after he signed with the Lakers — a decision he made in order to provide better medical care for his daughter — so it's not as if Jazz fans don't have an established history of being awful. In addition to the tweet, Durant fired this shot when asked if EnergySolutions was one of the loudest in the league: "Nah. It's not even as l
Original Story:
http://cosbysweaters.com/2013/02/13/k...
THE BACKYARD
BEST OF MAXIM
RELATED ARTICLES
Oklahoma City Thunder superstar Kevin Durant accidentally hit a female courtside fan in the head when he deflected a pass out of bounds during the third quarter of Sunday night's game at the US Airways Center in Phoenix. KD has gotten himself into this awkward situation before. However, Durant always handles it like a gentleman, as he did here by immediately going over to...
We all know how wonderfully kind Kevin Durant is, at least when the cameras are rolling. In a quick fit of deja vu, KD deflected a pass during the Thunder's game against the Suns on Sunday and the ball nailed a female fan right in the noggin'. Durant, being the nice guy that he is, took some time to walk over to the young lady and make sure she was not hurt. *swoon* Article...
Kevin Durant may have had a great game statistically during the Oklahoma City Thunder's loss to the Utah Jazz on Tuesday night, but not much went right other than that. Durant finished with 33 points on 11 of 16 shooting, but he was also charged with a flagrant foul and given another technical foul. We'll get to those later. It's possible that the fans in Utah were one of the...
Late in the first quarter of Thursday's game between the Heat and Thunder, Kevin Durant took a nasty fall while going up for a rebound.  As he was reaching for the rebound, Durant awkwardly leaned backwards and twisted his body to the point where he couldn't break his fall. Durant fell directly on the left side of his body, with it appearing as though his hip and his face took...
Check out Oklahoma City Thunder star Kevin Durant reflecting a pass off a fan in the front row.  Nice guy Durant did what nice guys do, and went over to check on the young lady.  Oh yea, and it didn't hurt that she was probably the hottest chick their that night.  He better have dropped off his number while he was at it.  Check out the funny video below. Check out our...
If you heard a huge gasp coming from middle America only a few short moments ago, it probably came from Oklahoma City as star forward Kevin Durant took a huge fall.It happened in the first quarter of the Heat/Thunder game as Durant went up for a rebound and fell awkwardly to the ground:The good news for Thunder fans was that KD got up and stayed in the game.
One of the perils that fans have to deal with when attending an NBA game is the possibility that they might be hit by the ball if they are sitting close to the action.During Sunday night's Oklahoma City Thunder/Phoenix Suns game, a female fan sitting courtside took a ball to the face after Kevin Durant accidentally deflected it:
The Oklahoma City Thunder and their fans got one heck of a scare early in Thursday night's game with the Miami Heat when Kevin Durant took a hard fall to the court late in the first quarter. Durant was going after a rebound, but ended up hitting the court in a rather awkward position and incredibly hard. It was clear that he was in pain, and with the way he hit the court...
The Thunder were down 17 points with 6 minutes remaining in Tuesday night's game at Energy Solutions Arena, and Kevin Durant was clearly frustrated. He threw a block into Jazz guard, Alec Burks, which was called a flagrant foul (Video – 2:19) – the first of Durant's five-year career. Teammate DeMarre Carroll didn't like the foul at all, walking over to Kevin Durant and...
Many NBA players and coaches will tell you that Energy Solutions Arena in Salt Lake City, Utah, boasts some of the loudest crowd noise in all of sports, but not Kevin Durant. The Oklahoma City Thunder's poster boy even went as far as to say that an empty Chesapeake Energy Arena (home of the OKC Thunder) was louder than the Jazz's arena at full capacity. OUCH! This is per J.E...
NBA News

Delivered to your inbox

You'll also receive Yardbarker's daily Top 10, featuring the best sports stories from around the web. Customize your newsletter to get articles on your favorite sports and teams. And the best part? It's free!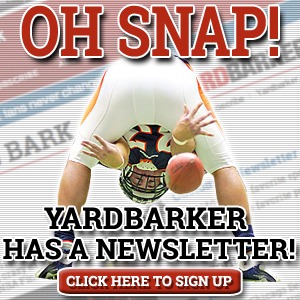 Latest Rumors
Best of Yardbarker

Today's Best Stuff

For Bloggers

Join the Yardbarker Network for more promotion, traffic, and money.

Company Info

Help

What is Yardbarker?

Yardbarker is the largest network of sports blogs and pro athlete blogs on the web. This site is the hub of the Yardbarker Network, where our editors and algorithms curate the best sports content from our network and beyond.