Found February 16, 2013 on Hoop Fantasies Fantasy Basketball Blog:
The Boston Celtics and Los Angeles Clippers are still discussing a trade of Kevin Garnett and Eric Bledsoe, according to Yahoo Sports' Adrian Wojnarowski. But this deal would also include shot-swatting center DeAndre Jordan instead of Caron Butler. Sources tell Woj that the Celtics and Clippers have been in "regular contact about the possibility." The big hurdle is getting KG to waive the no-trade clause in his contract. That may not be as big of a hurdle since Garnett has a home in Malibu and he's besties with Chauncey Billups. If the Clippers are willing to deal Bledsoe, the franchise must be certain that Chris Paul will re-sign in the offseason. Otherwise, they'll be making a very Clipper-esque deal, giving up a starting caliber point guard in a trade and then losing their franchise guard in free agency. A KG trade would mean the Clippers are serious about contending this season. In Beantown, it'd be the beginning of rebuilding gang green (and could also signal that GM Danny Ainge is willing to move Rajon Rondo).
Original Story:
http://feedproxy.google.com/~r/LifeIs...
THE BACKYARD
BEST OF MAXIM
RELATED ARTICLES
Kevin Garnett mentioned that he was bringing his family to All Star Weekend with him and he was going to enjoy it because it was going to be his last. That set off a feeding frenzy of the media speculating that he was planning to retire at the end of this season. He sets the record straight about those comments in this interview. I sure wish Rondo was there with him. They'...
Sweet Jesus, it's 1 am on a Friday night, yet the rumors keep rolling in. But this time is a little different. This time it's Woj (esteemed Yahoo NBA insider Adrian Wojnarowski). The proposed deal: Kevin Garnett for Clippers PG Eric Bledsoe and C DeAndre Jordan. Here's an excerpt from Woj's article (co-written with Marc Spears) (link). The Boston Celtics and Los...
DeAndre Jordan is a horrible free throw shooter. How horrible? This video from last night against the Lakers speaks for itself, and the numbers don't lie. Career FT%: 44% 2012 FT%: 43% Lowest FT% in single season: 38% Jordan is so bad at shooting free throws that his 43% this season has him 418 out of 449 NBA players. The only other regular worse than Jordan is Detroit's Andre...
Kevin Garnett plans to retire as a member of the Celtics.
Clippers center DeAndre Jordan isn't exactly known for his good shooting, he's more of the dunking type.  He shoots 43% from the line, and his lack of shooting skills showed last night against the Lakers.  Check out the video below where he completely misses the rim and barley catches the rubber on the side of the backboard.  Absolutely terrible. Luckily for DeAndre...
Apparently ganging up on Craig Sager with Carmelo Anthony Saturday at All-Star practice wasn't enough. In a sideline interview with Sager during the All-Star game Sunday, KG clowned the TNT reporter's attire (photos) again: "Stop wearing stuff like this when you're doing real interviews. Straight up. You look like a Christmas ornament." – Kevin Garnett to Craig Sager
Just five weeks ago, Carmelo Anthony hated Kevin Garnett.  We all know the story; Anthony and Garnett were going at it in a tightly contested game back on Jan. 8.  It got chippy and the two started jawing and before long, Garnett went below the belt like he normally does and allegedly said that Anthony's wife "tastes like Honey Nut Cheerios." Now I'm not married but if...
STAYING IN BEANTOWN
Kevin Garnett has been mentioned in trade conversations, but the veteran All-Star forward says he will not waive his no-trade clause.
DeAndre Jordan bricked a free throw during Thursday's Los Angeles Clippers-Los Angeles Lakers game in epic fashion. The fifth-year center went to the line with 4:34 left in the first half and hoisted up the first of two free throws. His shot appeared to have the right arc, but it was a good two feet wide to the right. Guard Jamal Crawford, who was standing behind him, put his...
I love how they keep on wanting Bolt to give props to other teams and players, but it's all about Kevin Garnett and the Celtics for the world's fastest man. Big thanks to Celtics Lifer Tia Compenser for the video tip.
NBA News

Delivered to your inbox

You'll also receive Yardbarker's daily Top 10, featuring the best sports stories from around the web. Customize your newsletter to get articles on your favorite sports and teams. And the best part? It's free!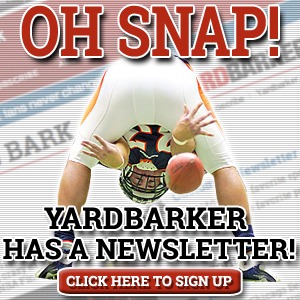 Latest Rumors
Best of Yardbarker

Today's Best Stuff

For Bloggers

Join the Yardbarker Network for more promotion, traffic, and money.

Company Info

Help

What is Yardbarker?

Yardbarker is the largest network of sports blogs and pro athlete blogs on the web. This site is the hub of the Yardbarker Network, where our editors and algorithms curate the best sports content from our network and beyond.