Posted January 13, 2013 on AP on Fox
PLAYERS:
Carmelo Anthony
,
Chris Copeland
,
Eric Gordon
,
Steve Novak
,
Anthony Davis
,
Greivis Vasquez
,
J.R. Smith
,
Brian Roberts
,
Amare Stoudemire
,
Mike Woodson
,
Iman Shumpert
TEAMS:
New York Knicks
,
Detroit Pistons
,
New Orleans Pelicans
Carmelo Anthony snapped out of a slow start by scoring 18 of his 27 points in the second quarter, and the New York Knicks ended their season-high, three-game losing streak with a 100-87 victory over the New Orleans Hornets on Sunday. Anthony missed seven of eight shots and scored two points in the first quarter of the noon start he dislikes, then outscored the Hornets by himself in the second period as the Knicks took the lead for good. Chris Copeland added 22 points for the Knicks, who had seen their Atlantic Division lead trimmed to two games by Brooklyn while losing five of their previous seven games. Battling injuries, they play only once in the next week, facing the Detroit Pistons on Thursday in London. Eric Gordon scored 22 points as the Hornets had their four-game winning streak snapped. Copeland got the start so the Knicks could put Anthony back at the power forward spot, where he had great success earlier this season. The move worked out for both of them, with Copeland going 9 of 15 and carrying the offense early while Anthony struggled. Anthony was on the bench when the Knicks put it away, opening the fourth quarter with a 13-2 run that featured two 3-pointers from Steve Novak and five points from Copeland and turned a five-point lead into an 84-68 advantage. No. 1 pick Anthony Davis had 13 points and eight rebounds for the Hornets, but point guard Greivis Vasquez was limited to 11 points and six assists after recording three straight double-doubles. The Hornets missed 19 of their 23 3-point attempts. Anthony was 1 for 8 in the first quarter for the second straight game as the Hornets jumped to an early lead. New Orleans was up 29-22 after one thanks to a gift from J.R. Smith, who fouled Brian Roberts beyond halfcourt with 0.5 seconds remaining. Officials reviewed and determined it was a shooting foul, and Roberts made all three. Anthony had only more one basket in the first seven-plus minutes of the second quarter, then suddenly showed why he is one of the NBA's most dynamite scorers. He made a jumper while being fouled by Davis, the three-point play capping an 8-0 run that gave the Knicks a 36-34 lead with 4:34 remaining. After a jumper by Gordon, Anthony made two free throws and converted another three-play play, giving him eight points in about 70 seconds and making it 41-36. He finished the quarter in style, with a jumper and 3-pointer that made it a seven-point game, and a free throw closed the scoring for the half and gave the Knicks a 49-41 lead. Anthony was 6 of 9 in the period, outscoring the Hornets 18-12. The Knicks led by 11 in the third quarter but couldn't put it away, the Hornets pulling within 71-66. Notes: Amare Stoudemire scored 12 points after the Knicks' medical staff told coach Mike Woodson he could increase the forward's minutes to about 25-30 per game. Stoudemire had been limited to a little more than 20 per night as he returned from left knee surgery. He played 23 while battling foul trouble. ... Woodson said Iman Shumpert, nearing his return from major knee surgery, will make the trip to London. On Friday, Woodson left open the possibility that Shumpert could remain behind and work with the Knicks' NBA Development League team, but said doctors cleared Shumpert to go after testing his knee.
Original Story:
http://msn.foxsports.com/nba/story/ne...
THE BACKYARD
BEST OF MAXIM
RELATED ARTICLES
It was about time Jim Dolan got himself involved with his team again. The New York Knicks owner reportedly had MSG audio technicians spy on star forward Carmelo Anthony in his first game back from his suspension for seeking out Kevin Garnett following a game last week. Dolan had them record every single word that came out of Carmelo's mouth. Two [MSG Network] audio technicians...
Carmelo Anthony is featured in a new documentary series entitled "Playing for the City That Made Me. The new ad campaign is surrounding the release of Anthony's Jordan Melo M9. The three-part series shows us Anthony's New York roots, taking us back to the passion he had playing the game in his [...]
New York Knicks: Carmelo Anthony For MVP Everybody who knows the NBA, knows that Lebron James is the best player in the league. That is not up for debate, it is simply a fact. However, the MVP award should not just go to the best player in the league, but to the player who has the biggest impact on his team at large. Lebron has Dwayne Wade and Chris Bosh beside him every game, to...
Carmelo Anthony said he was so hungry after his annual 15-day fast was ending Sunday that he was even ready to have a bowl of — you guessed it — Honey Nut Cheerios. Just six days after Anthony got into it with Kevin Garnett — after the Celtics smack talker got under his skin by reportedly telling Melo, "Your wife tastes like Honey Nut Cheerios" during a Knicks-Celtics...
Carmelo Anthony snapped out of a slow start by scoring 18 of his 27 points in the second quarter, and the New York Knicks ended their season-high, three-game losing streak with a 100-87 victory over the New Orleans Hornets on Sunday. Anthony missed seven of eight shots and scored two points in the first quarter of the noon start he dislikes, then outscored the Hornets by himself...
New York Knicks owner James Dolan is one crazy guy.  After Carmelo Anthony and Kevin Garnett got in their heated on court argument, Anthony waited for Garnett at the team bus trying to straiten things out. Apparently Garnett said his wife La La "tastes like Honey Nut Cheerios."  The verbal fight resulted in technical fouls against each player, and a suspension for Carmelo for...
Celtics forward Kevin Garnett got under Knicks forward Carmelo Anthony's skin last week when he allegedly said something about Anthony's wife. According to unconfirmed reports, Garnett said Anthony's wife, La La, tasted like Honey Nut Cheerios. This obviously got Anthony heated, and it might not be why you might think. Anthony's rage may actually be rooted in his hunger,...
New York knicks owner Jim Dolan oredered a few MSG Network employees to record Carmelo Anthony's every word during the Knicks game against the Chicago Bulls on Friday night. Via the Star-Ledger: Two audio technicians were stationed at two corners of the court — one a few feet just behind the Knicks bench, the other diagonally opposite Click Link Below to Read More!
This is getting pretty weird. Reports came out that Knicks Owner James Dolan had listening devices set up in the Garden to spy on Carmelo Anthony. Some people thought that was crazy and could never happen, but the Knicks are confirming it somewhat, but their reasoning might surprise you. Here is the report from Pro Basketball Talk. Owner James Dolan ordered Madison Square Garden...
Pre Game News and Notes Bulls vs Knicks: ESPN, MSG,8pm The Knicks dropped an ugly game last night against the Indiana Pacers and will have another slugfest on their hands tonight against the Chicago Bulls.  Last night the Knicks offense struggled mightily without Carmelo Anthony, who was serving his one game suspension from his actions Monday night.  The Knicks may have even more...
The injury-plagued New York Knicks welcome a week with just one game. The only catch is they had to travel to London for it. That's fine with the Knicks, who were focused more on the time off than the time change before going overseas for their game against the Detroit Pistons. The Knicks left Monday night and the game isn't until Thursday. They return home Friday and don...
NBA News

Delivered to your inbox

You'll also receive Yardbarker's daily Top 10, featuring the best sports stories from around the web. Customize your newsletter to get articles on your favorite sports and teams. And the best part? It's free!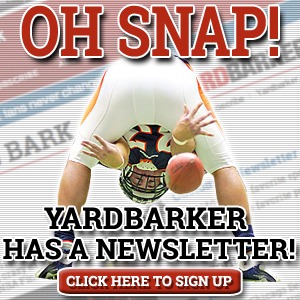 Latest Rumors
The Backyard

Today's Best Stuff

For Bloggers

Join the Yardbarker Network for more promotion, traffic, and money.

Company Info

Help

What is Yardbarker?

Yardbarker is the largest network of sports blogs and pro athlete blogs on the web. This site is the hub of the Yardbarker Network, where our editors and algorithms curate the best sports content from our network and beyond.