Found May 05, 2013 on Legend of Cecilio Guante:
Out of reach The Knicks are looking like the worst versions of themselves at exactly the wrong time. Sunday afternoon's 102-95 loss to the Pacers at Madison Square Garden was a reminder of just how hard it's going to be for this team, particularly in its recent games' incarnation, to even win a game in this series let alone advance to an expected match up with the Miami Heat (who are still going to destroy anyone in their path). What's disturbing is not so much Melo and J.R. Smith's terrible shooting. Or the foul trouble. Or the lackluster play from Tyson Chandler and a minimally effective bench. No, the worry is in the personality of this team coming through. One of mental weakness. Poor basketball IQ. Overall fragility. The whining. The constantly looking for whistles. The poor decisions and sloppy play. It's all very disheartening and bodes poorly for the Knickerbockers prospects. Sure, a hot shooting night from Smith and Melo can cure all ills – temporarily. Some may argue that "hey, it's what got them there." And, yes, I guess that's at least partially true. But this is playoff time. This is about team play. You're seeing it in teams like the Bulls, Indiana and even the Thunder despite a heavier reliance, of course, on KD. It's vanishing on this Knicks team faster than Kaiser Soze. Someone needs to realize that the ball needs to be in Raymond Felton's hands the majority of the time. As he goes, so does this team. Overall, the Knicks need to grow up. It's the Postseason, and they look mentally weak. That's not going to cut it. Indiana will be happy to illustrate that point. Should there not be dramatic change from Woody and crew, they will do just that — and in quick order.
Original Story:
http://legendofcecilioguante.com/2013...
THE BACKYARD
BEST OF MAXIM
RELATED ARTICLES
J.R. Smith uploaded a photo of a "Bandwagon Transferral Form" intended for fans who have grown sick and tired of rooting for their current team.  Knicks fans heckled the Sixth Man of the Year through social media about the Knicks second round Game 1 loss to the Pacers in New York on Sunday afternoon.  Fans accused Smith of partying Saturday night and thus having a poor Game...
J.R. Smith definitley has a love-hate relationship with Knicks fans. His regular-season effort that landed him Sixth Man of the Year honors made him a fan favorite, but his past couple of playoff outing have left a lot to be desired. And Knicks fans are never shy about sharing their displeasure. When you add in the report that he was clubbin' before Game 5 against the Celtics...
Part of J.R. Smith's success this season with the Knicks has been attributed to the newly crowned Sixth Man of the Year ditching nightly partying in New York in order to focus on his game. Well, apparently all it took was a one-game suspension and a tough Game 4 loss for Smith to deviate from the straight and narrow (relatively speaking, of course). Pictures from April 28th and...
J.R. Smith's less than robust performance during the New York Knicks 102-95 loss to the Indiana Pacers in the Game 1 of their playoff series at Madison Square Garden Sunday did little to quell the rumors that the NBA's Sixth man of the Year was out partying at Manhattan's 40/40 Club Saturday night. Photos and videos of the Knicks guard were posted on the Internet showing...
Knicks guard J.R. Smith has done a pretty good job of trying to avoid meltdowns and becoming a distraction to his team.  In the last week though, Smith has caught flak for partying it up before the Knicks game four loss to the Celtics. The Knicks were able to move on and win the series, so no big deal.  Now Smith is on the radar for allegedly partying to hard Saturday night, hours...
JR Smith took aim at some fans following the New York Knicks' 102-95 loss to the Indiana Pacers in Game 1 of the Eastern Conference semifinals at Madison Square Garden on Sunday night. Rumors circulated late Saturday/early Sunday that Smith, who by his own admission has partied too much in the past, was out at a club late into the evening. A tweet sent from The 40/40 Club in New...
The New York Knicks didn't look ready for the second round of the NBA Playoffs today. Maybe they were out with JR Smith at the 40/40 Club until 2AM last night. Maybe they thought they were still playing a team led by a dead-legged Paul Pierce, Terrence Williams and Avery Bradley. Whatever the reason, the Knicks were beat up by the Indiana Pacers who played with more energy, more...
Indiana Pacers: Why Indiana Will Beat the Knicks in Round 2 By Mike Elworth: Publisher and Owner at Hoopstuff… The Indiana Pacers and New York Knicks are getting ready to face off in round 2. Both teams beat inferior opponents in 6 games, will both have had 2 days rest and should both come in ready to play for their chance at the East Finals. The Indiana Pacers strength is their...
NBA News

Delivered to your inbox

You'll also receive Yardbarker's daily Top 10, featuring the best sports stories from around the web. Customize your newsletter to get articles on your favorite sports and teams. And the best part? It's free!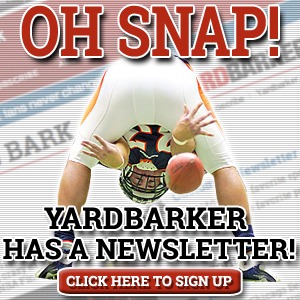 Latest Rumors
Best of Yardbarker

Today's Best Stuff

For Bloggers

Join the Yardbarker Network for more promotion, traffic, and money.

Company Info

Help

What is Yardbarker?

Yardbarker is the largest network of sports blogs and pro athlete blogs on the web. This site is the hub of the Yardbarker Network, where our editors and algorithms curate the best sports content from our network and beyond.