Found May 12, 2012 on Comedic Prose:
Kobe Bryant and the LA Lakers will be hosting the Denver Nuggets for game 7 of the first round. That's right! One of the greatest of all-time is struggling to oust a team with no all-stars. You would think there would be some type of caveat as to why Kobe and the Lakers can't get it done. But their just failing (JaMarcus Russell style…I probably went too far right there). It makes you question Kobe's leadership.
Kobe Bryant hasn't made enough plays for his team in the playoffs. Now before I blasphemy the great Kobe, allow me to say this has nothing to do with his career as a whole. Dude is one of the greatest players of all time. You can argue that's he's top ten. However, if you're going to be top 10 you can't have the kind of flame outs he's had in the post season1. Kobe Bryant does so many great things, yet when has Kobe sown true leadership? Perhaps Kobe isn't the leader everyone has built him up to be?
This year was a perfect opportunity for him to create another chapter of his career. With his diminished skills, and above average supporting cast, Bryant had the opportunity to add, "One of the greatest leaders of all-time" to his resume. However he never used the people around to their maximum ability in the regular season, and now it's starting to show in the playoff. Now I'm not dismissing Andrew Bynum or Pau Gasol's lack of effort. Those guys aren't getting it done either. But if you're Kobe Bryant, you have to lead you team against an extremely inferior opponent.
In order to go deep into the playoffs, team leadership is mandatory. Sometimes your best player is a great leader like Tim Duncan. Other times the best player on the team is a stat sheet stuffer that focuses on getting theirs, see Carmelo Anthony. I think Kobe is somewhere in between. While he loves getting his, he's cognizant of where he stands among legends. So he would never allow himself to be deemed a loser even if he was putting up hall-of-fame numbers (Vince Carter style). The problem is that his skills have diminished to the point where he can't compensate for his lack of leadership. Consequently the Lakers struggle to advance out of the first round despite overwhelming talent.
Under no circumstance should The Great Kobe Bryant and the Los Angeles Lakers be in a game 7 against the Denver Nuggets. I know no one wants to say it, and we're boosting them up. But the Denver Nuggets stink. If Kobe Bryant were the leader he has been portrayed to be. This series would have ended in 5 games. You can't be compared to Michael Jordan, and then go drop eggs (plural). Now I know Kobe was sick in game 6. However once upon a time Michael Jordan was sick and he won the title. Perhaps Kobe will do the same…or perhaps he's not the leader you think he is?
1. The Lakers were swept by the Dallas mavericks in 2012 and Kobe Bryant went quit mode against the Phoenix Suns in 2006. He would go on to ask for a trade in the offseason before being pacified with
Pau Gasol
.
Editor-in-Chief of Comedic Prose
Follow Kortney Williams on Twitter @kortneyshane
Original Story:
http://feedproxy.google.com/~r/Comedi...
THE BACKYARD
BEST OF MAXIM
RELATED ARTICLES
Kobe Bryant gutted out a 31-point performance in a 113-96 Game 6 loss to the Nuggets on Thursday despite playing while ill. Kobe had a stomach issue that forced him to take two bags of IV fluids before the game and two more at halftime. He played well enough for the Lakers, but his teammates were lacking. He pointed that out after the game. Asked whether he felt his teammates had...
The Los Angeles Lakers say Kobe Bryant will play Thursday night against the Denver Nuggets despite a stomach ailment that caused him to miss his team's morning shootaround. Coach Mike Brown said Bryant was holding down liquids and had no restriction on his minutes. Bryant has played through several injuries this season, missing minimal time with a concussion, ankle and wrist...
The Los Angeles Lakers say Kobe Bryant has a stomach ailment and will be a game-time decision for Thursday night's Game 6 against the Denver Nuggets. Bryant missed the team's shootaround at the Pepsi Center on Thursday morning. Coach Mike Brown said he expects his All-Star guard to be in the lineup when the Lakers try to wrap up the best-of-seven series Thursday night....
Here is the video of the flagrant foul by Kobe Bryant on Kenneth Faried in Game 6 in Denver on Thursday night. Faried looked really dazed and confused after the big blow by Bryant but he got back up and hit his two foul shots.
News came out yesterday afternoon about Kobe Bryant's stomach ailments. Despite being listed as "Questionable", anyone with half a brain new he'd play & most, including myself, thought he'd come out firing. Well, Kobe, as always, did his part registering 31 points despite being visibly ill, fatigued & nowhere near 100%. And yet again, the [...]
(Eds: With AP Photos.) By TIM DAHLBERG AP Sports Columnist Kobe Bryant hit his only shot that really mattered, then celebrated by slapping hands with Justin Timberlake. In the closing seconds of a Game 7 playoff win, the stars were aligning in Los Angeles once again, just like old times. Except this was a first-round playoff series against a seriously less talented opponent. And...
To chuck, or not to chuck, that is the question.  At least that is the ongoing debate among the pro- and con-Kobe Bryant groups (especially in the comments section of our All-NBA Teams article).  The argument (at least for the anti-Kobe people) is that the Lakers would be a more successful team if Kobe shared the rock more often, especially with Andrew Bynum and Pau Gasol, two...
(AP Photo/David Zalubowski - Edit by: Payton Wales) By Payton Wales The set-up was simple: an elimination game for the Nuggets in their house and Kobe Bryant has a stomach virus. A bad stomach virus to be completely forthcoming, the kind of virus that requires all kinds of things just to get out of bed, let alone play a game of basketball. IV fluids, special...
The Denver Nuggets on the brink of elimination for the second game ran the Los Angeles Lakers up and down the court to a 113-96 Game 6 win to force a Game 7 back in LA. Game 7 will be Saturday night at the Staples Center.  Denver hasn't played in a Game 7 since losing to Utah in the 1994 Western Conference semifinals. "There's no way I thought what happened tonight would...
NBA News

Delivered to your inbox

You'll also receive Yardbarker's daily Top 10, featuring the best sports stories from around the web. Customize your newsletter to get articles on your favorite sports and teams. And the best part? It's free!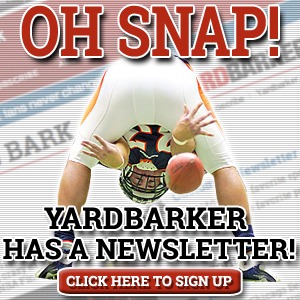 Latest Rumors
Best of Yardbarker

Today's Best Stuff

For Bloggers

Join the Yardbarker Network for more promotion, traffic, and money.

Company Info

Help

What is Yardbarker?

Yardbarker is the largest network of sports blogs and pro athlete blogs on the web. This site is the hub of the Yardbarker Network, where our editors and algorithms curate the best sports content from our network and beyond.