Found March 15, 2013 on Fox Sports West:
PLAYERS:
Kobe Bryant
,
Dwight Howard
,
Dahntay Jones
,
Steve Nash
,
Steve Blake
,
Antawn Jamison
,
George Hill
,
Paul George
,
Lance Stephenson
,
Frank Vogel
,
Pau Gasol
TEAMS:
Los Angeles Lakers
,
Atlanta Hawks
,
Indiana Pacers
INDIANAPOLIS (AP) -- When Kobe Bryant couldn't be the tough guy on the court Friday night, he resorted to being an MVP coach. After hobbling around on a severely sprained left ankle for 12 minutes, Bryant retreated to the bench, where he spent the rest of the night contesting calls, waving teammates into the right spots and even drawing something up on a clipboard for Dwight Howard to see. He wasn't going to let up -- or let his teammates down. So on a night Bryant was held scoreless for only the 15th time in his 17-year NBA career, Howard finished with 20 points and 12 rebounds, and delivered a tiebreaking three-point play with 90 seconds left that sent the Los Angeles Lakers past Indiana, 99-93. "It really just continued to swell and I couldn't put any weight on it, so I called it a night," Bryant said after getting more treatment on the sore ankle in the training room. "I told them before the game, I don't know how much I have, but whatever I have, I'll give you.'" He did plenty. Bryant, known as a remarkably quick healer who hasn't missed a game since the 2009-10 season, gallantly played less than 48 hours after turning his ankle when he landed on Dahntay Jones' foot in the waning seconds of Wednesday's loss at Atlanta. For two days, Bryant worked in silent seclusion. He didn't speak to reporters when the Lakers took Thursday off, after the team's morning shootaround or before Friday night's game started. Instead, he got round-the-clock treatment on what he described as the worst ankle sprain of his professional career. Coach Mike D'Antoni watched closely as Bryant went through warm-ups, then spoke with the team's medical staff and again with the five-time NBA champion before putting him in the starting lineup. Clearly, Bryant was not himself. He went 0 for 4 from the field, coming up short on each shot, then went to the bench after one quarter and never returned to the game. He spent the second half clinging to a little black box with wires attached to the injured ankle. But he remained active all night on the sideline. Bryant continually pulled players aside during the game, offering encouragement and advice and helping them read the Pacers' vaunted defense. Eventually, things worked out. "He was great, he was engaged and he wanted us to win," point guard Steve Nash said. "So we had a lot of energy over there." It showed on a Lakers team that has spent the last two months trying to dig itself out of an early hole. Without their top player, the Lakers (35-32) still extended their lead to one game over Utah for the eighth and final playoff spot in the West by beating up on a team that came into the game with the league's No. 2 defense and the league's fifth-best home record. How did they do it? Metta World Peace finished with 19 points and seven rebounds, Steve Blake made five 3-pointers and finished with 18 points, and Antawn Jamison added 17 points with four 3s. "We don't shoot much better than that," D'Antoni said when asked about going 13 of 26 from beyond the arc. For the Central Division-leading Pacers (40-25), it was a blown opportunity. George Hill scored 27 points, Paul George had 20 points and Lance Stephenson finished with 12 points, 11 rebounds and five assists. But Indiana shot only 37.4 percent from the field and couldn't make a serious run at Los Angeles after Howard's big play, primarily because the defense couldn't stop the Lakers from outside. "We had too many breakdowns, we didn't follow the game plan," coach Frank Vogel said. "Guarding the 3-point line was probably the biggest of the mental breakdowns. We left shooters left and right, a variety of different ways. We didn't play a good basketball game." It was a strange game, too, and not just because of Bryant's absence. The Lakers started the game by missing their first five shots. The Pacers opened the second quarter 0 for 6. Neither team topped the 30 percent shooting mark until the final 2 minutes of the half. George, the Pacers' All-Star, started 0 for 4, and Howard, another All-Star, was called for two personal fouls and a technical less than five minutes into the game. Even the officials found themselves making corrections, twice adding time to the clock in the final five seconds of the first half. On the court, the play was also up and down. The Pacers took charge early, fell behind 39-28 in the second quarter and eventually closed to 46-41 at halftime. Indiana continued its charge early in the third, using a 15-4 spurt to take a 56-50 lead, and with Bryant out appeared headed toward another home win. But Bryant inspired the Lakers to rally. "Kobe said we've got to do whatever we can, that we had to trust each other," Howard said. Howard's three-point play gave Los Angeles the lead for good and allowed Bryant to limp off the court by trading high-fives with the players he kept supporting all night long. "It's just reading defenses and seeing what's going on, seeing things we can take advantage of and putting them in the best position possible to be successful," Bryant said. NOTES: There was no immediate update about Bryant's availability for Sunday night's game against Sacramento. ... In the final 5.2 seconds of the first half, there were two replay reviews, a 20-second timeout, time added to the clock twice and no points. ... The Lakers are 6-8 at Bankers Life Fieldhouse, with three straight wins on the Pacers' home court. ... Earlier Friday, D'Antoni said forward Pau Gasol could return in the next few days. He hasn't played since early February after tearing the plantar fascia in his right foot.
Original Story:
http://www.foxsportswest.com/nba/los-...
THE BACKYARD
BEST OF MAXIM
RELATED ARTICLES
The Los Angeles Lakers suffered a difficult defeat last night the Hawks, but more concerning is the loss of Kobe Bryant to injury. Bryant rolled his ankle and suffered a severe sprain on the final play of the game, as he came down awkwardly on his game-winning shot attempt. It appeared as if Dahntay Jones undercut him when he challenged the shot, causing Kobe to hurt himself. This...
The Lakers' push for the playoffs might be without Kobe Bryant for a while. The Los Angeles star severely sprained his left ankle Wednesday night after missing a game-tying shot in the closing seconds of a loss to the Atlanta Hawks. Lakers spokesman John Black said Bryant is out indefinitely, just as a team that underachieved much of the season is playing its best basketball...
Kobe Bryant decided to give it a try Friday night when the Lakers took on the Indiana Pacers in spite of the sever sprain that he suffered earlier this week. He didn't last long. After about a period of play that was lackluster at best and saw Kobe go scoreless--only the 15th time in 17 seasons, he called it a night. As it turns out that was okay. Dwight Howard turned...
The rays of optimism that rained down on the Los Angeles Lakers dried up pretty quickly. Pau Gasol's impending return has been placed hold for a moment after suffering a setback on Saturday during workouts at the team's facility. Please click here to read this story. The post Pau Gasol suffers setback.Kobe Bryant doubtful against Kings appeared first on Players View.
After a miserable start to the season, the Los Angeles Lakers had finally started to build some momentum, winning 6 of its last 7 games and pulling into 8th place in the Western Conference standings. However, in the 4th quarter of the Lakers' 96t-92 loss to the Atlanta Hawks on Wednesday night, Kobe Bryant suffered a severe ankle sprain, and according to Yahoo's Ball Don...
Los Angeles Lakers superstar Kobe Bryant is one of the most durable players in the league today. He's managed to thrive under pain and injury and will do so again Friday night. After going down with a sprained left ankle which was labelled "severe", many believed Bryant would miss game time, at least a couple of games. The Black Mamba and the Lakers have other plans...
Kobe Bryant's availability for Friday night's game will be a game-time decision. The Lakers' star has spent the past two days treating what he calls the worst sprained ankle of his career. He was injured after landing on the foot of Atlanta's Dahntay Jones in the closing seconds Wednesday night. NBA officials said Thursday a foul should have been called on the play...
                No one can question Kobe Bryant's dedication to winning or at the very least showing up. Further hammering that in, earlier today, less than 48 hours removed from severely spraining his left ankle in a game against the Atlanta Hawks, the Lakers changed his status from "out indefinitely" to "game-time decision" — meaning Kobe could possibly play...
Kobe Bryant severely sprained his ankle during the final minutes of Lakers vs. Hawks. Bryant was injured attempting a game-tying jumper on the baseline. He was fading away from the basket as he shot the ball, and landed on the leg of Hawks guard Dahntay Jones.Following the game, not only did Kobe say the sprain was the worst he's experienced since the 2000 Finals when Jalen Rose...
Kobe makes a very valid point by being upset with Dahntay Jones, as undercutting jump shooters has been a huge problem in the NBA for years. Kobe mentioned in his postgame presser that he felt he Dahntay "Jalen Rose'd me," and it is very true. Check out this article from the LA Times in which Jalen Rose admitted (ten years later) on a Grantland podcast that he intentionally...
Kobe Bryant suffered a severe sprain of his left ankle during the final seconds of the Lakers game against the Atlanta Hawks yesterday. In the final seconds, Bryant attempted a game-tying field goal and landed on the foot of the defender Dahntay Jones. But with Kobe fading away you have to wonder, how did he [...]
Kobe Bryant was silently fuming after the Los Angeles Lakers lost to the Atlanta Hawks.  With just under 10 seconds to go in the game, Kobe Bryant attempted a fadeaway [...]
NBA News

Delivered to your inbox

You'll also receive Yardbarker's daily Top 10, featuring the best sports stories from around the web. Customize your newsletter to get articles on your favorite sports and teams. And the best part? It's free!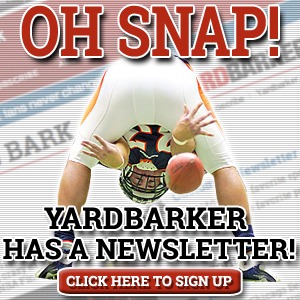 Latest Rumors
The Backyard

Today's Best Stuff

For Bloggers

Join the Yardbarker Network for more promotion, traffic, and money.

Company Info

Help

What is Yardbarker?

Yardbarker is the largest network of sports blogs and pro athlete blogs on the web. This site is the hub of the Yardbarker Network, where our editors and algorithms curate the best sports content from our network and beyond.