Found February 23, 2013 on Larry Brown Sports:
On Friday night, Mark Cuban raised the question of whether or not the Los Angeles Lakers could benefit from releasing Kobe Bryant through the amnesty provision next season. From a financial standpoint, it makes sense. The Lakers are looking to sign Dwight Howard to a long-term extension and are about $30 million over the luxury tax. Kobe is set to earn $30.45 million next season, and he isn't getting any younger. That being said, he's Kobe Bryant. "If you look at their payroll, even if Dwight (Howard) comes back, you've got to ask the question: Should they amnesty Kobe?" Cuban told Ben and Skin on ESPN Dallas 103.3 FM. "You just don't know, right? It's the same reason I wouldn't get rid of Dirk (Nowitzki). I'll take a hit for a season rather than get rid of Dirk. That's just it. I've made that commitment to him over the years, and he's returned that commitment. Maybe that's selfish, but that's just the way it is. "So I'm just saying that hypothetically. When I say amnesty Kob
Original Story:
http://larrybrownsports.com/basketbal...
THE BACKYARD
BEST OF MAXIM
RELATED ARTICLES
Burn……….. Kobe went 13-21, 38 points, 12 rebounds and 7 assists, while torching several Dallas Mavericks defenders in the process. Mark Cuban had suggested that the Lakers should Amnesty Kobe and here is what Kobe had to say about that. Amnesty THAT — Kobe Bryant (@kobebryant) February 24, 2013 This is Kobe's 17th year in the league and even though the team isn't playing...
Mark Cuban is one of those guys that you either love or hate. The guy is brash, often loud, and definitely very opinionated. He is also extremely successful, earned his way to the top through hard work, and just wants to protect his investments (hence yelling at referees so much). Whatever your opinion of Mark Cuban is there is one thing that is for sure--love him or hate him,...
At 26-29, the Lakers sit at in 9th place, 3.5 games out of the West's 8th seed (currently held by Houston).  Despite a injury ridden and bumpy first half, Kobe Bryant insists his team will make the playoffs. According to Sports Illustrated: SI: Can you get this done? And is it hard that after winning five championships you're battling to make the playoffs? Bryant: It's not...
DALLAS (AP) -- Mavericks owner Mark Cuban doesn't expect to hear from the league over his suggestion the Los Angeles Lakers could reduce their salary cap tax by dumping Kobe Bryant through the amnesty clause. Cuban said before Dallas' game against the Lakers Sunday he made it clear during a radio interview Friday that he was speaking hypothetically, and he was just trying...
Kobe Bryant may of been just 2-36 from beyond the arc over his last 16 games entering Sunday's game in Dallas, but when someone makes a questionable remark regarding the Black Mamba, like Mark Cuban's "amnesty" comment on ESPN radio Friday, those stats go out the window. Kobe shot 4-5 from 3 Sunday afternoon, finishing with 38 points (14 in 4th quarter), 12 rebounds, and...
Huh? Mark Cuban went on ESPN Dallas radio Friday morning and openly wondered if the Lakers should amnesty Kobe Bryant to free up their $100 million payroll next season if Dwight Howard stays in LA. If the Lakers remain $30 million over, their luxury tax bill $142.5 million next season (stat via ESPN).  Cuban admits it's unlikely but think's it will be a legitimate question as...
Kevin Durant shared a picture on his Instagram account Saturday of himself wearing a T-shirt that says "Shoot Til My Arm Falls Off." Initially, I thought Durant had stolen the shirt from Kobe Bryant's closet, but then I realized it's a take on a motto KD shared last year during the NBA Finals. According to Eye on Basketball, Durant had big fourth quarters in Games 1 and...
Los Angeles Lakers forward Metta World Peace was woken up by several police officers Tuesday morning because three actors decided to rehearse a scene for his movie at his Westside condo complex, according to the Los Angeles Times. Unaware the rehearsal was
Tweet Unless they're Kobe Bryant and Dwight Howard, NBA players sometimes develop bonds with their teammates. They spend a lot of time together practicing and on the road and form friendships with one another. Apparently that's the case with the Houston Rockets, as Jeremy Lin said he didn't feel like playing after the Rockets traded [...]
Los Angeles Lakers center admits he was out of shape before the season, which he says has cost the team some victories.   "You've got to have energy and I want to bring that energy every night," Howard said in a revealing interview 
The San Antonio Spurs own the best record in the NBA, sit atop the Western Conference, have a legit MVP candidate (Tony Parker) and are looking like a well-oiled machine that will once again be challenging for the NBA crown. The Los Angeles Lakers have been struggling all season. Dwight Howard isn't meshing with the team, is dealing with injuries and struggling to produce...
  The 2012/13 NBA season looked like it was going to be all about power packed backcourt duos.  The offseason saw numerous high profile guard combos hook up - the Lakers with Steve Nash and Kobe Bryant; Houston's Jeremy Lin and James Harden; Brooklyn teamed up Joe Johnson with Deron Williams.  But which NBA backcourt starting pair have produced the most wins for...
NBA News

Delivered to your inbox

You'll also receive Yardbarker's daily Top 10, featuring the best sports stories from around the web. Customize your newsletter to get articles on your favorite sports and teams. And the best part? It's free!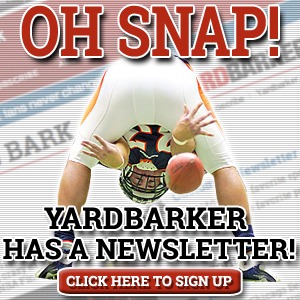 Latest Rumors
Best of Yardbarker

Today's Best Stuff

For Bloggers

Join the Yardbarker Network for more promotion, traffic, and money.

Company Info

Help

What is Yardbarker?

Yardbarker is the largest network of sports blogs and pro athlete blogs on the web. This site is the hub of the Yardbarker Network, where our editors and algorithms curate the best sports content from our network and beyond.