Found April 02, 2013 on Bush League Chronicle:
Los Angeles Clippers forward Lamar Odom is facing allegations that he misused funds from the tax exempt charity he created to help underprivileged kids and raise money for cancer research.In 2004, Odom created a charity called "Cathy's Kids" in honor of his late mother, who died from cancer when Odom was just 12 years old. The charity has raised an estimated $2.2 million over the years, but tax records obtained by ESPN's "Outside the Lines" failed to show that any of that money went to cancer research.In fact, nearly $1.3 million of the raised money has went toward funding a pair of elite youth basketball teams. It is not clear where the remaining $900,000 of the charity's finances went, but there is no evidence based on available documentation to prove that any of it went to cancer-related causes.When questioned by an ESPN camera crew outside the locker room regarding the charity, Odom responded by saying, "It's my money."Odom has yet to publicly address the allegations, however, his wife, Khloe Kardashian published the following post on our her website in defense of her husband.It is unfortunate that my husband has been the target of an attack on athletes' charities, although he has personally contributed approximately $2.2 million to his foundation, Cathy's Kids, to fulfill its charitable purposes that include helping underprivileged inner-city youth. The millions of dollars personally contributed by Lamar constituted more than 90% of the money raised by the foundation. All of the funds donated by Lamar and the other contributions to Cathy's Kids were used for one of the foundation's intended charitable purposes. Not one penny went to help Lamar personally or any member of his family. No charitable funds were misused, and the IRS has repeatedly given Cathy's Kids a clean bill of health, confirming that there were no improprieties. Cathy's Kids was formed with several purposes in mind, including benefitting underprivileged youth and cancer research. A decision was ultimately made that the charity should focus on one of those purposes — to help enrich the lives of underprivileged inner-city youth. It accomplished that goal. Cathy's Kids helped fund multiple AAU basketball teams providing underprivileged youth with opportunities enriching their lives, providing financial support for coaching and travel to tournaments, helping inner-city youth on a path toward success and leading many participants to go on to collegeVia TMZ
Original Story:
http://www.theblcblog.com/2013/04/lam...
THE BACKYARD
BEST OF MAXIM
RELATED ARTICLES
Lamar Odom is best known as an NBA champion and husband of Khloe Kardashian, but to one professional basketball player in Europe, Odom's a godsend. According to TMZ, when Ryan Pearson was 11 years old his family was struggling financially. Pearson's mother, Leslie, says Odom took him under his wing, seeing the potential in him, and gave him the opportunity to play basketball...
Professional athletes aren't required to use their fame and recognition to help the disadvantage, but if they do, they then have a responsiblity to do what is necessary to make sure that everything and everyone remains accountable. Case in point, Lamar Odom. The Los Angeles Clippers forward started a foundation back in 2004 called Cathy's Kids. He named it after his mother. She...
After losing his mother to stomach cancer nine years ago, Lamar Odom started the charity Cathy's Kids. While Odom promised the charity, named after his late mother, would both "help causes that are focused on finding a cure and helping people who suffer from the disease" and "ensure that funds are available for under-privileged youth that live in the inner cities of New York...
LOS ANGELES The Clippers crossed off one major item from their to-do list, but there was hardly a sense of contentment late Wednesday night and understandably so. They became the first Clippers team in franchise history to win 50 games in a season, beating the Phoenix Suns 126-101 at Staples Center. Now they have an opportunity to clinch the Pacific Division title on Sunday when...
YOU'RE MINE
Things got a little testy during the fourth quarter of Wednesday night's game between the Clippers and Suns when Ryan Hollins, who has a reputation of cheap shots, got tangled up with Goran Dragic and held on a bit too long, appearing to have put him in a headlock. As the two players untangled themselves and exchanged words, their teammates crowded around them which is when Suns'...
Caron Butler had a pretty incredible backwards tip in off of a Blake Griffin air-ball as time expired in the first half. Despite the great effort, the Clippers still were down 51-43 at the end of the first half of play. [@CjZero] Article found on: Next Impulse Sports
During Monday night's game against the Pacers, Caron Butler beat the buzzer at the half with what has to be one of the greatest tip-ins of the season. Blake Griffin attempted a jump shot with one second remaining, it ended up falling short but Butler was there for the incredible over-the-shoulder tip-in with .2 seconds left. via @cjzero
The Los Angeles Clippers were trailing the Indiana Pacers by a score of 51-41 with 3.6 seconds left in the half, when Blake Griffin was forced to shoot a tough jumper from the wing in order to beat the buzzer. Blake's contested shot came up just short, but Clippers' swingman, Caron Butler, was there to give the ball a little help. Not a bad display of concentration, positioning...
The Los Angeles Clippers are slumping at the wrong time of the season and not much is going right for them, well except this crazy buzzer-beating tip-in by Caron Butler. In the waning seconds of the first half of last night's game between the Clippers and the Indiana Pacers, Blake Griffin attempted a jump shot that lacked  some power, luckily Butler was alert and made an incredible...
By JUSTIN EINHORN STATS Senior Editor On the verge of matching their longest losing streak of the season and following two particularly bad defeats, the Los Angeles Clippers may be getting a break with the Western Conference's worst team coming to town. Chris Paul expects them to treat it like a playoff game. The Clippers get their fourth crack at a franchise-record 50th victory...
Del Negro's Clippers are in fourth-place in the Western Conference right now, so throwing the team under the proverbial bus doesn't seem like the smartest move at this point   After a lackluster effort in a 98-81 against a Houston Rockets team without an injured James Harden on Saturday night at the Toyota Center, the Los Angeles Clippers, and...
Clippers News

Delivered to your inbox

You'll also receive Yardbarker's daily Top 10, featuring the best sports stories from around the web. Customize your newsletter to get articles on your favorite sports and teams. And the best part? It's free!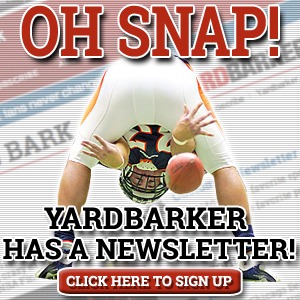 Latest Rumors
Best of Yardbarker

Today's Best Stuff

For Bloggers

Join the Yardbarker Network for more promotion, traffic, and money.

Company Info

Help

What is Yardbarker?

Yardbarker is the largest network of sports blogs and pro athlete blogs on the web. This site is the hub of the Yardbarker Network, where our editors and algorithms curate the best sports content from our network and beyond.