Originally posted on
The Comeback
| By Jesse Kramer | Last updated 4/21/17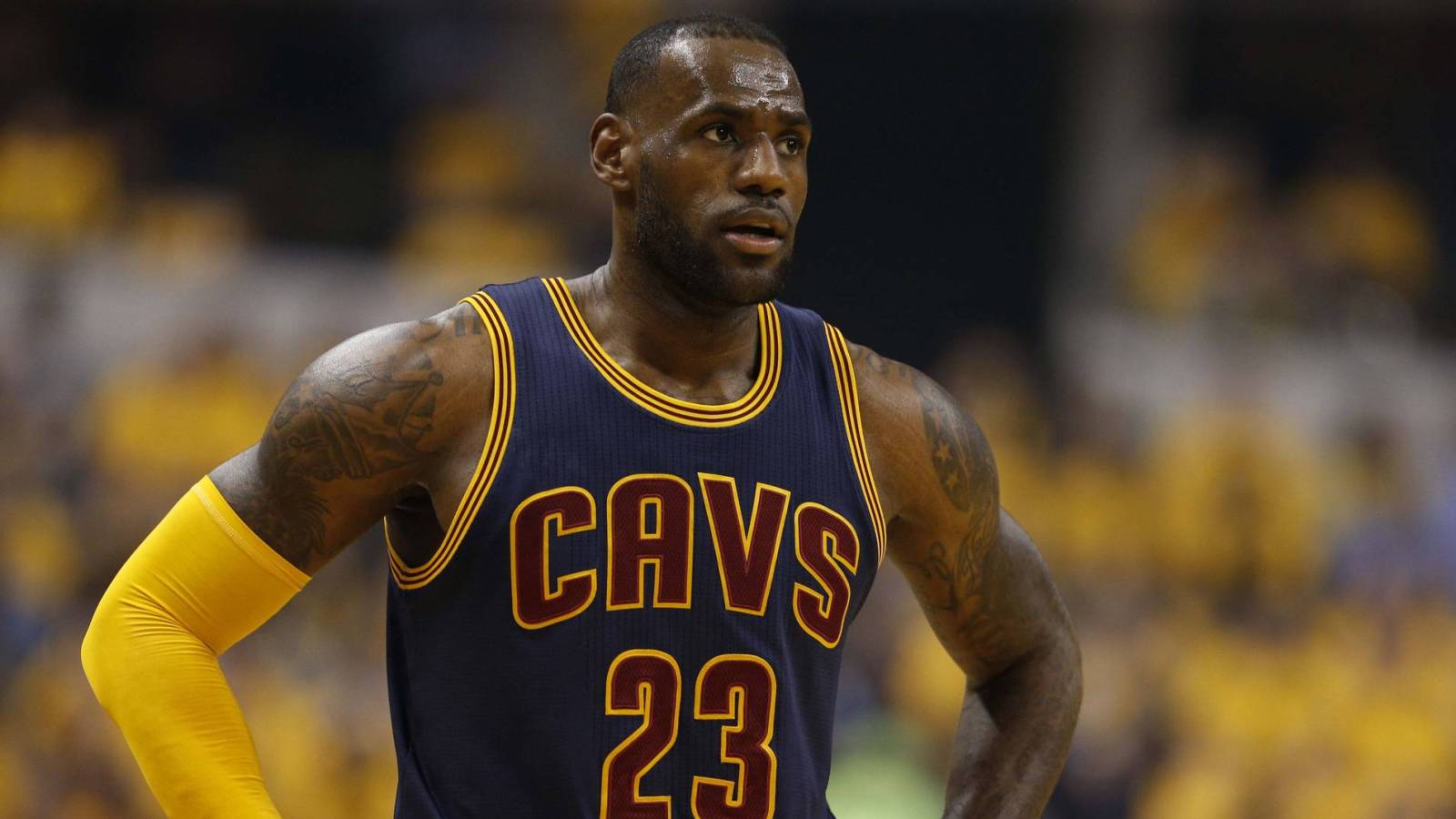 Apr 20, 2017; Indianapolis, IN, USA; Cleveland Cavaliers forward LeBron James (23) watches the Indiana Pacers shoot free throws in game three of the first round of the 2017 NBA Playoffs at Bankers Life Fieldhouse. 
Brian Spurlock-USA TODAY Sports
Never doubt LeBron James.
In honor of 4/20, The King was blazing as he simply dominated the second half of Thursday's Game 3 against the Pacers, leading the Cavs back from a 26-point deficit on the road. They went on to win 119-114, and James finished with a divine state line of 41 points (28 in the second half), 13 rebounds, 12 assists and two blocks.
According to Basketball Reference, James joins Charles Barkley as the only players since 1984 to record 40-10-10 with less than five turnovers in a playoff game. The Cavs have not looked great throughout the series, but with a 3-0 lead they've all but guaranteed they'll advance to the conference semifinals without a problem.
You may have heard on Twitter that this tied the biggest comeback in NBA playoff history. That's not true, even though the TNT play-by-play man Brian Anderson broadcast that bit of trivia and the NBA itself tweeted it out.
The Lakers came back from down 29 points against the Sonics in 1989, and the Clippers completed a 27-point comeback against the Grizzlies in 2012.
Still, what LeBron and the Cavs did on Thursday was completely absurd. Everything was going the Pacers' way in the first half, and we can use Myles Turner's complete posterization of Tristan Thompson to sum that up.
After Indiana led 74-49 at halftime, Cleveland cut the lead to 14 points midway through the third quarter. But once Jeff Teague and Lance Stephenson hit consecutive threes to bump the Pacers' lead back to 20, the game seemed over even with 16 minutes to go.
Well, maybe it didn't seem over to Larry Legend, making Twitter waves with his facial expressions once again.
Then James started to truly dominate, as his tough back-to-back threes helped bring the Cavs within 91-84 going into the fourth.
For all the talk about the Cavs' "Big Three," Kevin Love and Kyrie Irving did not even play in the fourth quarter. Instead, coach Tyronn Lue went with James, Deron Williams, J.R. Smith, Kyle Korver and Channing Frye, with some Thompson and Iman Shumpert sprinkled in.
But really, I'm not sure it would have mattered who the Cavs put out there with James in the fourth quarter. He was simply on another planet, tearing up the Indiana defense.
Just look at how comically fooled Monta Ellis was on this fast break:
The MVP votes have already been cast, but Thursday's performance helped show why James is still a worthy MVP choice even though almost everyone focused on Russell Westbrook, James Harden and Kawhi Leonard during the final weeks of the season.
In all seriousness, nights like tonight are why you can't take advanced stats seriously when it comes to the Cavs. LeBron is unquantifiable.

— Ben Axelrod (@BenAxelrod) April 21, 2017
While LeBron will deservedly got all the praise and headlines, don't forget about Paul George's performance that gave Indiana a shot in this one. He finished with 36 points, 15 rebounds and nine assists. The Pacers have been right on the edge of victory twice in three games against the Cavs mainly thanks to George going ballistic.
In the regular season, those performances may have been enough for wins. But once again we learned Playoff LeBron is a whole other animal.
QUIZ: Name every player on both Cleveland Cavaliers' Finals-losing teams
The Cleveland Cavaliers have made it to the NBA Finals twice in their franchise history, in 2006-07 and 2014-15, but neither time were they able to hoist the Larry O'Brien Trophy. Can you name all 28 players from the Cavs to play in the Finals?
NOTE: Two players were on both teams. An asterisk (*) denotes a player who was on both the 06-07 and 14-15 Cavs squads.
MORE FROM YARDBARKER
NBA News

Delivered to your inbox

You'll also receive Yardbarker's daily Top 10, featuring the best sports stories from around the web. Customize your newsletter to get articles on your favorite sports and teams. And the best part? It's free!