Found July 30, 2013 on HoopStuff:
PLAYERS:
Doc Rivers
,
Chris Paul
,
Blake Griffin
,
DeAndre Jordan
,
J.J. Redick
,
Jared Dudley
,
Darren Collison
,
Jamal Crawford
,
Caron Butler
,
Vinny Del Negro
TEAMS:
Los Angeles Clippers
,
Phoenix Suns
Los Angeles Clippers: Best and Worst Moves of the Offseason By Brandon Hartman: Vp of Content and Senior Writer at Hoopstuff Best Move: Adding Doc Rivers as Head Coach First, of course resigning Chris Paul is the Clippers' off season gem so far. You would be one heck of a writer to convince anyone that getting perhaps the number one point guard in the league to commit to a team long term, was not that team's top move of the off season. Yet, the Clippers resigning Chris Paul was just too expected for me to make it the team's top move. With Paul signing on the dotted line, the team which disappointedly bowed out in the first round of the playoffs against Memphis last year, was all but kept intact and set to stay the same for another year. Of course, as with every disappointing loss in sports, came a scapegoat for last year's embarrassment with Vinny Del Negro being blamed and fired for an underwhelming post season performance. The Clippers deemed him an unworthy head coach for such a ...
Original Story:
http://www.thehoopstuff.com/los-angel...
THE BACKYARD
BEST OF MAXIM
RELATED ARTICLES
TELL ME I WON'T
Chris Paul reportedly threatened to leave the Clippers and sign with the Rockets when the Doc Rivers trade talk initially broke down.
Doc Rivers' favorite quip, whenever a reporter asks him about an injured player's condition, is "You know 'Doc' is just a nickname, right?" Shaquille O'Neal may want to co-opt his former coach's phrase for his own devices: "You know 'Big Aristotle' is just a nickname, right?" Reader's Digest apparently did not get the memo. In its "Quotable Quotes" section...
LOOK ALIVE, FELLAS
All basketball players should look to the great Michael Jordan for guidance. His performance on the court should be something to aspire to, but sometimes a line needs to be drawn. Chris Paul, Blake Griffin and Carmelo Anthony crossed that line when they jumped from the court to the baseball field. OK, so the basketball stars only threw out ceremonial first pitches, but they were...
He's been compared to Chris Paul, led tiny Long Island University to two NIT titles and began his professional career in the club leagues that predate the NBA. Ossie Schectman, who boasted many long-forgotten accomplishments on the basketball court, died Tuesday, according to CNN. He was 94. Schectman is best known — if he is known at all — for scoring the first basket in NBA...
Chris Paul, Blake Griffin, and Carmelo Anthony are traveling the Far East with the Air Jordan Flight Tour. The three NBA superstars stopped in Taiwan to throw out the ceremonial first pitch before The Brother Elephants of New Taipei City played a game. The three NBAers didn't embarrass themselves but both Anthony and Paul balked while Blake Griffin fired a strike. Also, Brother...
Doc Rivers may be coaching another team on the other side of the country, but he still has the utmost confident in two of recently traded players. Rivers told Celtics Blog, that with the addition of Garnett and Pierce, he thinks the Nets have enough weapons now, to knock off the defending champion Heat. "That will be strange for me [seeing them in another uniform]. I want them...
Chris Paul runs the Los Angeles Clippers. You know this. I know this. But in case you need just a little more proof, Bill Simmons of Grantland provides a tale of how Chris Paul ultimately made the Clippers pony up for Doc Rivers.I'm sure you recall the back and forth that went on between the Celtics and Clippers regarding Rivers leaving Boston to take over the Clippers. I'm sure...
The Doc Rivers to the Clippers deal was on and off, several different times before it was finally agreed to. What finally nudged the Clippers over the hump, and allowed Donald Sterling and management to pull the trigger on the deal? Well if you believe Bill Simmons and the crew over at GRANTLAND, then it was a threat from star point guard Chris Paul that finally pushed the Clippers...
According to Grantland's Bill Simmons, Chris Paul informed the Clippers he was going to team up with Dwight Howard and sign with the Houston Rockets when the Doc Rivers trade talks were initially presumed "dead." Luckily for the Clippers, they were able to land Doc Rivers and lock down their All-Star point guard with a 5-year, $107 million contract extension. To Chris Paul...
Remember those rumors about Chris Paul and Dwight Howard talking about teaming up somewhere next NBA season? Apparently that was closer to happening then one might think. Per ESPN's Bill Simmons, Chris Paul informed the Clippers he was planning on signing with the Houston Rockets after talks broke down between the Clippers and Doc Rivers. The Clippers ended negotiations with the...
Cal baseball's latest 2014 commit only started watching college baseball when childhood friend Chris Paul debuted for the Golden Bears, and now, two years later, he's set to join Paul and fellow former Long Beach Breaker Robbie McInerny in blue and gold.
Dwight Howard bolted the Los Angeles Lakers for the Houston Rockets, and the perception continues to be that Howard left because he didn't like head coach Mike D'Antoni's system. Well, apparently Howard wasn't the only L.A. basketball player to desire to leave if he didn't get his coach — only this one got his way. Chris Paul threatened the Clippers that he would leave...
NBA News

Delivered to your inbox

You'll also receive Yardbarker's daily Top 10, featuring the best sports stories from around the web. Customize your newsletter to get articles on your favorite sports and teams. And the best part? It's free!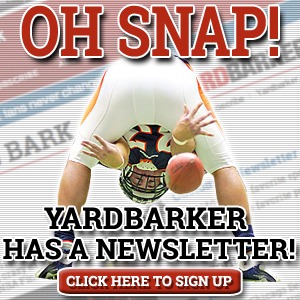 Latest Rumors
Best of Yardbarker

Today's Best Stuff

For Bloggers

Join the Yardbarker Network for more promotion, traffic, and money.

Company Info

Help

What is Yardbarker?

Yardbarker is the largest network of sports blogs and pro athlete blogs on the web. This site is the hub of the Yardbarker Network, where our editors and algorithms curate the best sports content from our network and beyond.