Found March 04, 2013 on Awful Announcing:
Friday I pleaded to stop the madness and obsession over the made up controversy swirling around LeBron James and his dunking.  No less than 24 hours later, Magic Johnson put up $1 million dollars on national television to try to entice LeBron James to participate in next year's dunk contest. I kid you not.  One.  Million.  Dollars.  Here's the video evidence from Friday night's ESPN NBA studio show... This is stupid on so many levels.   First of all, as has been widely reported, the dunk contest winner already gets $100,000, so it's not like these no-name NBA players are competing for free.  Second of all, what's $1 million dollars to LeBron James, who makes that much money every night in his sleep?  (Or Magic Johnson for that matter, who has spent something along the lines of eleventy bajillion dollars on the Dodgers.)  Third of all, ESPN is already promoting Magic Johnson's challenge/offer/desperate attempt at publicity with its own #MagicMillion hashtag (which is really taking off on Twitter).  Fourth of all, if LeBron actually accepts this offer, he does nothing but look like a selfish, greedy SOB that's only in it for the money.  (See Decision, The.)  Fifth of all, it's yet another manufactured story and controversy originating from ESPN out of thin air.  Sixth of all, it's just a colossal waste of everyone's time with the 2014 Slam Dunk Contest a mere 11 and a half months away. Let's break this down and follow it to its logical conclusion, though.  Let's say LeBron actually accepts this preposterous offer.  Is he the only one to get $1 million as an entrance fee of some kind?  Does the million go into the purse for the winner of the contest (again if only LeBron participates)?  If that's the case, do other NBA stars become interested?  Let's say Blake Griffin, Kevin Durant, Kobe Bryant, Dwight Howard, Paul George, and Russell Westbrook become interested.  Who gets left out?  What happens to the rebuilding of LeBron's image if he races towards the dunk contest not because of the fans, but to chase Magic's million.  Maybe he really needs a few upgrades to his home entertainment center, who knows.  I don't want to be "that guy" but wouldn't everyone be better off if Magic Johnson had offered to donate a million dollars to the charity of next year's winner's choice? To his credit, James isn't taking the bait thus far, nor should he.  It's just another distraction created by the media that has nothing to do with his play on the court.  Could you imagine the media being so bored by Michael Jordan during the early or late 90's that national television analysts would have to wave a million dollars in front of him to compete in an exhibition contest?  Please! It's just another excruciating example of today's media creating a worthless story out of nothing.  Instead of appreciating the amazing season LeBron James is having, instead of finding something relevant to say about it, instead of an analyst... I don't know... analyzing the actual game of basketball (?!?!), we're left with this dunk contest debate that feels like the sports equivalent of reading again at a third grade level.  We've been here.  We've done this.  Enough.
Original Story:
http://www.awfulannouncing.com/2013/f...
THE BACKYARD
BEST OF MAXIM
RELATED ARTICLES
He didn't look like he was hurting, but LeBron James reportedly played through knee pain to help the Miami Heat win last night.  The superstar has been performing on a whole new level this season (which didn't seem possible), and he has the Heat poised to repeat as NBA champions.Despite the knee injury that Brian Windhorst of ESPN says occurred after James fell awkwardly...
LeBron James is an incredbile athlete. He has arguably the best skill set of any basketball player, ever. He has Magic Johnson's court vision, with Michael Jordan's athleticism, and Karl Malone's body. There is nothing he cannot do on a basketball court. Fans know this, and they have been clamoring to see him participate in the NBA Slam Dunk Contest for his entire carer. After...
That gasping sound you here, is Miami Heat fans holding their collective breath. During the third quarter of the Heat's 99-93 victory over the New York Knicks, James went up for an alley-oop dunk and came down awkwardly after being hit by a defender, he managed to finish the game after some initial discomfort, he's worried but doesn't expect to miss any time. "I was concerned...
INHUMAN AT MSG
Video: Throws down two 1st half alley-oops
Tweet   On Friday Magic Johnson made a pretty bold statement when he offered to put up $1 million if LeBron James enters the NBA's Slam Dunk Contest. It's probably a safe bet that won't happen so we will have to settle for the dunks worthy of a dunk contest that James has been doing [...]
And we're still discussing the NBA Dunk Contest. Can we please stop? Several days after the actual dunk contest, people still want LeBron James to take part in the festivities but there is one man in particular who would pay to see it—Magic Johnson. According to ESPN, James is considering the offer. Here is what [...] [[ This is a content summary only. Visit my website for full...
LeBron James had 29 points, 11 rebounds and seven assists, and the Miami Heat tied a franchise record with their 14th straight victory, rallying to beat the New York Knicks 99-93 on Sunday. Dwyane Wade added 20 points for the Heat, who had to overcome a 16-point deficit to beat the Knicks for the first time in three tries this season. Chris Bosh bounced back from a dismal first...
Although considering partaking every year, Miami Heat superstar LeBron James is mulling Magic Johnson's $1-million offer to compete in next winter's NBA's Slam Dunk Contest. "Tell him I'll get back to him," said James, 28, who Berkshire Hathaway Chairman Warren Buffett recently predicted would become the first athlete to top the billion-dollar mark since male ***** Tiger...
MVP candidate Tony Parker went down with an ankle injury last night, and if we have learned anything about Spurs' coach Greg Popovich, we probably won't see Parker again until the playoffs.The Spurs will be fine, as they have already stacked up a nice record for themselves (best in the NBA to be exact) and are generally excellent at plugging in pieces to combat the wear and...
If the LA Kings have the best Twitterfeed among sports franchises, the Minnesota Timberwolves may take first place on YouTube.  This "Harlem Shake" video (which is actually the T'Wolves mascot beating a dancing buffoon in a LeBron James jersey) is perfect in every way.  Especially the Nikola Pekovic cameo for absolutely no reason at the end. Let's see SportsCenter...
By Sam Amico FOXSportsOhio.com Can anyone beat the Heat? The Spurs and Thunder are making a strong case, and the Clippers continue to stay right behind them. 1 Heat 44-14 LeBron James is just better than everybody else, and when you have that guy, youre always the favorite. The Heat will lose again at some point, but probably not much. 2 Spurs 47-14 Its only natural to assume...
NBA News

Delivered to your inbox

You'll also receive Yardbarker's daily Top 10, featuring the best sports stories from around the web. Customize your newsletter to get articles on your favorite sports and teams. And the best part? It's free!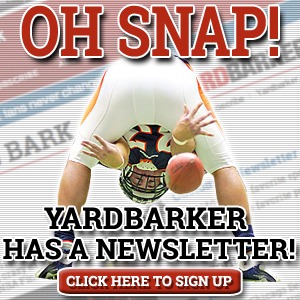 Latest Rumors
Best of Yardbarker

Today's Best Stuff

For Bloggers

Join the Yardbarker Network for more promotion, traffic, and money.

Company Info

Help

What is Yardbarker?

Yardbarker is the largest network of sports blogs and pro athlete blogs on the web. This site is the hub of the Yardbarker Network, where our editors and algorithms curate the best sports content from our network and beyond.