Found February 07, 2013 on isportsweb.com:
When recently asked of the Dallas Mavericks, it was mentioned by the players and coaches that this is like a Super Bowl and they have to win 8 of them in order to get to where they want to be and that is in the playoff hunt; well, they won the first Super Bowl last night against the Portland Trailblazers, 105-99, behind the scoring of O J Mayo, who had a great line for the night. Mayo scored 28 points on 11 of 14 from the floor and had a hot hand on connecting on 3 of 4 from downtown, needless to say, Mayo was in the zone and let everyone know it. I guess that's what home cooking and sleeping in your own bed can do for some guys, it revives them and they sure needed to be revived after their recent road trip. Getting this win was like redemption for the mess last week in Portland when Mayo was called for an offensive foul on a charge that should have been called in Mayo's favor and might, just might, have given Dallas a victory. I know refs are as human as anyone else, but that was such a blatant call that even a lot of the media was on board with any complaints that might have been rendered; surprisingly enough, Mark Cuban was quiet about it. This is the one where he should have voiced his opinion and been happy to pay a significant fine for. Oh well, we got this win and that's all that mattered at the time.  Dallas kept the game close in the first quarter, Portland led 18-17 until a little over 5 minutes left to where Luke Babbitt scored on a 3 pointer, his only 3 points of the game off of an assist from Damien Lillard, 1 of his 6 assists for the night, and then Lillard went on a scoring spree which consisted of 2 three pointers and three field goals resulting in scoring the last 12 points of the quarter for Portland. Dallas managed to sandwich in a three pointer from Mayo, and three and a field goal from Vince Carter, back from his illness and a field goal by Dirk. So by the end of the first, Portland led 33-27, but Dallas wasn't giving up. Or I didn't think they were anyway until they allowed Nicolas Batum to hit an open three pointer to start the 2nd quarter and then it was a rally from there through to the end of the quarter and a battle back and forth in scoring and finally Dallas worked their way from a 12 point deficit to only being behind by 4 at the buzzer. But Dallas had allowed another team to score over 60 points in a half and that was not looking good for them at all. Well, I don't know what happened in the locker room at halftime, but the Mavs looked completely different at the beginning of the third quarter than how they looked going into halftime. Dallas hit their first 2 shots on a field goal by Shawn Marion and a three by Dirk that put them in the lead for the first time. There had been several ties and close scores, but the Mavericks had never led until now; and then again it was a back and forth and back and forth until they gave up that lead and let Portland get an 8 point lead on them again, but again fought back and ended the third by outscoring the Blazers 23-21 and only trailed by 2, 82-80 to start the fourth quarter. Roddy B, who played one of his best games for the season, started the fourth quarter with a three pointer to give Dallas a 1 point lead 83-82, and then each team had several misses before Nolan Smith connected on a jump shot and scored 2 of his 4 points for the night to again give Portland a 1 point lead, but then our man,  Dirk hit a jump shot to again give  Dallas the lead and they never let go of it and ended the last quarter outscoring Portland 25-17 and was able to only allow Portland to score 38 points in the whole second half. Carter finished the night with a couple of highlight reel dunks and scored 17 points on 7 of 15 shooting and connected on 3 of 6 three point trys, while Dirk added 16 points and grabbed 8 rebounds. Marion added another double-double to his stat sheet with scoring 13 points and grabbing 10 rebounds. The Mavs did well in protecting the ball by only having 8 turnovers, they grabbed a total of 46 rebounds to 42 by Portland and had 22 assists for the night. It's always a good thing when you move and share the ball. Dallas finished the night shooting 47.7% and hitting 50% of their three point attempts. Dallas native, Lamarcus  Aldridge, as usual led the Blazers with 27 points on 11 of 22 shooting and nabbing 10 rebounds for another double-double for him, his scoring was limited in the last quarter by the defensive efforts of  Elton Brand; and even though Wesley Matthews was hot in the first half, he went cold in the 2nd half and finished the night with 21 points which included him connecting on 5 of 12 three point attempts. Lillard was also kept in check for the night and only scored 19 points, which also had 3 of 8 three's and JJ Hickson added 14 points and had 10 rebounds. The good thing of the night was that even though Dallas was down by as much as 12 points at one time, they didn't give up as a team and fought for what they wanted and buckled down more on the defensive end in the second half and didn't allow the game to get completely away from them and their adjustments worked and when they grabbed the final lead, they held on for dear life. As a side note, congratulations to Coach Rick Carlisle for getting his 500th win as a head coach. He is the 28th coach to reach that mark with his 500-353 record (.586) overall, he is 219-142 (.607) since he came to Dallas in 2008, and that was after two seasons in Detroit (2001-03) and four in Indiana (2004-07). So congrats Coach on a great achievement and here's to many more. Now Dallas has a few days to work on some of the issues they have on the court until Saturday when they face the other team they should have beat last week on the road,  the Golden State Warriors. Boys put on your roller skates and boxing gloves and get ready because it's going to be a bumpy ride, but don't fear because you can get this win if you work together as a TEAM; remember there is no "I" in TEAM! With this win, just for the fun of it, Dallas (21-28) is in the 11th spot only 2 games behind the Lakers (23-26) and 4 games behind Portland (25-24) who is in the 9th spot and 5 games behind Houston (27-24) who is holding that elusive 8th seed. Now I know that one would ask, why would they want that spot since they would have to play either San Antonio or Oklahoma City, for now any way? Well, if nothing else it's for their own sake, but even though the games against the Spurs have not been really close, they are on an upward swing and the games against the Thunder have been close. As a matter of fact, except for the last game, the other 2 against the Thunder, the Mavs lead late in the game, but couldn't close it out and even forced the games into overtime; so there is room for hope here and that's all we need. And with that, I will bid you a good day and say good luck and let's go Mavs!
Original Story:
http://feedproxy.google.com/~r/isport...
THE BACKYARD
BEST OF MAXIM
RELATED ARTICLES
Vince Carter is averaging 17.6 points on 49.0 percent shooting over his last eight games.
The Dallas Mavericks are currently 21-28 and in danger of missing the playoffs if they cannot turn things around quickly. Injuries have been an issue all year. Dirk Nowitzki missed the first 27 games of the season while recovering from a knee injury, and he is banged up once again as he battles a strained muscle in his leg. Dallas has been one of the streakiest teams in the league...
NHL teams retire the razors once they've clinched a playoff spot, but the Dallas Mavericks can't wait any longer for some good luck. About two weeks ago, O.J. Mayo, Dahntay Jones and Vince Carter initiated a beard pact that the rest of the team soon adopted. According to the pact, the Mavs will remain a scraggly bunch until the team returns to its winning ways. "We said we're...
Shawn Marionespn.com With the Dallas Mavericks struggling, trade talks have been swirling around veteran forward Shawn Marion. People suspect that he could be a solid trade chip, given his experience and extreme versatility. However, if you ask him, he won't go to a team that isn't a competitor. Via ESPN: "If I'm going to get traded, they're going to tell me what's going...
Most sports leagues now have some sort of concussion protocol in place.  As we finally step into the 21st century in the sporting world, people are acknowledging that head injuries are bad.  But athletes are not as willing to sit around waiting to be cleared by doctors after suffering a concussion.  The Dallas Mavericks' Chris Kaman expressed his displeasure with the NBA...
Thirteen-year veteran Shawn Marion insists that if he was traded to a team that doesn't have a chance at contending for a title, he would simply not go. At this point in his career, the 4-year Maverick who won a championship with Dallas in 2011, wants to be "playing for something". According to Tim MacMahon, ESPN Dallas: "If I'm going to get traded, they're going to tell...
I have for the last several seasons, defended the Dallas Mavericks, it's organization, it's owner and people in the decision making that controls this team. I knew that it was a matter of time before they would win the NBA Championship and Dirk would put another mark by his name, and he did; and that they would be known for something other than the "one and done boys", and...
Ten of these to play bad ball So here's a fairly fascinating story out of Dallas. Mavericks' small forward and all-around useful piece Shawn Marion, one of the very few people still on this team that have a championship ring from not very long ago, has told the team that he could refuse to report to a team that trades for them, if the team in question is, well, bad.Now,...
Concussions are a serious issue. It isn't something to be taken lightly. No matter how big you are, whether it's 6'0″ or 7'0″, you can't mess with the brain. Chris Kaman has recently received a concussion and is trying to get back onto the court but has to pass a concussion test. He isn't too [...] [[ This is a content summary only. Visit my website for full links...
'What we've got here,' the warden once told Cool Hand Luke, 'is failure to communicate.' And that's what's up with a Mavs cool hands, too. If the rumors of Vince Carter having a 100-percent guarantee he won't be traded deadline sound ridiculous, it's because they are. Let me communicate to you exactly what Vince has really been told.
It seems so long ago that the Dallas Mavericks took down the Miami Heat and claimed their role as NBA champions. Since then it has all been down hill. Their record last season was only good enough for the seventh seed in the Western Conference and they did not last long in the playoffs, getting swept out by Oklahoma City. This year it is going to take a miracle turnaround for...
Mavericks News

Delivered to your inbox

You'll also receive Yardbarker's daily Top 10, featuring the best sports stories from around the web. Customize your newsletter to get articles on your favorite sports and teams. And the best part? It's free!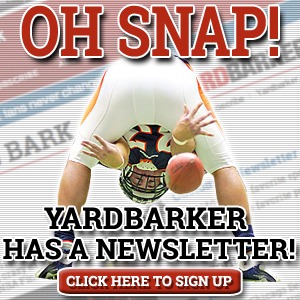 Latest Rumors
Best of Yardbarker

Today's Best Stuff

For Bloggers

Join the Yardbarker Network for more promotion, traffic, and money.

Company Info

Help

What is Yardbarker?

Yardbarker is the largest network of sports blogs and pro athlete blogs on the web. This site is the hub of the Yardbarker Network, where our editors and algorithms curate the best sports content from our network and beyond.