Found May 07, 2013 on Knickswag:
Pacers and Knicks Battle  Since Sunday I have been thinking about this Knicks team and their future in the NBA playoffs. Many Knicks fans are adamant that the Knicks will win this series and challenge the Miami Heat for the ECF title with the right to represent the East in the NBA Finals. However, there are many fans like myself that are realistic. I understand basketball and what it takes to win. I don't write out of emotion or anger, but what I do is look at what is going on with this Knicks team so far this playoff and try to figure out what needs to be fixed. Batman and Robin Carmelo Anthony and J.R. Smith are the 1, 2 punch for this team. In other words, these two players are the 1st and 2nd option on a perimeter built offense. They are the centerpieces, especially Melo, who is one of the best players in the league. J.R. Smith on the other hand is a 2nd option at best right now in his career. Before this year he was viewed as a 3rd option, nothing more, but the last month of the season J.R. became so consistent with his game that he was anointed the 2nd option and we all ran with it, including me. Now J.R. has come back to reality and his game has come with it. He is now consistently inconsistent, which is a huge problem for this team right now and in the future (if there is one with J.R. in it). He drives to the hole and takes off balanced shots, trying to draw fouls. Most of the time this is a good idea, but the last few games he is not getting the calls and is now forcing his offense on the opponent and the opponent is winning the matchup. This Knicks team needs J.R. to be smart with his possessions and move the ball with quick decisions. This is the only way for the Knicks to win ANY game vs. the Pacers. Melo is in the same boat as J.R. Smith. He, as well, is driving the ball to the hole, but not getting the proper calls, forcing the issue. When he doesn't get the right call he complains to the refs. This will not help his situation at any point in this series. Melo needs to make quick decisions, use himself as a decoy and move the ball around to the open man. Melo in the post with the ball in his hand is the right place to start. Inside-Out has always been smart basketball in the playoffs. The Ref's The referees were a big factor in the last game. That is a simple fact. The Knicks had the right idea; get Hibbert in foul trouble by attacking the basket, however this strategy was not working during the game. The Knicks were forcing the issue, resulting in NO calls and lost possessions in return. You must adjust to the way the refs are calling the game. I believe tonight those same plays we saw in game one (driving to the basket) will be run again and this time they will get the calls. The Coaching The coaching staff needs to make the proper adjustments in tonight's game and in the series. I am not asking for the team to "go big " or change their game completely after one terrible game, but they need to certainly adjust their game plan to matchup better against this big Pacers lineup. I thought Cope and Camby should have gotten some serious burn to matchup and spread the floor to neutralize Hibbert and West. Coach Mike Woodson has had some criticism in the past over his lack of adjustments. Lets hope he has learned from his mistakes and tweaks the rotation accordingly. Bron Has Figured It Out, Can Melo? I listened to a Mic'd up version of LeBron James last night during the game. I can't be 100% sure, but I thought I heard Bron say to Ray Allen and Chris Bosh to "Shop the Ball" which means to look around and move the ball to find the better option. If what he said is true, it makes me think of how LeBron has figured out this game at this point in his career, and is now executing his thoughts for a full 48 minutes. Melo has said before that ball movement is key, but he has not executed this thought for a full 48 minutes all year, including the playoffs. This gave me a sinking feeling, knowing that Bron is executing his thought process and Melo is just talking about it, executing with infrequent success. I hope the "light bulb pops on over his head" at some point and Melo begins to dominate the game the way he should be. It is imperative that Melo does this in order for the Knicks to have ANY a chance to win. Let's Get It! The post Melo and Smith Need to Get Going…PERIOD! appeared first on Knickswag - A New York Knicks Blog - News, Rumors, and more!.
Original Story:
http://knickswag.com/melo-and-smith-n...
THE BACKYARD
BEST OF MAXIM
RELATED ARTICLES
J.R. Smith's dad came to his defense about his partyingPHOTO CREDIT: BlackSportsOnline Much has been made of J.R. Smith and his clubbing habits. Earlier this year, Smith claimed he that he partied too much last season when he joined the Knicks half way through the truncated NBA season. Well, it seems old habits never die as J.R. Smith was seen at Jay-Z's, 40/40 club before Game...
J.R. Smith uploaded a photo of a "Bandwagon Transferral Form" intended for fans who have grown sick and tired of rooting for their current team.  Knicks fans heckled the Sixth Man of the Year through social media about the Knicks second round Game 1 loss to the Pacers in New York on Sunday afternoon.  Fans accused Smith of partying Saturday night and thus having a poor Game...
J.R. Smith definitley has a love-hate relationship with Knicks fans. His regular-season effort that landed him Sixth Man of the Year honors made him a fan favorite, but his past couple of playoff outing have left a lot to be desired. And Knicks fans are never shy about sharing their displeasure. When you add in the report that he was clubbin' before Game 5 against the Celtics...
Part of J.R. Smith's success this season with the Knicks has been attributed to the newly crowned Sixth Man of the Year ditching nightly partying in New York in order to focus on his game. Well, apparently all it took was a one-game suspension and a tough Game 4 loss for Smith to deviate from the straight and narrow (relatively speaking, of course). Pictures from April 28th and...
J.R. Smith's less than robust performance during the New York Knicks 102-95 loss to the Indiana Pacers in the Game 1 of their playoff series at Madison Square Garden Sunday did little to quell the rumors that the NBA's Sixth man of the Year was out partying at Manhattan's 40/40 Club Saturday night. Photos and videos of the Knicks guard were posted on the Internet showing...
J.R. Smith is a very large thorn in the side of Knicks head coach Mike Woodson, and, because we're not lucky enough to sit within shouting distance of the home bench at Madison Square Garden, we can only dream about all the wonderful things Woodson says in response to J.R.'s boneheaded decisions. Well, dream no more! Late in the first quarter of Tuesday night's thrashing of...
JR Smith took aim at some fans following the New York Knicks' 102-95 loss to the Indiana Pacers in Game 1 of the Eastern Conference semifinals at Madison Square Garden on Sunday night. Rumors circulated late Saturday/early Sunday that Smith, who by his own admission has partied too much in the past, was out at a club late into the evening. A tweet sent from The 40/40 Club in New...
Hey, NY Knicks coach Mike Woodson has had enough with J.R. Smith. Interestingly, JR is probably costing himself 10, 20, 30 million dollars on his next contract. Party away, goddamn... Full story at Bob's Blitz ~ http://www.bobsblitz.com
The New York Knicks didn't look ready for the second round of the NBA Playoffs today. Maybe they were out with JR Smith at the 40/40 Club until 2AM last night. Maybe they thought they were still playing a team led by a dead-legged Paul Pierce, Terrence Williams and Avery Bradley. Whatever the reason, the Knicks were beat up by the Indiana Pacers who played with more energy, more...
Out of reach The Knicks are looking like the worst versions of themselves at exactly the wrong time. Sunday afternoon's 102-95 loss to the Pacers at Madison Square Garden was a reminder of just how hard it's going to be for this team, particularly in its recent games' incarnation, to even win a game in this series let alone advance to an expected match up with the Miami Heat...
Something is going on with Knicks guard J.R. Smith and if he doesn't fix it, he might be glued to the bench.  Smith has been in a terrible slump since elbowing Jason Terry during the Celtics series. New York head coach Mike Woodson was on ESPN Radio, and let it be known Smith could lose his time if he doesn't start shooting the ball well. "I'll gauge J.R. as we go along...
NBA News

Delivered to your inbox

You'll also receive Yardbarker's daily Top 10, featuring the best sports stories from around the web. Customize your newsletter to get articles on your favorite sports and teams. And the best part? It's free!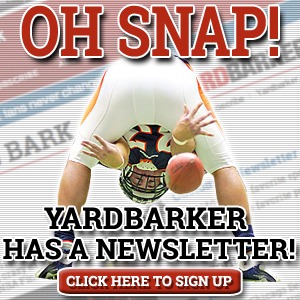 Latest Rumors
Best of Yardbarker

Today's Best Stuff

For Bloggers

Join the Yardbarker Network for more promotion, traffic, and money.

Company Info

Help

What is Yardbarker?

Yardbarker is the largest network of sports blogs and pro athlete blogs on the web. This site is the hub of the Yardbarker Network, where our editors and algorithms curate the best sports content from our network and beyond.