Found November 14, 2012 on NESN.com:
Via NESN: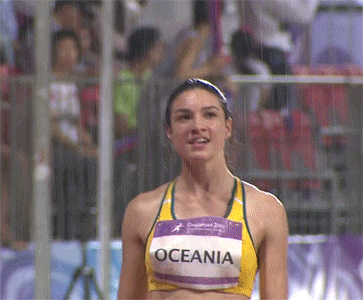 "What is a GIF?"
That's a question that many people might be asking themselves after the news on Monday that "GIF" was chosen as the Oxford American Dictionary's word of the year. After beating out the likes of "YOLO" and "superstorm," GIF will definitely be a word that enters the public conversation more and more in the near future. However, sports fans are already a bit familiar with the unique word, as GIFs are responsible for some of the most interesting sports content on websites today.
A GIF, short for "graphics interchange format," is a certain kind of file type with a unique ability to display animation. As such, the file has allowed sports fans to relive some of the more offbeat and irreverent actions from around the sports world.
From Michelle Jenneke's viral pre-race routine to a Kobe Bryant death stare to a mascot falling flat on its face, GIFs have helped capture some of the most hilarious moments in sports for us to enjoy over and over and over again.
Click here to see the most memorable sports GIFs!
Read More:
http://nesn.com/2012/11/best-sports-a...
THE BACKYARD
RELATED ARTICLES
  "Skid Row is literally a few blocks away [from the Staples Center], but it's not something that really registers, it's something that you kind of look over, because homelessness has been a part of our culture for so many years, it's just something that kind of fades in the background without you really driving [...]
Enjoy the following sentence, because this will probably be the only time you ever see it written: Kobe Bryant is no Raja Bell. Bryant may have five NBA championship rings and a trophy case full of various Most Valuable Player awards, but the 2012 edition of the future Hall of Fame shooting guard is well below Bell circa 2006 on the defensive end. In everything else, Bryant puts...
Mike D'Antoni is already making his mark on the Los Angeles Lakers, but it doesn't look like he'll be ready for his debut on the Staples Center sidelines for a few more days. As long as Kobe Bryant's there, the Lakers may not have too much trouble. Bryant has averaged 42.0 points in his last three home games against the Phoenix Suns, who have lost seven of eight...
 I have really been intrigued by the saga unfolding out in LA LA land. The Los Angeles Lakers publicly welcomed new head coach Mike D'Antoni to their bench on Friday. Though D'Antoni will never be held in the highest regard in my green goggles, I must say his usually very dry press conferences turned candid and amusing Friday. [...]
Christmas Day in the NBA has become a forum for players to reveal holiday-themed fashions. Each year, a new range limited-edition, seasonal sneaker colorways make their debut on the feet of players. Among the more memorable kicks in recent years were Kobe Bryant's lime green "Grinch" sneakers. This season will have players styled head-to-toe in holiday gear. To accompany the...
Is D'Antoni a better fit than uncle Phil Jackson?
Magic Johnson seems to have made it his mission as of late to criticize Los Angeles Lakers executive vice president Jim Buss as much as possible. On Wednesday, Magic wrote on Twitter that he had been silent for a few days because he was mourning the Lakers' decision to hire Mike D'Antonio over Phil Jackson. If that seems a bit dramatic, that's because it is. Kobe Bryant does...
Who knew D'Antoni was mildly funny?
More than anything else, the following play is a testament to Kobe Bryant's passing ability.  While his role in the play may appear to be elementary, I'd argue that a lob to Ron Artest is actually one of the most difficult passes in the game.  You've got to basically put the ball on the very edge of the cylinder in order for Ron to have a shot at it, so there's no room...
  With 19.9 seconds remaining and the San Antonio Spurs trailing the Los Angeles Lakers 82-81 in the fourth quarter on Tuesday, the Spurs didn't draw up a play for Tony Parker or Tim Duncan. On this night in Los Angeles, the Spurs drew up a play for Danny Green who was being defended by the Lakers' Kobe Bryant. With Bryant not playing Green closely, Green made him pay. ...
Lakers News

Delivered to your inbox

You'll also receive Yardbarker's daily Top 10, featuring the best sports stories from around the web. Customize your newsletter to get articles on your favorite sports and teams. And the best part? It's free!
RUMORS & GOSSIP
In some less-than-surprising news, Jacksonville Jaguars head coach Gus Bradley indicated Friday evening after their third preseason game that Chad Henne will be the starting quarterback Week 1 against the Philadelphia Eagles.  Gus says Henne week 1 starter. — Ryan O'Halloran (@ryanohalloran) August 23, 2014 The Jaguars have remained consistent throughout the entire summer...
Mike Ozanian of Forbes.com reported earlier in the day that all three of the nonbinding bids the Buffalo Bills have received from prospective buyers are all under $900 million. According to Ozanian, the three bidders are: Terry Pegula: $890 million. Toronto Group (Larry Tanenbaum, Jon Bon Jovi, Ed Rogers): $820 million. Donald Trump: $809 million. Ozanian mentions that the ownership...
Recently, Brandon Jennings made a completely misinformed statement that Kobe Bryant is the greatest player in NBA history.Brandon Jennings says Kobe is the GOAT & had less "help" than MJ. Agree or disagree? http://t.co/rxa2swNq1e pic.twitter.com/7heExg9UK4— Ballislife.com (@Ballislife) August 21, 2014Because there's nothing going on in the NBA right now this became...
Miami Central Senior High School football coach Roland Smith received a hate letter, containing the N-word, in advance of the team's nationally televised game on Saturday against the Hoover (Ala.) Bucs.  The letter, which allegedly came from a Hoover Bucs fan, also said, "Take up your chicken bones and red cups on the way back to Miami after we beat your ass," according to Al.com.
Matt Shoemaker is, by all accounts, having a pretty decent rookie season for the Los Angeles Angels. His beard game is tremendous, he's got that 12-4 record and, based on this tweet to Will Middlebrooks Thursday night…his wife, currently expecting their first child, is top notch. Shoemaker's wife Danielle sent out the "butthole" message shortly after her husband gave up...
The Baltimore Orioles are on track to win the AL East division for the first time since 1997, but they might have to embark on a World Series run without one of their best players. Third baseman Manny Machado, who's battled injuries throughout his brief MLB career, might not play again in 2014 because of a knee issue. Source: Manny Machado expected to have surgery on knee within...
Starting on February 14, 2014, Sam Quinn and The Sports Post have decided to run down the 52 Greatest What Ifs in NFL History, one per week, for the next year. For a list of published What Ifs, as well as the introductory piece, click here. I don't think Carolina is really complaining about Cam Newton, but in 2011 the Panthers desperately wanted Stanford quarterback Andrew...
Unfortunately your browser does not support IFrames. I must admit I laughed when Mike Evans slide across the car like he was in a bad movie. TMZ has the details. It all went down outside Dream Nightclub … where the #7 overall pick in the 2014 NFL draft was screaming at bouncers. We're told Evans had been partying inside the club moments before the video begins. While Evans —...
Back in June, former Olympian and Fox Sports Radio host Amy Van Dyken-Rouen was involved in an ATV accident in which her spinal cord was severed. It was a very scary situation, but Van Dyken-Rouen kept a sense of humor about the situation and vowed to walk again, despite what seemed to be impossible circumstances. This week, the impossible seemed possible as Van Dyken-Rouen stood...
Le'Veon Bell was a bit confused as to why he was getting a DUI after smoking weed. This could have been the effects of the weed or he just genuinely didn't know the law. I will let you decide from some details from the affidavit : Affidavit: @L_Bell26: "I didn't know you could get a DUI for being high. I smoked two hours ago. I'm not high anymore. I'm perfectly fine...
Latest Rumors
Best of Yardbarker

Today's Best Stuff

For Bloggers

Join the Yardbarker Network for more promotion, traffic, and money.

Company Info

Help

What is Yardbarker?

Yardbarker is the largest network of sports blogs and pro athlete blogs on the web. This site is the hub of the Yardbarker Network, where our editors and algorithms curate the best sports content from our network and beyond.