Found November 14, 2012 on NESN.com:
Via NESN: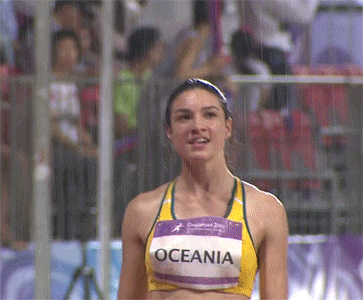 "What is a GIF?"
That's a question that many people might be asking themselves after the news on Monday that "GIF" was chosen as the Oxford American Dictionary's word of the year. After beating out the likes of "YOLO" and "superstorm," GIF will definitely be a word that enters the public conversation more and more in the near future. However, sports fans are already a bit familiar with the unique word, as GIFs are responsible for some of the most interesting sports content on websites today.
A GIF, short for "graphics interchange format," is a certain kind of file type with a unique ability to display animation. As such, the file has allowed sports fans to relive some of the more offbeat and irreverent actions from around the sports world.
From Michelle Jenneke's viral pre-race routine to a Kobe Bryant death stare to a mascot falling flat on its face, GIFs have helped capture some of the most hilarious moments in sports for us to enjoy over and over and over again.
Click here to see the most memorable sports GIFs!
Read More:
http://nesn.com/2012/11/best-sports-a...
THE BACKYARD
RELATED ARTICLES
  "Skid Row is literally a few blocks away [from the Staples Center], but it's not something that really registers, it's something that you kind of look over, because homelessness has been a part of our culture for so many years, it's just something that kind of fades in the background without you really driving [...]
Enjoy the following sentence, because this will probably be the only time you ever see it written: Kobe Bryant is no Raja Bell. Bryant may have five NBA championship rings and a trophy case full of various Most Valuable Player awards, but the 2012 edition of the future Hall of Fame shooting guard is well below Bell circa 2006 on the defensive end. In everything else, Bryant puts...
Mike D'Antoni is already making his mark on the Los Angeles Lakers, but it doesn't look like he'll be ready for his debut on the Staples Center sidelines for a few more days. As long as Kobe Bryant's there, the Lakers may not have too much trouble. Bryant has averaged 42.0 points in his last three home games against the Phoenix Suns, who have lost seven of eight...
 I have really been intrigued by the saga unfolding out in LA LA land. The Los Angeles Lakers publicly welcomed new head coach Mike D'Antoni to their bench on Friday. Though D'Antoni will never be held in the highest regard in my green goggles, I must say his usually very dry press conferences turned candid and amusing Friday. [...]
Christmas Day in the NBA has become a forum for players to reveal holiday-themed fashions. Each year, a new range limited-edition, seasonal sneaker colorways make their debut on the feet of players. Among the more memorable kicks in recent years were Kobe Bryant's lime green "Grinch" sneakers. This season will have players styled head-to-toe in holiday gear. To accompany the...
Is D'Antoni a better fit than uncle Phil Jackson?
Magic Johnson seems to have made it his mission as of late to criticize Los Angeles Lakers executive vice president Jim Buss as much as possible. On Wednesday, Magic wrote on Twitter that he had been silent for a few days because he was mourning the Lakers' decision to hire Mike D'Antonio over Phil Jackson. If that seems a bit dramatic, that's because it is. Kobe Bryant does...
Who knew D'Antoni was mildly funny?
More than anything else, the following play is a testament to Kobe Bryant's passing ability.  While his role in the play may appear to be elementary, I'd argue that a lob to Ron Artest is actually one of the most difficult passes in the game.  You've got to basically put the ball on the very edge of the cylinder in order for Ron to have a shot at it, so there's no room...
  With 19.9 seconds remaining and the San Antonio Spurs trailing the Los Angeles Lakers 82-81 in the fourth quarter on Tuesday, the Spurs didn't draw up a play for Tony Parker or Tim Duncan. On this night in Los Angeles, the Spurs drew up a play for Danny Green who was being defended by the Lakers' Kobe Bryant. With Bryant not playing Green closely, Green made him pay. ...
Lakers News

Delivered to your inbox

You'll also receive Yardbarker's daily Top 10, featuring the best sports stories from around the web. Customize your newsletter to get articles on your favorite sports and teams. And the best part? It's free!
RUMORS & GOSSIP
The Philadelphia Eagles are 3-0 on the season, running teams out the building in the second half of games, but apparently, Cary Williams believes the Eagles do too much running. The veteran Eagles cornerback was salty after DeSean Jackson torched him for an 81-yard touchdown.  Despite his team showing grit in another come from behind victory, Williams wasn't interested in talking...
Following the Seattle Seahawks exciting overtime win over the Denver Broncos, Seahawks DB DeShawn Shead decided to make his night even better. He proposed to his girlfriend at midfield, with the entire secondary in attendance, and she said yes. Congrats to @dshead24 and his new fiance Jessica! 50 yard line proposal… she said yes. Entire […] The post Seahawks DB DeShawn Shead...
Well this is awkward. Florida sophomore wide receiver Demarcus Robinson appears to have voiced his opinion that the Gators need a new starting quarterback much in the same way that a fan would. No, he didn't post on a fan message board or call into talk radio, but he did retweet a tweet by GatorZone […]
Blake Bortles is finally getting his chance. Jacksonville Jaguars coach Gus Bradley has seen enough of Chad Henne. After seeing his 0-2 Jaguars trail 30-0 at the half to the Indianapolis Colts, Bradley made his move benching Henne in favor of 2014 3rd overall pick Blake Bortles. Bortles played the entire 2nd half completing 14/24 passes for 233 yards, 2 touchdowns, and 2 interceptions...
Vikings HC Mike Zimmer told reporters following Sunday's game that QB Matt Cassel has "several" fractured bones in his foot. Zimmer added that first-round pick Teddy Bridgewater is ready to start for the team now that Cassel is out. Cassel was carted off with what appeared to be a left toe injury, and was replaced by Bridgewater . Cassel, 32, signed a two-year, $10...
Tied at 27 early in the fourth quarter, Philadelphia Eagles quarterback Nick Foles threw an ill-timed interception that was returned deep into their territory by the Washington Redskins. The interception was later overturned, but that's not the story here.  Taking exception to a late hit on Foles, who remained down on the play, the Eagles went blow to blow in a fight with the division...
The Minnesota Vikings are reportedly ready to cut ties with running back Adrian Peterson following his indictment on a felony-abuse charge in Texas. The Vikings placed Peterson on the exempt/commissioner's permission list Wednesday, and it appears they've already looking ahead to their next move. According to ESPN's Chris Mortenson, citing league sources, the team does not...
According to ESPN's Adam Schefter, Ray Rice will argue that the TMZ released video was edited when the former Baltimore Ravens running back makes his appeal of his indefinite suspension. Legal sources told Schefter that the TMZ tape of Rice hitting his then-fiancee was a cleaned-up, whittled down and condensed version of the events that took place in the Atlantic City casino...
Some really sad news to bring you here. Former Tennessee Titans kicker Rob Bironas was killed in a single-car accident in Nashville, Tennessee late Saturday night. It's w/ heavy hearts that we confirm the passing RB # 2 We appreciate your respect for the family's privacy and your prayers at this time.  — Rob Bironas (@RobBironas) September 21, 2014 Bironas, who played...
Arizona WR Austin Hill capped off a momentous comeback and delivered the best play of the year in the 2014 college football season thus far. After trailing 31-13 heading into the fourth quarter, it looked bleak for the Wildcats, even in front of their home crowd. But they never gave up. They scored 36 points in the fourth quarter, and after Cal missed a field goal late in the...
Latest Rumors
Best of Yardbarker

Today's Best Stuff

For Bloggers

Join the Yardbarker Network for more promotion, traffic, and money.

Company Info

Help

What is Yardbarker?

Yardbarker is the largest network of sports blogs and pro athlete blogs on the web. This site is the hub of the Yardbarker Network, where our editors and algorithms curate the best sports content from our network and beyond.