Found February 27, 2013 on BlackSportsOnline:
PLAYERS:
LeBron James
,
Tony Parker
,
Chris Paul
,
Kevin Durant
,
Russell Westbrook
,
Andre Iguodala
,
Ty Lawson
,
Danilo Gallinari
,
Kenneth Faried
,
Danny Granger
,
Paul George
,
David West
,
George Hill
,
Zach Randolph
,
Charles Barkley
,
David Lee
,
Jamal Crawford
,
James Harden
TEAMS:
Miami Heat
,
San Antonio Spurs
,
Los Angeles Clippers
,
Oklahoma City Thunder
,
Denver Nuggets
,
Indiana Pacers
,
Memphis Grizzlies
,
New York Knicks
,
Golden State Warriors
,
Houston Rockets
MVP Race: LeBron James is the best player in the league, Tony Parker is the best player on the team with the best record, and Chris Paul is technically the most valuable player to his team's success. Depending upon your definition of 'MVP'…take your pick. Rookie Watch: Damian Lillard will be the rookie of the year. Mark it down, dude. #1 Miami Heat 40-14 (Last Week- 2): Yes, I realize they have the third most wins, but that is far less relevant in terms of power rankings. The defending champs are currently playing the best basketball in the league. The question I'm left asking: Is there a team in the Eastern Conference that is going to give a healthy Miami team a serious enough challenge in the playoffs? #2 San Antonio Spurs 45-13 (1): The Spurs remain the best team out West, regardless of being leapfrogged by the Heat in these rankings. In fact, even though they are 17-3 over their last 20 games, no one wants to talk about them. If healthy in April, is there a team out West that can prevent them Duncan from having a shot at his 5th title? #3 Los Angeles Clippers 40-18 (4): Chirs Paul's overall impact goes beyond the measurables. The questions regarding their interior toughness in a playoff series against teams with a low post presence remain, but these Clippers will still run most teams off the court if Paul is permitted to dictate tempo. #4 Oklahoma City Thunder 41-15 (3): Not taking anything away from the remarkable seasons of Kevin Durant and Russell Westbrook, but the Thunder don't have quite the same look as last year. I know that may be the unpopular opinion, and goes against the grain…but I tend to avoid drinking the Kool Aid, and I have to call it like I see it. They miss Harden's playmaking ability and ability to help defend the stronger swingmen. #5 Denver Nuggets 36-22 (5): The addition of Andre Iguodala was precisely what the Nuggets needed to add to a sneakily deep, young roster. Ty Lawson, Danilo Gallinari, and Kenneth Faried round out a solid core of players, and each are 25-years-old or younger. #6 Indiana Pacers 35-21 (8): Depending upon how the Pacers are able to incorporate a returning Danny Granger, they may be the answer to that question of which team can potentially challenge Miami in the postseason. Paul George's emergence, David West's resurgence, and the steady play they receive from George Hill have some folks already considering them a contender. #7 Memphis Grizzlies 37-18 (6): I'm never one to penalize a team for simply playing the schedule that is placed before them, and winning seven consecutive games is a positive thing regardless of the opponent, but it has to be taken into account when ranking them. That said, could Zach Randolph may have been right when said the Grizzlies could eventually be better without Gay? #8 New York Knicks 33-20 (7): The Knicks look as though they are scrambling, fans are gripping, and the postseason is steadily approaching. Reports are, they made attempts to improve before the deadline, but were unable to complete a deal. The question for the Knicks remains the same as it was at the beginning of the season when TNT's Charles Barkley asked: If they aren't knocking down shots, who are they going to beat in a playoff series? #9 Golden State Warriors 33-23 (10): Since giving up 140 points to Houston a couple weeks back, the Warriors are 3-7. Even though few are saying it, they seemed to play better and more efficiently when Bogut was out of the lineup. The fact that Bogut has been in and out of the lineup (back) since returning probably hasn't helped. David Lee and Steph Curry are still playing at a high level, and Jarret Jack wants to say "hello" to everyone that 'gave' the 6th Man of the Year Award to Jamal Crawford in December. #10 Houston Rockets 31-27 (N/A): James Harden isn't likely to receive any type of MVP love or consideration, so I will give him some due credit. Houston would have likely been a 28-32 win team for the season prior to pulling the deal for Harden. In a huge response to a disappointing Finals performance, the 4th-year guard has the Rockets fighting to hold off teams like the Lakers and Mavericks as they maintain a surprising playoff spot.  
Original Story:
http://blacksportsonline.com/home/201...
THE BACKYARD
BEST OF MAXIM
RELATED ARTICLES
Sometimes the best slam dunks don't happen during NBA games but before them and that logic is evidenced in the below video of Miami Heat star LeBron James throwing down a sick dunk during a Heat lay-up line.The dunk comes at about the :35 second mark of the video as LeBron does a spinning behind-the-back alley-oop dunk:
Eye See You!!! King James recently partied hard at LIV nightclub in Miami wearing a edgy $32.00 All Seeing Eye tee by Android Homme . I've never heard of this brand before, but I like the artistic graphic of the shirt, and for $32.00, you can't go wrong. I think I'm going to make that purchase. Are you feeling the look? $32.00 All Seeing Eye tee by Android Homme (On Sale for...
LeBron James continues to troll, troll, troll his boat prior to NBA games in the form of some nasty dunks. We wrote about LeBron trolling regarding the dunk contest last week, and he continued to do the same prior to the Heat's last game. Check out Bron's basic alley-oop to himself between his legs dunk. No big deal, wouldn't even register at the dunk contest. [NBA] Article...
Say it isn't so!?! Unless you have been living in a cave you may have seen video – or live, if you're extremely lucky – of LeBron James insane pregame dunks. You know the self alley-oop, between-the-legs dunk that have fans wanting more. However, some have criticized him about his resistance with the Slam Dunk contest, [...]The post LeBron James May Quit Pregame Dunk Routines...
Are you still wishing LeBron James would have done the Dunk Contest this past All-Star break? Or, perhaps, still wishing you didn't waste your time watching the **** tease that was the Dunk Contest at Houston last week?  Never fear, LeBron James has a dunk – he performed during pregame Sunday night – that would [...]The post LeBron James' Dunk Contest Worthy Pregame Dunk...
While Bulls fans are getting excited seeing Derrick Rose dunking again, LeBron James is throwing himself alleys between the legs and off the backboard before catching it with one hand. The post LeBron James is using warm-ups as his dunk contest these days first appeared on No Guts, No Glory.
There has been a lot of buzz lately about San Antonio Spurs' Tony Parker having an MVP-like season. The idea is gaining even more momentum than it did last year when Parker was playing out of his mind. But the award went to LeBron James last year and it probably will again this year. That's just the reality of the situation and you have to accept it. LeBron would have to...
(source feed provided no summary content for this entry)
MIAMI Its a winning streak that -- this week -- has been on life support.Entering a three-game homestand, the Miami Heat had won 10 in a row while outscoring foes by an average of 13.7 points. They had won road games over formidable foes Oklahoma City, Atlanta and Chicago by 10, 13 and 19 points.So entering this week, you could say the Heat were playing their best ball since the...
The Harlem Shake is sweeping the nation like the Beatles, Swine Flu, and Planking once did.   Now it's legit thanks to the world champion Miami Heat doing their own version.   This is maybe the best version ever. Watch below.  
Look I am not going to lie, I do not understand this fascination with the "Harlem Shake" dance craze. However, it seems to be taking the Internet by storm and everyone is getting in on the act including the Miami Heat. As in other "Harlem Shake" videos, Chris "Birdman" Andersen comes into the Heat locker room, flapping his arms like a bird when suddenly...
Jermaine O'Neal had 22 points and 13 rebounds, Wesley Johnson hit a 3-pointer at the end of regulation to force overtime and the Phoenix Suns beat San Antonio 105-101 Wednesday night to snap the Spurs' 18-game home winning streak. Luis Scola added 15 points and Goran Dragic had 13 points and 13 assists for Phoenix, which snapped a six-game losing streak against San Antonio...
NBA News

Delivered to your inbox

You'll also receive Yardbarker's daily Top 10, featuring the best sports stories from around the web. Customize your newsletter to get articles on your favorite sports and teams. And the best part? It's free!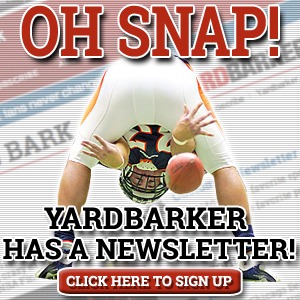 Latest Rumors
The Backyard

Today's Best Stuff

For Bloggers

Join the Yardbarker Network for more promotion, traffic, and money.

Company Info

Help

What is Yardbarker?

Yardbarker is the largest network of sports blogs and pro athlete blogs on the web. This site is the hub of the Yardbarker Network, where our editors and algorithms curate the best sports content from our network and beyond.