Found December 21, 2012 on Waiting For Next Year:
PLAYERS:
Dion Waiters
,
Jonas Valanciunas
,
Anthony Davis
,
Kyrie Irving
,
Alexey Shved
,
Andrei Kirilenko
,
Nikola Pekovic
,
Lawrence Frank
,
Tyler Zeller
,
Kevin Garnett
TEAMS:
Cleveland Cavaliers
,
Toronto Raptors
,
New Orleans Pelicans
,
Golden State Warriors
,
Minnesota Timberwolves
,
Boston Celtics
,
Weber State Wildcats
Left Cameron Browne NBA Getty Images. Right Steve Dykes USA TODAY Sports With the Cavaliers having two rookies playing prominent minutes, WFNY thought it would beneficial to see how the fresh meat around the league is faring in comparison with the Cavalier rookies. Each week, we'll have NBA rookie power rankings where we'll rack and stack the freshman class of the NBA. The rankings will be weighted with the most recent games carrying the most importance, but the whole body of work will be taken into account. Great beards and great celebrations may also play a large factor. The past seven days have been kind to the top of the 2012 rookie class. Signature games from the Kentucky boys, Davis and Kidd-Gilchrist, and a signature moment from Damian Lillard highlight the last week in fresh meat action. With the top 3 shining, the rest of the rookie class is struggling to keep up. Top 4 picks, Dion Waiters and Bradley Beal continue to chuck the pumpkin with little success, while big men Andre Drummond and Jonas Valanciunas contribute solid but unexciting minutes off their respective benches. The top 3 sees a minor shakeup while the 4th and 5th spots continue to be a revolving door. Vamanos! 1. Damian Lillard (Last Week: 1) Lillard is the clear top rookie after the first quarter of the NBA season. After Texas Two-Stepping to the tune of 29-7-6 against the Spurs, Lillard put a signature stamp on the impressive start to his career against New Orleans on Sunday. With 4 seconds left and the game tied, Lillard inbounded the ball to Luke Babbit 1 who then handed the ball pack to Lillard at the top of the key.  Using Babbit as a screen, Lillard rose up from 26 feet to bury the Hornets and explode the roof off The Rose Garden. One of the top comments on the video points out the priceless reaction of Nicholas Batum at the 30 second mark, but that's only where the celebration begins. A lot can be said about a player by how he reacts after hitting a buzzer beater. Kobe barely even gives a reaction because he expects to hit those shots. Jordan had the fist pump that oozed confidence and cool. Lebron ran around like a little kid. Even LeBron's boyish personality matched his chicken with it's head cut off celebration after beating Orlando in 2009. Lillard opts to go with the pissed off, "f anyone who thought I wouldn't hit this shot" reaction. Lillard clearly has a chip on his shoulder, and why shouldn't he? After only being a 2 star recruit out of high school, never playing in the NCAA tournament at Weber State, and then hearing for months that he was drafted too high by Portland, I think I'd go with the pissed off, "f anyone who thought I wouldn't hit this shot" too. Well, either that or the Bryce Drew. 2. Anthony Davis (Last Week: 3) Davis has yet to consistently dominate like some hoped he would from day one, but as The Brow gets more and more game time, the reasons he was the consensus number one pick last June become more clear. The battle ropes he has for arms make snagging rebounds, blocking shots, and deflecting passes a breeze. Against a sneaky good Golden State team, Davis corralled a career high 16 rebounds to go with his 15 points. It's not that uncommon in the NBA for a big man to put up those type of numbers, but it's Davis' 4 steals, and 7-7 shooting from the free throw line that make him anything but your conventional NBA big. Davis has played in just over half of the Hornets' games, but perplexingly enough, the Hornets have won more games without Davis than they have with the number one overall pick in the lineup. It's a little early to qualify this as a potential Ewing Theory candidate, but if Davis is as good as advertised, one would think we would start to see him individually win games the way Kyrie Irving did last year. 3. Michael Kidd-Gilchrist (Last Week: 2) He has no offense, he has no offense, he has no offense. Everyone, including me, has been saying this about the number 2 overall pick since his time at Kentucky. It may have only been one game, but Wednesday against Phoenix MKG put in by far his best offensive and all-around performance of the year, terrorizing the Suns for 25 points, 12 rebounds, and 3 steals. He still can't shoot, only hitting two shots outside the paint, but MKG got to the line 8 times, converting on 7, and scored 6 more baskets inside the paint. The offensive game may never look sexy for Kidd-Gilchrist but as long it's efficient and productive, Michael Jordan and Charlotte will continue to be very pleased with their selection last Summer. 4. Alexey Shved (Last Week: Not Ranked) For weeks I've been salivating over the idea of a Rubio/Shved backcourt and Saturday I finally got my wish. Rubio stole the highlights and headlines but it was Shved who was Minnesota's best guard, playing a team high 44 minute, while scoring 18 and dishing out 6 assists. If the national media wasn't paying attention to Shved before, they better be after his stellar showing in an impressive win over OKC on national TV Thursday. White Russia made no look passes, iced 3s, and even grabbed a career high 7 boards to fill out his 12-7-12 stat line. With the emergence of Shved, along with the revival of Andrei Kirilenko, and the rapid ascent of Nikola Pekovic, Minnesota is starting to surround Love and Rubio with very intriguing talent. The 'Wolves should be a playoff team, and one that could give one of the West's heavyweights some real fits in an opening round series. 5. Andre Drummond (Last Week: Honorable Mention) There's no denying Andre Drummond's presence when he's on the floor, the problem is many folks in Detroit believe the rookie out of UCONN isn't on the floor nearly enough. Lawrence Frank has come under pressure recently for not extending the minutes of his athletic but raw big man. To the dismay of those fans, Frank insists that it's not so simple to just throw Drummond on the floor for 30 plus minutes a night. It's easy for fans and media to call for more minutes for Drummond, but Lawrence Frank is the one with the team day in and day out. He knows what jobs his players must do and how he wants things done. I get that. I get that it's a "process", but I also get that no rookie has been more efficient while on the court than Drummond. He's averaging a double-double with almost 3 blocks per 36 minutes played, but the problem is Drummond is only playing half those minutes a night. I'm all for developing a player, and not giving him too much too fast, but it's about time to take off the reigns and let the stallion run free. Honorable Mention: Jonas Valanciunas, Tyler Zeller Valanciunas is in the same boat as Drummond. Good rebounder, efficient scorer, and not enough minutes. It's not like these guys are playing for LA or San Antonio, it's Detroit and Toronto. Last I checked neither was going anywhere, any time soon, the big boys need minutes. Zeller had his strongest game as a pro in his first start against Kevin Garnett and the Celtics. With Varejao out, Zeller stepped into the starting lineup, removed his mask, and scored a career high 20 points. Maybe all Tyler needed was to remove the large piece of plastic pressed to his face to feel more comfortable, gain confidence, and showcase the skills that made him the ACC Player of the Year. Dion Waiters Update During Wednesday's loss to the Celtics, my buddy Gallagher texted me, "Dude…Waiters' shot just hit the side of the backboard…". And that about sums up Dion Waiters of late.   ___________________________________ I've never heard of him either, don't worry
Original Story:
http://www.waitingfornextyear.com/201...
THE BACKYARD
BEST OF MAXIM
RELATED ARTICLES
BACKWARDS IS BETTER
Tweet   While much of the talk surrounding the New Orleans Hornets lately has been about them possibly becoming the Pelicans, Mosquitos, Swamp Dogs, Bullsharks, or Rougarou rookie Anthony Davis and third-year man Greivis Vásquez are having solid seasons thus far. Vásquez is averaging a career-high 12.6 points and his 8.7 assists per game is [...]
New Orleans Hornets shooting guard Eric Gordon has not had written a Cinderella-story since arrived in New Orleans via trade from the Clippers. Now that he is ready to rejoin the team after rehabbing a knee injury, how bad was the injury?  Please Click Here To Read This Story.
The New Orleans Hornets have filed for trademarks on five different possible names for their team, and they are all awful.  Behind The Buck Pass did some great investigative work to unearth the names, and we are now wishing we hadn't seen them.  The sports world exploded on Social Media when it was reported that the Hornets were thinking of changing their name to the Pelicans...
One thing we're certain of, the New Orleans Hornets will have a new name shortly. The franchise trademarked five names in total including, the previously noted Pelicans. Check out the rest of the names under consideration and let me know your thoughts: New Orleans Pelicans New Orleans Rougarou New Orleans Mosquitos New Orleans Swamp Dogs [...]
The "Hornets" nickname is one step closer to buzzing its way out of New Orleans.  Per RealGM.com, the NBA has filed trademarks for five potential nicknames for the New Orleans Hornets, including New Orleans Pelicans, Rougarou, Mosquitos, Bullsharks, and Swamp Dogs.  RealGM reports that a swamp dog is a Cajun name for alligator, while Rougarou [...] [[ This is a content summary...
  The New Orleans Hornets possible name change to the "Pelicans" is not the only adjustment the franchise is planning to make. Come this Saturday, the for-now-known-as-Hornets could be tweaking their roster with the expected return of guard Eric Gordon this coming weekend. According to John Reid of NOLA.com, Gordon will reportedly re-join the team after missing...
After missing all 25 games this season because of recurring problems with his right knee, New Orleans Hornets shooting guard Eric Gordon will rejoin the team in New Orleans on Saturday after spending a month going through extensive rehabilitation work in Los Angeles. "I'm more than 90 percent sure I'm going to play before this month is over," Gordon said. "That's...
The matchup of the game for Friday when the New Orleans Hornets visit the AT&T Center to face the San Antonio Spurs is between Tim Duncan and Anthony Davis. The last time these two teams met Duncan got the better in the first matchup.  It was a very impressive stat line for both men with Duncan scoring 24 points and grabbing 11 rebounds and Davis scoring 21 points and grabbing...
New Orleans Hornets coach Monty Williams says guard Eric Gordon will play for the first time this season Saturday night against the Charlotte Bobcats. Gordon only played in nine games last season for the Hornets after being acquired in a trade. He had arthroscopic surgery on his knee last season because of a bone bruise. Williams wouldn't say how many minutes Gordon will play...
No. 1 overall pick Anthony Davis is already a good player and, barring injury, will probably one day become one of the best players in the entire NBA. But in the last 3:40 of the Pacers' 81-75 win over the Hornets on Saturday night he was merely David West's *****. West, who only had 5 points in the first half as the Hornets raced to a 46-29 lead at the break, scored...
A couple weeks ago the basketball franchise in New Orleans announced that it would be abandoning the "Hornets" nickname that it brought with it from Charlotte and adopting a new moniker, the Pelicans. Regardless of what critics say, "Pelicans" will be one of the great names in all of professional sports. But it looks like "Pelicans" wasn't the only name that owner...
NEW ORLEANS (AP) -- David West made himself right at home -- at the New Orleans Hornets' expense. The former Hornets forward scored 20 of his 25 points in the second half and the Indiana Pacers overcame a 22-point deficit to beat New Orleans 81-75 on Saturday night, handing the Hornets their 11th straight loss. "As a group we felt that we had to get our legs back,&quot...
NBA News

Delivered to your inbox

You'll also receive Yardbarker's daily Top 10, featuring the best sports stories from around the web. Customize your newsletter to get articles on your favorite sports and teams. And the best part? It's free!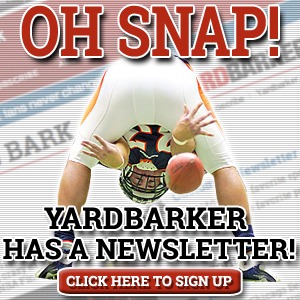 Latest Rumors
Best of Yardbarker

Today's Best Stuff

For Bloggers

Join the Yardbarker Network for more promotion, traffic, and money.

Company Info

Help

What is Yardbarker?

Yardbarker is the largest network of sports blogs and pro athlete blogs on the web. This site is the hub of the Yardbarker Network, where our editors and algorithms curate the best sports content from our network and beyond.